Day 1 ~ Lollapalooza Chicago: Who's Taking Over The Bud Light Stage!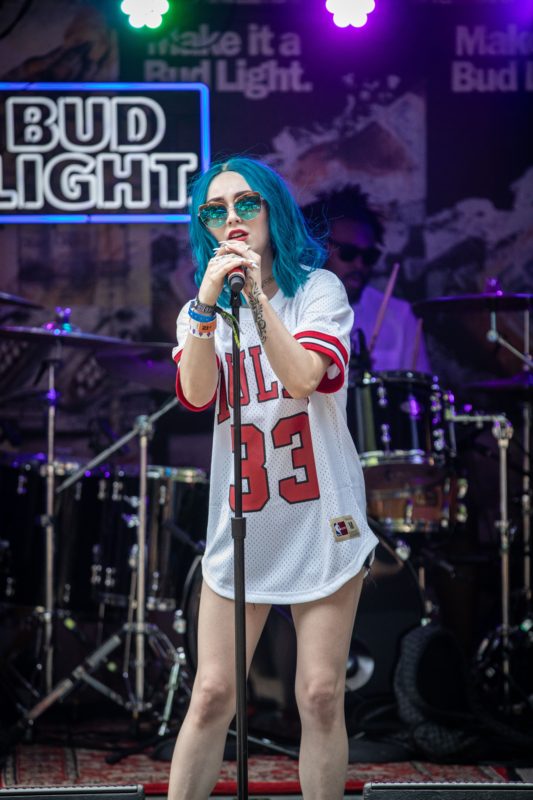 Jaira Burns
The Bud Light Stage on Day 1 of Lollapalooza is hosts world-renowned artists of all different genres. And they're ready to turn Chi-Town upsidedown!
The Chainsmokers is an obvious EDM fan favorite, but there are more must-see performers you should check out, like Lennon Stella, Rüfüs Du Sol, Fitz, and the Tantrums and YBN Cordae. Make sure you download the Lolla App be sure to take note of the following notable acts we are excited to see hit the Bud Light stage on Thursday, August 1st.
---
YBN Cordae – 1 p.m. – 1:45 p.m. 
Nothing like starting your birthday month off right by performing at Lollapalooza, right?! Well YBN Cordae starts celebrating his 21st birthday early this year as he is the first to take the Bud Light Stage at Lollapalooza 2019. Professionally known as YBN Cordae, Cordae Dunston is an American Rapper who credits much of his talent to growing up in Suitland, Maryland. He first started his career under a different stage name, Entendre, and quickly rose to become a success. Check out some of his music below, or at Lollapalooza on August 1st from 1pm-1:45 pm.
Lennon Stella – 2:45 p.m. – 3:30 p.m.
Lennon Stella is a Canadian singer and songwriter who has had great success during the beginning of 2019. Two of her singles have risen to great popularity, "Bitch (Takes One to Know One)" and "La Di Da (Hibell Remix)". Show love and support of this 19-year old who's getting closer to her dreams everyday by purchasing her music on amazon and seeing her in the Grant Park sun on Day 1.
Fitz and the Tantrums – 4:30 p.m. – 5:30 p.m.
Attention Indie music fans! Fitz and the Tantrums are going to be performing a full hour for fans! The band began in Los Angeles in 2008 and still has all 5 original members, Michael Fitzpatrick, Noelle Scaggs, James King, Joseph Karnes, Jeremy Ruzumna and John Wicks. Some songs you can look forward to hearing during their set are "HandClap", "6AM", "Spark" and "Last Raindrop". The band not only can record great music, they are also exceptional performers!
Rüfüs Du Sol – 6:30 p.m. – 7:45 p.m. 
Get up and dance! Rüfüs Du Sol is an alternative dance group from Sydney, Australia, that consists of Tyrone Lindqvist, Jon George, and James Hunt. All three of them will be at Lollapalooza Day 1 and their ultimate goal is to get the crowd up and dancing with them. Their debut album, "Atlas", peaked at number 1 in Australia, while their second album topped the Australian Dance Charts. Since then, this upbeat dance group has been working on new music and performing their top hits at live shows all over the world. You might recognize songs like "Innerbloom," "Underwater" and "No Place" during their set. Flume has a remix of "Innerbloom" that he will likely play during his set, so you'll be hearing Rüfüs Du Sol songs all weekend!
The Chainsmokers – 8:30 p.m. – 10 p.m. 
Since their first song "#selfie" came out in 2014, it's hard to turn on the radio without hearing from The Chainsmokers! Drew Taggart and Alex Pall have taken over the mainstream side of EDM with songs like "Closer", "Kanye", "Roses" and "Don't Let Me Down". Their live performances are always BIG. Expect to see a lot of pyrotechnics as the beats drop. Be on the lookout for special guests. They've worked with a ton of artists in the industry and you never know who might make a surprise appearance!
---
Women of Edm is in partnership with MyArea Network! Visit our proud partner's 312Area site HERE! For more on Lollapalooza and other EDM events in Chicago, join the EDM community on 312area! 
Tags Alternative DanceedmFitz and the TantrumsFlumeGrant ParkIndie MusicLennon StellaLollapaloozaRÜFÜS DU SOLthe chainsmokersupbeat danceYBN Cordae
You may also like...