Day 2 @ Lollapalooza with Max Frost, Yoshi Flower, Cray, Childish Gambino, Snails & Janelle Monáe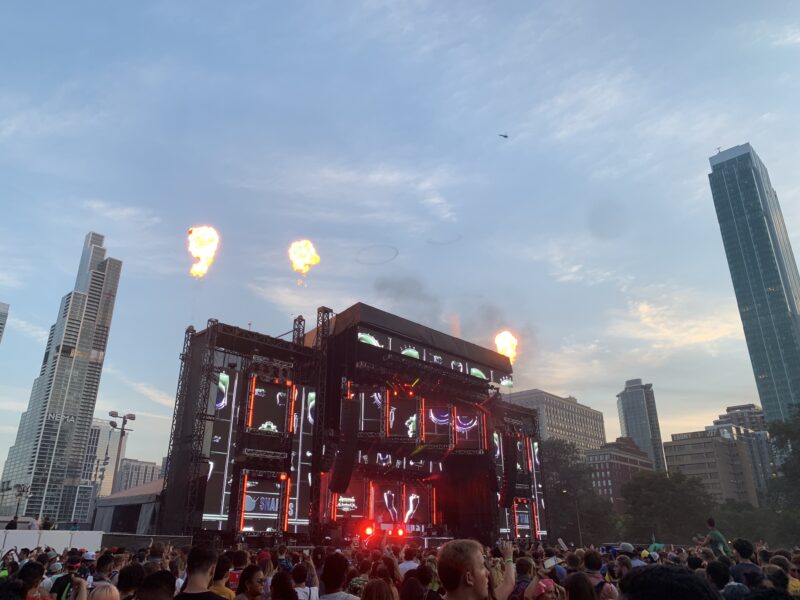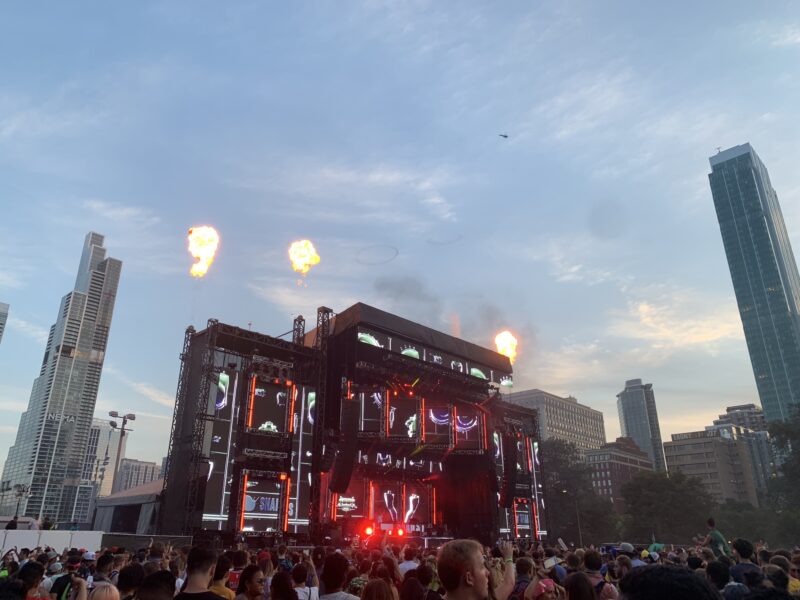 Day 2 of Lollapalooza was incredible!!! I attended with fellow colleague and Women of EDM Founder, A. Re aka Amanda Re. Our goal was to pack in as many performances as possible and interview Cray, Max Frost & Yoshi Flower. You could say that our mission was accomplished, as we nailed all of our scheduled interviews and we got to see Tame Impala, Childish Gambino, Matoma, Snails, Death Cab for Cutie & Janelle Monáe!
Upon arrival, we immediately went into our first interview with Max Frost. His songs "Money Problems" and "Good Morning" are two amazing feel good jams! His energy was as incredible as his outfit. We were eager to ask him about his performance on the T-Mobile Stage on Day 1 and about his music journey. I felt excited after our interview. It was so cool to be able to sit down and ask pressing questions to an artist I look up to.
After that, we walked through the festival and found ourselves at the Bud Light Dive Bar Sessions. They had three unique flavors of brew: Lemon, Orange and Lime. My favorite was the orange!
With beers in hand, we headed back to the artist lounge for our second interview of the day with Yoshi Flower. As we ran through the festival to make to back in time for the Q&A, we took pictures of the festival goers. The energy was electric, the outfits were amazing, and the accessories were fabulous!
We all know that festivals are all about two things: music and style. Check out this one girls wardrobe! So much YASSS! #Cray
Yoshi Flower was super chill. He's this incredible performer with unique individuality. We absolutely loved speaking with him and of course, we obsessed over his fashionable attire!
We relaxed for a bit in the shade before meeting up with Cray. I was pumped to speak with her because she is a huge role model for me! Her brand, style and confidence were topics of discussion. I was excited because we played an interview game with her. I showed her pics that she had posted on her Instagram accounts and she shared what she was thinking in the moment. For the rest of the evening, I was high on adrenaline. All of our artist convos were thrilling and the experience alone of being in the same space as them was elating.
Matoma brought good vibes and tropical house to Perry's Stage. He had the crowd dancing and celebrating the moment, which was incredible to be a part of.
Janelle Monáe had a huge crowd! We ended up standing in the back and listening to her set for about 15 minutes. It was great to relax and enjoy her epic performance.
Death Cab for Cutie was so cool! Their set was exactly what was needed after a long day. I was excited to see them bring out Chicago's favorite person, Chance the Rapper.
Obviously we had to go back to Perry's Stage for Snails! Once again, he had the crowd headbanging and celebrating being in the midst of Downtown Chicago as the beautiful sun set. Snails is always a set you'll find me at, as he once claimed that he attended the University of Tampa, my alma matter.
Walking through the media lounge after, I noticed the familiar face of Moe Shalizi! Shalizi is the manager of Marshmello, Slushi, Jauz, Ookay and many more of my favorite artists. I was able to give him a hug and compliment him on the genius branding he has done for Marshmello. I also happen to be Mellos biggest fan, so you could say I had quite the fan girl moment meeting Shalizi.
Day 2 Lollapalooza closers were Childish Gambino and Tame Impala. Childish Gambino has such a dedicated fan base. There were soooooo many people there to see him perform live. He began his set by announcing that he wanted the crowd to do two things during "The Childish Gambino Experience" and they were:
To live fully in the moment.

To put our phones away.
The crowd went wild when he ran into the center divider to take crazy-eyed selfie pics with fans! He LIVED for this performance. He rapped and sang so flawlessly. He was even dancing to his own music … seriously he has the smoothest dance moves!
Before leaving, we stopped to see Tame Impala. It was a 30 minute walk to get to the Bud Light Stage but it was worth it! His positivity was shared through music and laser lights shooting above the crowd.
My dreams came true at Lollapalooza! The interviews we got to do and artists we saw perform their hearts out, reminds me how blessed I am. From interviewing Cray to speaking with Yoshi Flower and Max Frost, Day 2 of Lollapalooza 2019 is one I will always remember!
---
For more on Lollapalooza and other EDM events in Chicago, join the EDM community on 312area! 
MyArea Network is a participant in the Amazon Services LLC Associates Program, an affiliate advertising program designed to provide a means for sites to earn advertising fees by advertising and linking to Amazon.com. 
Tags Childish GambinoCrayDeath Cab for CutieJanelle MonaeLollapaloozaMatomaMax FrostSnailsTame ImpalaYoshi Flower
You may also like...