Day 4 of Lollapalooza in Chicago | Lineup at Perry's Stage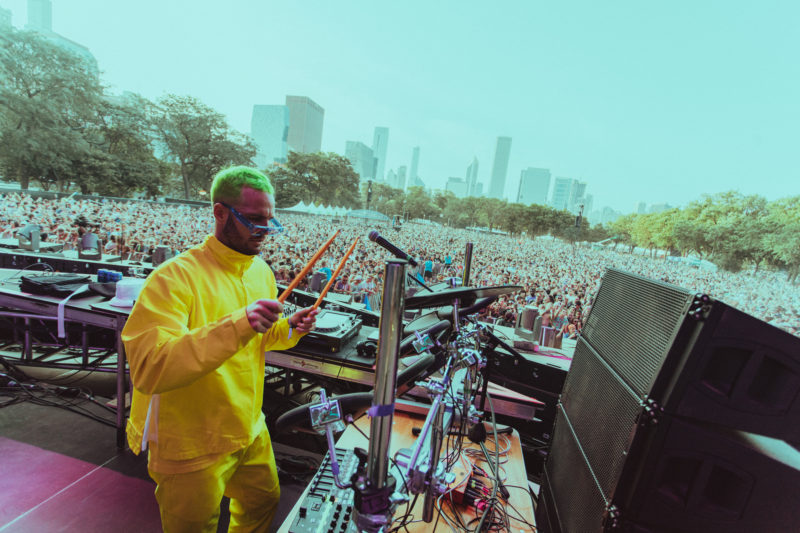 It's the last day to bring energy to Perry's Stage at Lollapalooza. But, that should be no problem considering they saved the best for last!
On Day 4 there are powerful female DJ's and basketball all-stars turned heavy bass DJ so be sure you pack Advil and get ready to dance for one last night under the Chicago skyline. Here are our Top 5 must-see artists from Day 4 on Perry's Stage!
---
Born Dirty – 1 p.m. – 1:45 p.m.
Born Dirty has been in the public eye since his career began with some of the EDM Industry's biggest labels supporting him like OWSLA, Dirtybird, Mad Decent, Fool's Gold, Night Bass, and Insomniac Records. He has a unique sound that mixes Hip Hop, House, and Techno. His French attitude has greatly influenced his sound and attitude, which helps him blend the genres together. His career continued to bloom in 2018 when he released  "Badass" w/ Anna Lunoe and "Get Up Get Out," that are mixed at festivals all around the world. Get ready to dance in the hot summer sun during Born Dirty on Day 4.
GG Magree – 2 p.m. – 2:45 p.m.
More badass female powerhouses? Sign me up! GG Magree is an Australian producer, DJ, and singer that is ready to blow you away at Lollapalooza. She now resides in LA and continues to be featured on hits with other DJ's like her most recent release "Ghost" with Jauz. Some other songs you will enjoy during her set are "I Wanna Lose You" and "Bodies". Check her out for an unforgettable set!
DIESEL – 5:15 p.m. – 6:15 p.m.
Everybody knows Shaquille O'Neal, but have you heard him throw down a heavy bass EDM set and jump into the audience to headbang alongside you? Well, if you haven't now's your chance! This may be the only DJ large enough to jump into the crowd without security! I mean I wouldn't want to get thrown by Shaq in the mosh pit! DJ DIESEL is bringing the bass as he will play GUARANTEED the heaviest set of the weekend. You'll hear songs like "Bang" featuring NGHTMRE and Lil Jon.
San Holo – 7:45 p.m. – 8:45 p.m.
San Holo is a Dutch DJ, musician, producer, and composer that became famous from one of my favorite mixes. He mixed Dr. Dre's "The Next Episode" which now has more than 175 million views on YouTube. His sets are unique because he not only mixes live but he also plays instruments and mixes them into his music. Some other hits he's been a part of include "We Rise, "Light", and "I Still See Your Face".
Sheck Wes – 9 p.m. – 9:45 p.m.
We've all had Mo Bamba stuck in our heads at least once in this lifetime but now, you can see it performed live at Lollapalooza! Sheck Wes is a Senegalese-American rapper, songwriter and model. When "Mo Bamba" went viral in 2018, he skyrocketed to fame. But, he has a lot of other great music that you can hear live to close out the festival. Other songs you will hear during his performance are  "Chippi Chippi" and "Live Sheck Wes".
---
Women of Edm is in partnership with MyArea Network! Visit our proud partner's 312Area site HERE! For more on Lollapalooza and other EDM events in Chicago, join the EDM community on 312area! 
Tags bassBorn DirtyDieseledmFestivalGG MagreeGrant Parkhip hophouseLil JonLollapaloozaNGHTMREPerry's stageSAN HOLOShaqShaquille OnealSheck WesTechno
You may also like...