EDM Artists Fans Can See at Perry's Stage on Day 1 of Lollapalooza Chicago!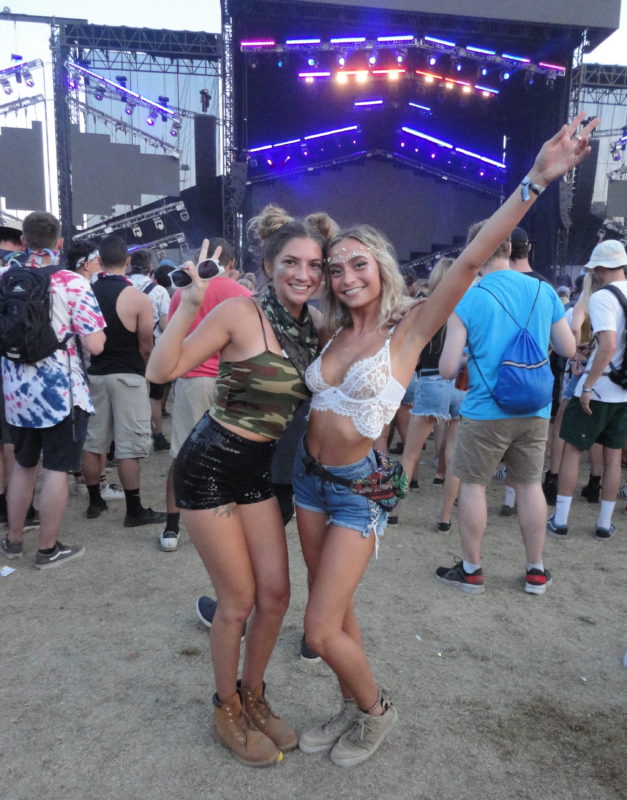 Calling all shufflers, headbangers and EDM Fans!
If you love the EDM culture and community, you know that a majority of the time at any multi-genre festival is spent searching for your favorite EDM sets. However, Lollapalooza did you a favor and put most of the EDM artists on Perry's Stage!
Bring your comfortable footwear and neck braces for day 2, because the Day 1 lineup is BONKERS! If you're a shuffler, purchase some of these songs on Amazon and dust off your footwork beforehand to impress the crowd!
---
Willaris K – 12 p.m. – 12:45 p.m.
Did someone say techno?! Willaris K. is here to give the techno fans a set to remember! He came out with his first EP called "Natural Selection / Cobaki Sky (Prequel)" and quickly followed up with a second EP called "Alchemy" which helped him rapidly gain exposure. He explores the themes of transience, movement, darkness, and currents through his trance music and inspires the younger generation of techno artists with each song he releases. His music represents how he quickly went from working the state border substations by day and bedroom producer by night to a full-time piano-trained musician, songwriter, producer, sound designer and experimental field recordist. Check him out at Lollapalooza as he opens Perry's Stage for the festival on Day 1.
Ducky (Live) – 1 p.m. – 2 p.m.
If you're anything like me and love supporting women in the EDM industry, Ducky is playing a live set on Day 1 of Lollapalooza. Ducky has been in the business for a long-while, honestly, since she was 13 playing the clubs in San Francisco with a fake ID. Since those days she has been quietly working on her distinct sounds ranging from soft and intimate to full-on hardcore. Her raw emotionality and expert production have earned her cosigns from Skrillex to NPR. Songs to lookout for are "Winter Song", "I Still Believe in Love" and her most well-known song with Jauz, "Rave with Me". Check her out at Lollapalooza Day 1 and you'll understand why her journey has just begun.
Svdden Death – 2:15pm – 3:15pm
Headbangers, get your neck braces out and be ready to hurt the day after Svdden Death's set on Day 1. Perry's Stage has invited this bass god to bring the energy up and I'm not even sure that Chicago is ready. Svdden Death has been stirring up the bass community since 2017 and made a big splash in the pond of EDM. With the release of his first EP "Junkworld", his popularity has risen and he is known as one to watch. You'll be hearing songs like "Caught in the Mosh" as you are literally caught in the mosh pit.
CloZee – 3:30 p.m. – 4:30 p.m.
The second female DJ of the day takes the stage at 3:30 p.m. on Day 1 of Lollapalooza! CloZee is ready to let the force of her sound carry everyone to places they have never been before. Chloé Herry, also known as CloZee, is a french producer that finds inspiration all around her. She sees inspiration in the world around her and wants to turn that inspiration into her own unique sound. This melting pot of instrumentation and cinematic flair puts listeners in the mood to move, with international crowds now cultivating the evolution of her genre. Chloé says she rarely lays down only electronic sounds. Her favorite sources are organic and real and the bold simplicity of her sound is the power behind her fanbase. Check out some of her music below and get ready to get weird with CloZee at Perry's Stage on Day 1.
Elephante – 4:45 p.m. – 5:45 p.m.
Bringing house music to Perry's stage for the first time during Lollapalooza 2019 is Elephante, also known as Tim Wu. Elephante is one of the biggest artists for progressive and big room house of our generation. Originally, he gained much of his popularity through remixing pop songs from Lorde and Clean Bandit. However, he has some of his own house songs that are incredible and perfect for those of you who like quick beats and shuffling. Some of the songs to look out for are "Catching On", "The In Between", "Age of Innocence" and "Closer". Check out his sounds and the shufflers who will charge the stage for his set on Day 1!
Fisher – 6 p.m.- 7 p.m.
Have you been losing it ever since you saw that Fisher was coming to Lollapalooza? Well, me too! In the past year, Fisher has brought house music back into the limelight with the release of a single song, "Losing It". He was nominated for a Grammy thanks to his biggest hit yet! During Winter Music Conference Afrojack, Kayzo and Laidback Luke all referenced his breakthrough into the EDM industry. He recently came out with another big hit called "You Little Beauty" that has the crowds going crazy during his sets. I met him at Sunset Music Festival and he was such a sweetheart. He even laughed when I told him I was losing it after our introduction. Watch his set from start to finish and I promise, you'll leave it with a smile on your face!
Deorro – 7:15pm – 8:15pm 
Erick Orrosquieta, commonly known by his stage name Deorro, is an American DJ signed to Ultra Records. He formerly used the name TON!C but has been in the industry since he was 17. It all began when he remixed DJ Chuckie's track "Make Some Noise" and his remix ended up on the Beatport Top 50. He quickly began releasing songs with artists like Hardwell, Diplo and Skrillex. Some of you may recognize him from Teen Wolf, as he played the Dj in many scenes throughout the show. His performance at Lollapalooza is well sought after, so make sure you get there early if you want an up-close and personal sneak peek into Deorro's world.
Gud Vibrations vs Slugs Music – 8:30pm – 10pm
If you like back to back sets, this is one of the greatest back to back sets of 2019, guaranteed. With Slander, NGHTMRE, and Snails going back to back for an hour and a half, there is bound to be broken necks and sore backs on Day 2. This HEAVY bass set is going to be the perfect way to end the night on a high note for those of you who want to end the night strong. It's hard to predict the songs they will be playing but Gud Vibrations is guaranteed to be played at least once. Other Gud Vibrations artists that will be in attendance are G Jones, Habstrakt, ARMNHMR, and Wavedash. From the Slugz Music group, you can expect music from Ghastly, Krimmer, Bawdy and more.
---
Women of Edm is in partnership with MyArea Network! Visit our proud partner's 312Area site HERE! For more on Lollapalooza and other EDM events in Chicago, join the EDM community on 312area! 
Tags AfrojackARMNHMRBawdyChicagoCloZeeDeorrodiploDuckyedmElephanteFisherG JONESGhastlyGrant ParkGUD VIBRATIONSHabstraktHardwellhouse musicJauzkayzoKrimerLaidback LukeLollapaloozaNGHTMRESkrillexSlanderSLUGZ MUSICSnailsSunset Music FestivalSvdden DeathTechnoWavedashWillaris Kwinter music conference
You may also like...