EDM Industry Secrets from Winter Music Conference Day 3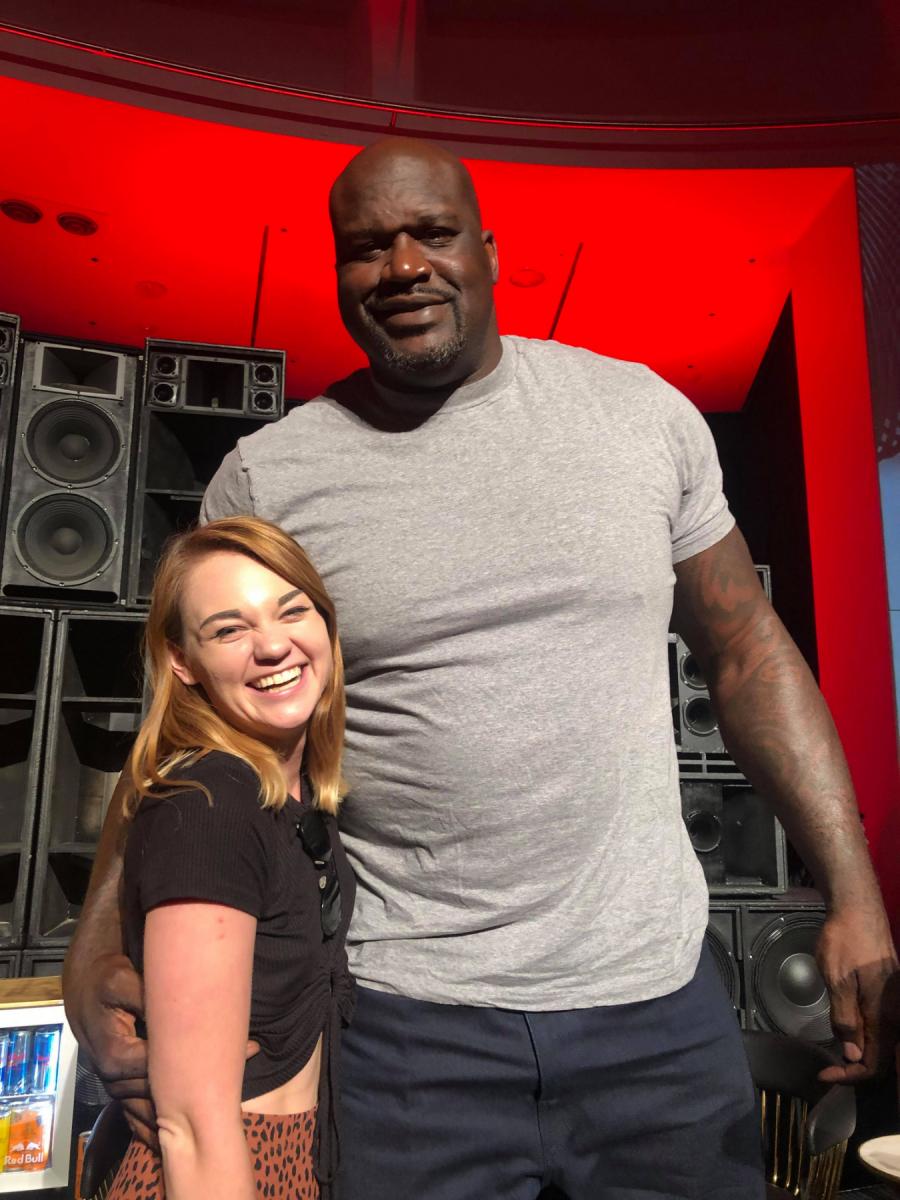 On the last day of Winter Music Conference, I was so excited to see what was in store. After fangirling over Kayzo and getting to meet some of my favorite artists, I had a feeling Day 3 was going to be one for the books.
When I first arrived to the Faena Forum, I noticed there was a group of people circled around someone so of course, I have to investigate. When I moved closer to the group I saw that David Guetta was the superstar all the fans wanted to have a moment with. I was shocked, once again, that these artists were so readily available to those of us to wore WMC wristbands. It's truly amazing to be able to access some of the worlds most well-known DJ's and have a real conversation with them. Winter Music Conference inspires up and coming artists by giving them an all-access pass to the greats and their knowledge.
Spinnin Records With Special Guests Sander Van Doorn and Lucas & Steve
The first panel that I went to at 1pm was called Spinnin' Records with special guests Sander Van Doorn and Lucas & Steve. The other panelists were Roger De Graf, the CEO of Spinnin' Records and Jorn Heringa, the Head of Artist and Repertoire at Spinnin' Records. I was excited when they began talking about marketing and what they consider a successful campaign. The three key concepts that lead to a successful marketing campaign are video, visuals and social media content planning. They revealed that when they release a song they strategically send it to other DJ's that Spinnin' Records knows will make the right type of remix. This helps the song gain popularity in different fan bases.
Make sure everything you put out is on brand. DeGraf was insistent on having a steady stream of content that represent your brand. Sander Van Doorn releases 14-15 songs every week, which takes a team of 90 people, but it has helped them rise to success because their fans know they will have something new out each week.
DeGraf was asked by an audience member how he knows an artist is worth signing. He explained that the process is as follows:
1. He hears a great demo, that may need to be tweaked but has great potential.
2. He invites the artist to the studio so they can meet face to face.
3. The artist and DeGraf have a conversation about the music and DeGraf decides if they are an easy person to collaborate with. THIS IS KEY.
Sander Van Doorn made a great point when asked about how he makes his music. He said that he always stays authentic to his sound and to making music that he loves. He explained, "If you write a song just to make it a hit but you don't love it and it's unsuccessful you have nothing. But if you make a song that you love and it isn't successful, you still have a song that you love."
Digital Collision: The Convergence of E-Sports, Gaming and Electronic Dance Music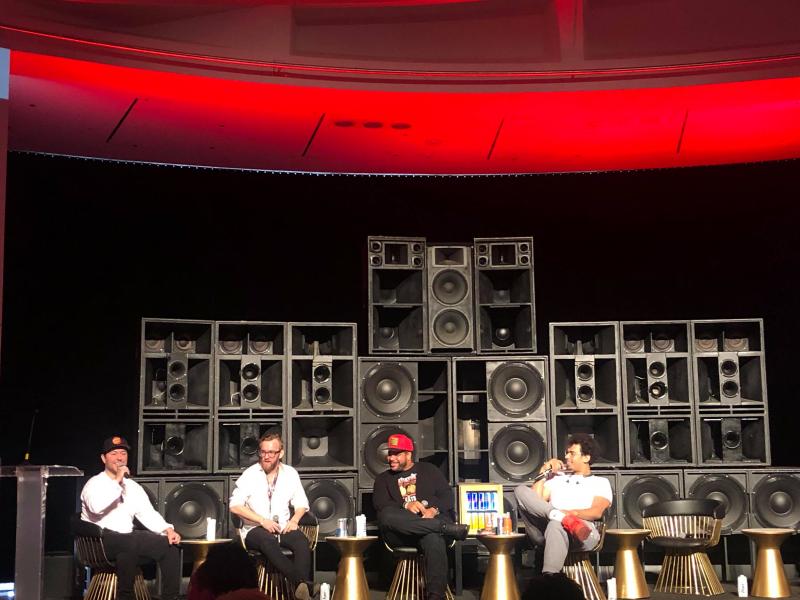 The second panel that I attended on day 3 of WMC was called Digital Collision: The Convergence of E-Sports, Gaming and Electronic Music Culture. The panelists were Dutch DJ AfroJack, Chris White, the CEO of Merlin Collective and Niles Heron, the COO of Loaded.
I wasn't surprised when after the first question, the panel turned to Fortnite, the battle royale game that took over the gaming community in 2018. Afrojack said that he got lucky because his hype for Fortnite died quickly when he got bored and impatient waiting for it to load onto his server and decided to make music instead. But Niles and Chris were more excited about the game because of how it brought the gaming community back into the spotlight.
Fortnite came into the spotlight when International celebrities were playing online with the best player of all time, Ninja. Drake, Marshmello, Travis Scott and many more of your favorite musicians have live streamed games on Twitch with the man, the myth and the legend Ninja. Niles Heron said that Ninja is so successful because he is an entertainer and a gamer at the same time.
His streams are watched by millions of people across the world and last summer at Lollapalooza he was being live streamed on the main stage when people boo'd the event for stopping his stream mid-game to invite the next artist on stage to perform. This was revolutionary in the world of gaming because it meant that people cared just as much about the music as they did the Fortnite stream.
As Marshmello's (self-proclaimed) biggest fan, I was curious what the panelists thought about his virtual concert in Fortnite, because he had 10.7 million people streaming it. Was it another genius move by Moe Shalizi or did the panel think the team was just chasing American clout?
The moderator, Seth Combs, must have read my mind because he asked about it a moment later. Afrojack wasn't shy in expressing his opinion! He explained that because Marshmello is a brand, the move was genius. He explained that if Mello had put his face on it, it would have been a clout chasing move in the game of life, but because he is a faceless brand, it was genius of Moe Shalizi, Mello's long-time manager.
The talk ended with Niles Heron divulging his hopes for the future of gaming. He wants gaming to become a social thing instead of having a bad stigma against it. He knows well that gaming is seen as something the anti-social kids in school do because they have nothing else to turn to. However, in the next five years Heron and many others see a shift happening for the gaming community. Keep your fingers crossed, gamers!
The Art of Artist Management: A Discussion with Some of Today's Top Managers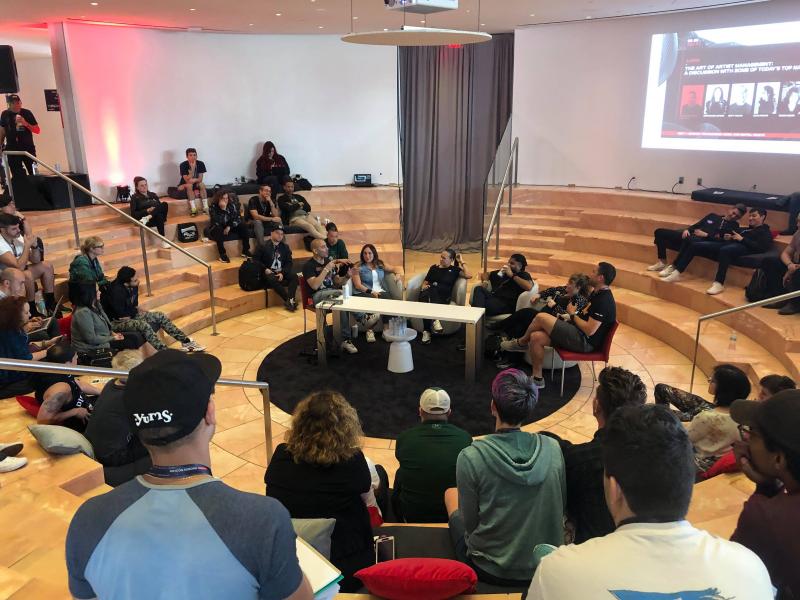 At 3 p.m., I went to a panel filled with superstar managers, who kept it real and gave us all the facts straight up. The panel was called The Art of Artist Management: A Discussion with Some of Today's Top Managers. The panelists were Galantis and Kaskade's manager, Stephanie Lefera, Matt Colon, the genius behind Steve Aoki's branding, Olga Heijns, Laidback Luke's manager and Marci Weber who manages Bassnectar and Tiesto. I was honored to hear these marketing and branding prodigies talk about their experiences.
Stephanie Lefera was my favorite because she had this undeniable authenticity about her. She spoke about having to be the bad guy but not minding it at all because that's what you do for an artist that you manage. When they don't want to be the one to say no, you step in and gladly do it for them. I spoke with her after the panel about how her realness spoke to me and she invited me to join a Facebook group so we could stay in contact. I was honored.
After the panel, Amanda and I waited almost 45 minutes to have a chance to speak with Matt Colon, the brains behind Steve Aoki's branding. We thanked him for helping us gain traction on our EDM Community with the Steve Aoki concert ticket contest. I had a burning hot question that I had to ask Colon. I needed to know who came up with Steve Aoki's caking gimmick. When I asked, Matt seemed to light up. He told me that Steve wanted to help out his friends AUTOEROTIC to promote their new song, by copying their music video and throwing cake in peoples faces live during his sets. After seeing how much the fans (surprisingly) enjoyed the gimmick, he decided to keep it going!
Here's a fun video of some of Steve Aoki's best caking moments:

Keynote – Shaq Presents: Becoming Diesel
At 5 p.m., we got front row seats at the Keynote presentation that was going to be given by Shaquille O'Neal and his team. I was really excited about this one because he is such a business mogul and legend on the basketball court. I was so excited to hear about how and why he wanted to become a DJ. The keynote was called "Shaq Presents: Becoming Diesel" and everything he had to say was brilliant. He discussed wanting that game seven feeling again after retiring from basketball and he found it when he attended Tomorroworld in 2014. He said that he felt the energy from the crowd when he was part of the crowd and that is when he fell in love with bass music. "Being a big guy, I felt that energy from the crowd and in the mosh pit. Now, I just want to make other people feel that game 7 energy. I hope my music makes them want to jump in the mosh with me," he said.
He credited fellow panelist and co-founder of Medium Rare, Joe Silberzweig, for being his biggest supporter. Joe let him into Tomorroworld 2014 when he showed up without a ticket. When Shaq felt the energy that the festival attendees had when a DJ dropped the bass, he knew he needed to try it. He and Joe teamed up, Shaq learned his way around a DJ booth and created the DJ Deisel brand.
The best part (for me at least) was during his Q&A session after his panel when out of the blue he pointed at me and said, "What's your name?" Because I couldn't believe he was talking to me, I turned around and looked for the person he was talking to. When no one spoke, I pointed to myself with a confused look on my face. He then repeated himself and said, "Yes, you in the front row who hasn't stopped smiling once." I nearly choked up my name and he said that it was exciting to see someone so happy to be there. I couldn't believe this was happening to me. I was in complete and utter shock.
After the panel, I had to introduce myself and grab a picture with him! I ran right up to him and he looked at me and said, "Hey Smiley, you need to come to Shaq's Fun House tomorrow night! Let me have my marketing director send you some tickets!" I nearly fainted. We took a picture together and he sent me along to his marketing director, Logan, who copied down my information and said I would see a ticket in my inbox by 10 a.m. the following day.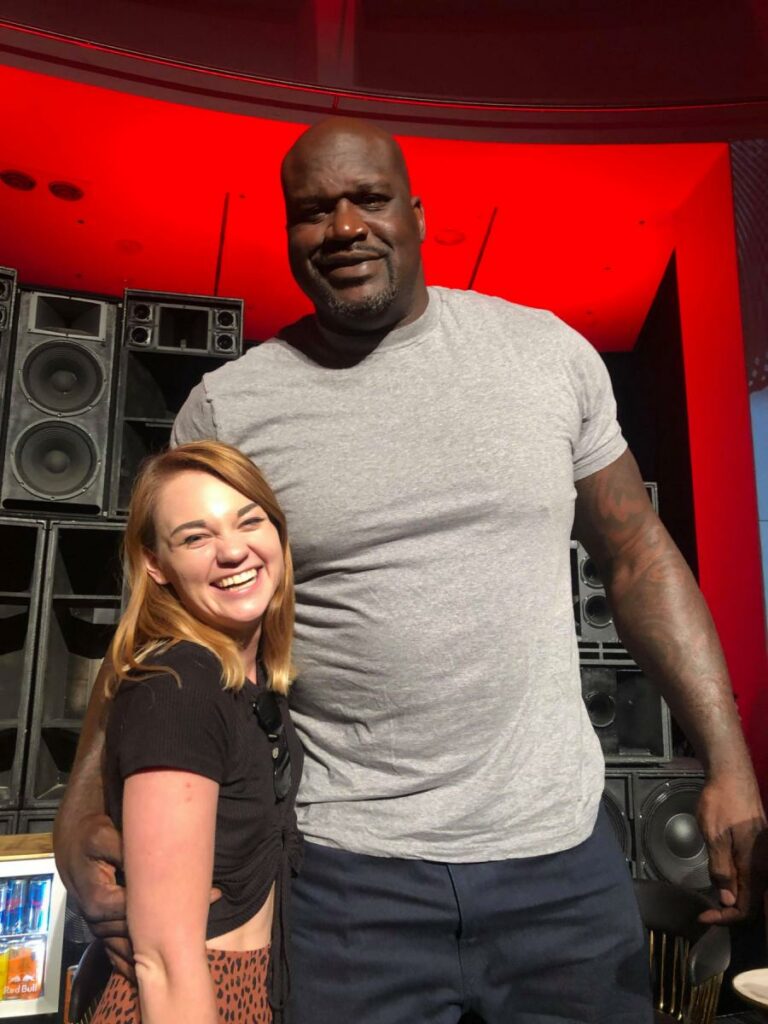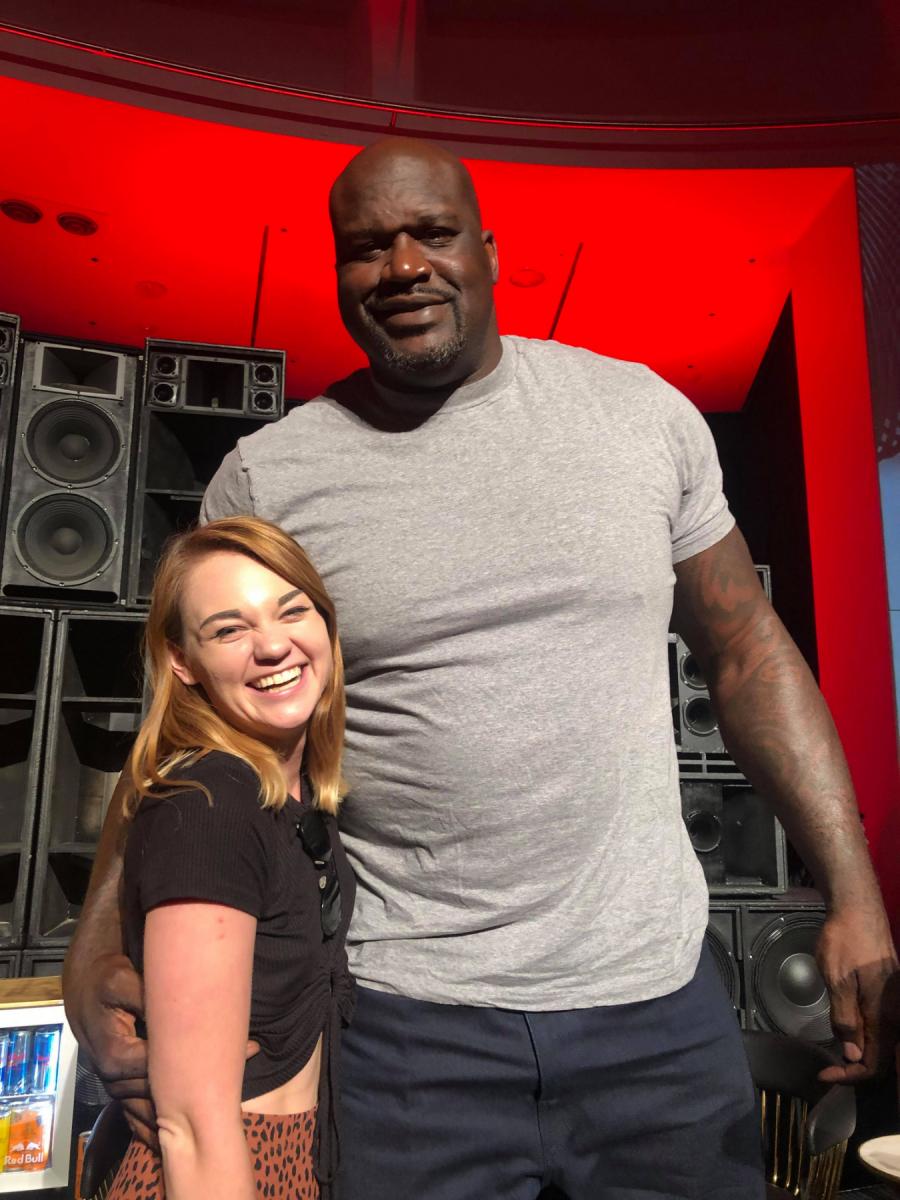 I couldn't have asked for a better way to end my Winter Music Conference experience. I was running on adrenaline for a good two hours after the panels ended. It was really influential for me to have someone as notable as Shaquille O'Neal recognize my enthusiasm.
Winter Music Conference is an event that all fans, artists and industry insiders need to attend at least once in their life. I know that I am already in a post-conference depression and thinking about what memorable moments next year's conference will bring.
Thank you to MyArea Network, Women of EDM and Winter Music Conference for helping me to bring these dreams into reality!
For more Miami Music Week content, look for my Day 1 and Day 2 articles. Register on 305area, your free local guide to Miami!
Images courtesy of Author and original story posted on 305area.com.
Tags Lucas & SteveMiami Music WeekSander van DoornShaqSpinnin Recordswinter music conference
You may also like...