Dim Mak Miami 2019
If you are going to Miami Music Week this season, you do not want to miss the official Steve Aoki/Dim Mak Party!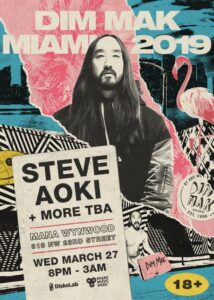 As winter draws to a close, vast droves of DJs, lovers, manufacturers, and business professionals gather in Miami to its iconic Miami Music Week. The crown jewel of the occasion is Winter Music Conference, a celebration of all that makes dance music amazing.
For the last ten years, Steve Aoki and Dim Mak have played a key part in these festivities. Besides curating distinctive and boundary-pushing occasions each and every year, they treat lovers to a lively mix of pool parties, bar events, along with all manner of epic, Miami-worthy amusement.
In previous years, the legendary Dim Mak festivities have included performances from talent that the likes of The Chainsmokers, Yellow Claw, Deorro, Rich that the Kid, Dada Life, Carnage, Afrojack, Waka Flocka Flame, Keys N Krates, Lil Jon, Desiigner, Borgore, Getter, Laidback Luke, The Bloody Beetroots and QUIX. If there's one thing Aoki understands the way to do, then it is throw an amazing party.
Following the terrific success of last year's Shaq-hosted event, Dim Mak is keeping the heritage alive by visiting Wynwood at 2019. Located just north of downtown, Miami's historical area is a cultural hub of music, fashion and art – a perfect spot for a full-fledged Dim Mak invasion.
Don't lose out on an occasion sure to return in history, also join us on Wednesday, March 27th because Dim Mak rolls down to an all-night celebration at Mana Wynwood.
Headlined by label boss Steve Aoki, " the 18+ event goes off at 8:00 PM and ends Thursday morning at 3:00 AM. We'll see you there! Tickets go on sale Tuesday, February 12th.
Grab your tickets here!