Freaky Deaky Texas
Today Disco Donnie Presents announces single day passes now on sale for the inaugural Freaky Deaky Texas taking place at Sam Houston Race Park on October 27 and 28. DDP also announces performances by day for forty plus artists across three stages, along with Saturday's headliners and luminaries DJ Snake and Porter Robinson (DJ set) and Sunday's Excision and Kaskade.
Saturday: DJ Snake and Porter Robinson (DJ Set)
Sunday: Excision and Kaskade
Plus:
12th Planet,  Destructo, Gabriel & Dresden, Nora En Pure, Boombox Cartel, Alison Wonderland, Walker & Royce + many more at the Sam Houston Race Park, October 27 and 28, 2018. 
Single Day Tickets on Sale Now HERE
Single Day GA Price $89.95
Single Day VIP Price $134.95
2-Day GA Price $149.95 / 18+ 
2-Day VIP Price $239.95 / 21+
Payment plans and Travel packages also available at: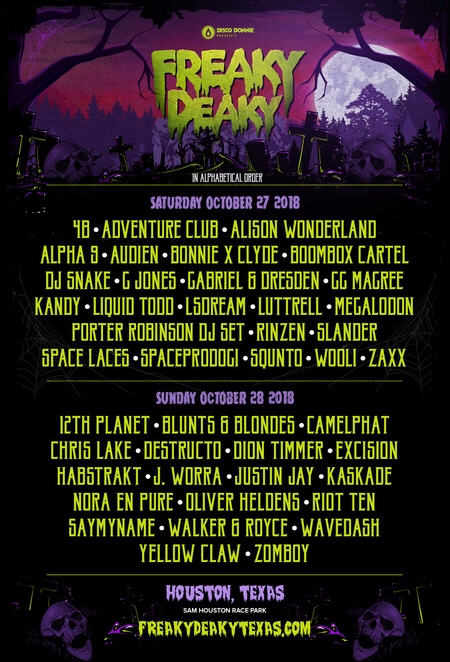 New additions to the Halloween weekend celebration are both Justin Jay and spaceprodogi who will be joined by 12th Planet, Destructo, Bonnie x Clyde, Nora En Pure, G Jones, The Adventure Club, Chris Lake, Gabriel & Dresden, Alison Wonderland, J. Worra, Walker & Royce, Yellow Claw, and Zomboy. These are just a few of the standout artists joining Freaky Deaky Texas in Houston. Promoted by Disco Donnie Presents and React Presents, two of the biggest and most notable names in electronic dance music, Freaky Deaky Texas is the newest edition of the Freaky Deaky Series, typically held in multiple cities across the U.S. It also represents the inaugural Halloween partnership between LiveStyle event brands DDP and React. The ghoulish festivities will unfold at Sam Houston Race Park in Houston on October 27 and October 28, 2018.
"We've produced Something Wicked for six years and felt it was time to bring Houston an all new experience. For 2018, we've brought in a new festival brand and partners to help accomplish that goal.  Now, we're excited to release the inaugural lineup for Freaky Deaky Texas. We've taken into account fan suggestions to build a diverse lineup to accommodate a variety of sounds and tastes alongside plenty of new surprises across three stages." —Disco Donnie
As the suspense builds for Freaky Deaky Texas, early bird tickets sold out in less than 24 hours and over 20,000 tickets now sold. Don't be left alone in the dark this Halloween, get Freaky Deaky in Texas.
The Inaugural Freaky Deaky Texas 
Halloween Weekend
Saturday Oct. 27 & Sunday Oct. 28, 2018
Sam Houston Race Park, Houston, TX
FULL LINE UP 
SATURDAY OCTOBER 27
4B
ADVENTURE CLUB
ALISON WONDERLAND
ALPHA 9
AUDIEN
BONNIE X CLYDE
BOOMBOX CARTEL
DJ SNAKE
G JONES
GABRIEL & DRESDEN
GG MAGREE
KANDY
LIQUID TODD
LSDREAM
LUTTRELL
MEGALODON
PORTER ROBINSON dj set
RINZEN
SLANDER
SPACE LACES
SPACEPRODOGI
SQUNTO
WOOLI
ZAXX
SUNDAY OCTOBER 28
12TH PLANET
BLUNTS & BLONDES
CAMELPHAT
CHRIS LAKE
DESTRUCTO
DION TIMMER
EXCISION
HABSTRAKT
J. WORRA
JUSTIN JAY
KASKADE
NORA EN PURE
OLIVER HELDENS
RIOT TEN
SAYMYNAME
WALKER & ROYCE
WAVEDASH
YELLOW CLAW
ZOMBOY
FOLLOW FREAKY DEAKY
FOLLOW DDP