Sunset Music Festival 2021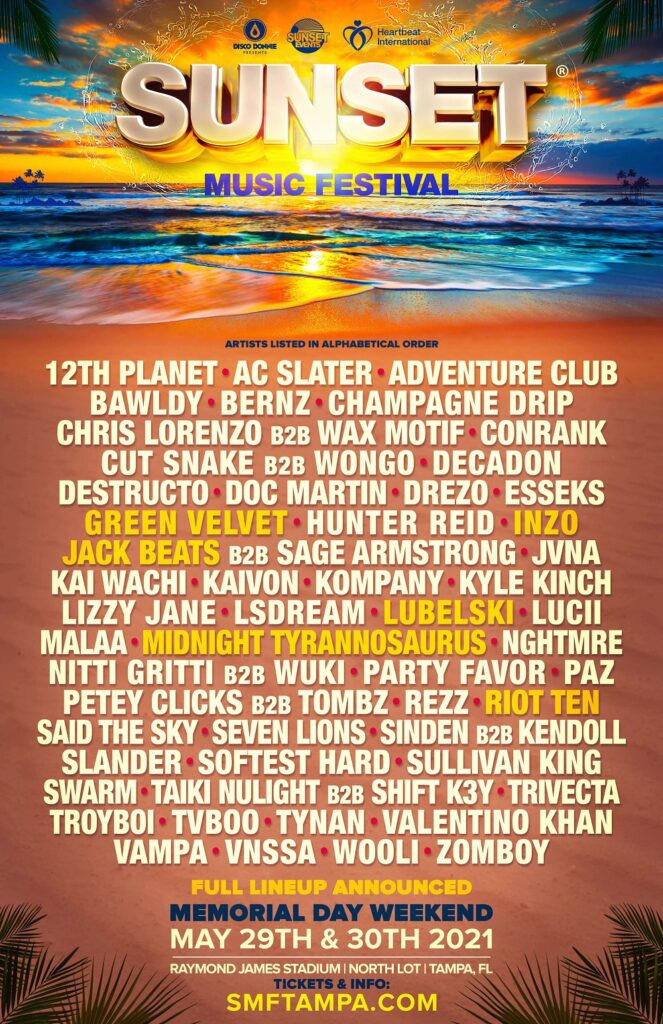 Set to take place at Raymond James Stadium (N Lot) in Tampa, Florida this Memorial Day weekend (May 29-30), Sunset Music Festival is slated to be this year's premier summertime dance music event!
This Memorial Day weekend, May 29-30, Sunset Music Festival makes its return to Tampa's own Raymond James Stadium. A prime location for our spectacular two-day event, the beloved 'Ray Jay' is centrally located and convenient for locals and travelers alike. With every year growing in attendance, we'll use every inch of the multi-purpose stadium's North Lot. The Tampa Bay area treasure will come to life for the holiday weekend in the Sunshine State!
Location
Address: 4201 N Dale Mabry Hwy, Tampa, FL 33607
Pulling top and emerging talent from the best of the electronic music scene, Sunset Music Festival 2021 will feature a variety of artists including, AC Slater, Adventure Club, Cut Snake b2b Wongo, Decadon, Doc Martin, Lucii, NGHTMRE, Malaa, Rezz, Seven Lions, Taiki Nulight b3b Shift K3y, Valentino Khan, Vnssa, Zomboy and many others.
The event was moved from December 2020 to May of 2021 in response to the COVID-19 pandemic. "We feel this is the best decision for the health, safety, and welfare of our customers, artists, staff, and community," the festival said in a statement. All existing tickets will be transferred to the new date and no further action is required.
PHASE 1 LINEUP
12TH PLANET
AC SLATER
ADVENTURE CLUB
BAWLDY
BENSON
BERNZ
CHAMPAGNE DRIP
CHRIS LORENZO B2B WAX MOTIF
CONRANK
CUT SNAKE b2b WONGO
DECADON
DESTRUCTO
DOC MARTIN
DOM DOLLA
DREZO
ESSEKS
HUNTER REID
JVNA
KAI WACHI
KAIVON
KOMPANY
KYLE KINCH
LIZZY JANE
LSDREAM
LUCII
MALAA
NGHTMRE
NITTI GRITTI B2B WUKI
PARTY FAVOR
PAZ
PETEY CLICKS B2B TOMBZ
REZZ
SAGE ARMSTRONG
SAID THE SKY
SEVEN LIONS
SINDEN b2b KENDOLL
SLANDER
SOFTEST HARD
SULLIVAN KING
SWARM
TAIKI NULIGHT B2B SHIFT K3Y
TRIVECTA
TROYBOI
TVBOO
TYNAN
VALENTINO KHAN
VAMPA
VNSSA
WOOLI
ZOMBOY
About Disco Donnie Presents
Disco Donnie Presents (DDP) is an award-winning and recognized leader in electronic dance music event production, founded by veteran promoter James "Disco" Donnie Estopinal. Since the company's inception in 1994, DDP has sold over 16 million tickets producing over 16,000 live events, arena shows, and outdoor festivals in over 100 markets around the world including the U.S., Mexico, Canada, and Latin America. Annually, DDP is responsible for organizing and promoting nearly 1,000 club events across the U.S. ranging from Portland, Philadelphia, Houston, Tampa, New Orleans, Dallas, and St. Louis to name only a few; plus major festivals such as The Day After, Ultimate Music Experience, Ubbi Dubbi, Sunset Music Festival, Sun City Music Festival, and Freaky Deaky.
Founder and CEO, James "Disco Donnie" Estopinal, Jr. is considered one of the godfathers of U.S. electronic dance music, evolving over the past 26 years to become one of the top dance music promoters globally. From his early days in the 1990s New Orleans dance scene, Disco Donnie coupled eccentricity with ingenuity to create elaborately themed parties that charmed patrons, garnered an international following, and unwittingly became a catalyst for a national debate over the First Amendment right to expression.
In 1999, Donnie first partnered with Pasquale Rotella, CEO of Insomniac Events. In 2008, the duo merged officially, setting their sights on strategically developing the Insomniac brand throughout the world and making Insomniac a household name. Working together, the pair ushered in events such as EDC Orlando, Dallas, Puerto Rico, New York; Beyond Wonderland Seattle; Nocturnal Wonderland Austin, and co-founded Electric Forest. The partnership also produced hundreds of club shows annually in markets across the U.S.
In 2012, DDP shifted its focus to the genesis and development of SFX Entertainment, as the first company to sign with founder Robert F. X. Sillerman; a media entrepreneur with a vision to invest nearly a billion dollars in electronic dance music to bring the world's leading promoters under one roof.
Since 2017, Disco has been a part of LiveStyle, which included a worldwide portfolio of top-tier event companies including, Disco Donnie Presents, React Presents, Life In Color, Made Events, ID&T, Tomorrowland, Sensation, TomorrowWorld, Beatport.com, Electric Zoo, Awakenings, Q-Dance, and more.
In 2020, James "Disco Donnie" Estopinal announced he re-acquired sole ownership of Disco Donnie Presents (DDP), the namesake company he founded 26 years ago. This historic acquisition concludes an epic eight-year journey through being the first company acquired by SFX, surviving SFX's subsequent bankruptcy, becoming a part of LiveStyle, and delivering fan refunds in the face of COVID-19 festival cancellations.
About Sunset Events:
For over 2 decades, Sunset Events has dominated the dance music industry with top events, festivals, and promotions in Tampa Bay and Central Florida. John Santoro started this endeavor back in 1995 with Club Hedo, in Ybor City. Our winning combination of aligning the right artist at the right time in the right venue allows us to achieve unprecedented results. Sunset Events produces over 150 events each year along with its annual music festival, Sunset Music Festival.
At Sunset Events, we value our fans and the experience we deliver to them – that is why we go above and beyond with our productions, events, and service. If you have a question or comment, please contact us.
Sunset Events has featured hundreds of world-class artists, including but not limited to: Tiësto, Deadmau5, Skrillex, Illenium, Excision, The Chainsmokers, Zedd, Above & Beyond, RL Grime, NF, 21 Savage, Porter Robinson, Steve Aoki, Hardwell, Paul van Dyk, Armin Van Buuren, Paul Oakenfold, Benny Benassi, Carnage, 6lack, Juice Wrld, Oliver Heldens, Adventure Club, Dillon Francis, Borgore, Zeds Dead, Malaa, Slander, NGHTMRE, Pauly D, Flosstradamus and more!
Follow Disco Donnie Presents:
Website | Facebook | Twitter | Instagram
The complete artist lineup for the 2021 edition of the Sunset Music Festival:
12TH PLANET / AC SLATER / ADVENTURE CLUB / BAWLDY / BENSON / BERNZ / CHAMPAGNE DRIP / CHRIS LORENZO b2b WAX MOTIF / CONRANK / CUT SNAKE b2b WONGO / DECADON / DESTRUCTO / DOC MARTIN / DREZO / ESSEKS / HUNTER REID / JVNA / KAI WACHI / KAIVON / KOMPANY / KYLE KINCH / LIZZY JANE / LSDREAM / LUCII / MALAA / NGHTMRE / NITTI GRITTI B2B WUKI / PARTY FAVOR / PAZ / PETEY CLICKS B2B TOMBZ / TOMBZ / REZZ / SAGE ARMSTRONG / SAID THE SKY / SEVEN LIONS / SINDEN b2b KENDOLL / SLANDER / SOFTEST HARD / SULLIVAN KING / SWARM / TAIKI NULIGHT B2B SHIFT K3Y / TRIVECTA / TROYBOI / TVBOO / TYNAN / VALENTINO KHAN / VAMPA / VNSSA / WOOLI / ZOMBOY / GREEN VELVET / INZO / JACK BEATS b2b SAGE ARMSTRONG / MIDNIGHT TYRANNOSAURUS / RIOT TEN