Festival Fashion Trends of Summer 2019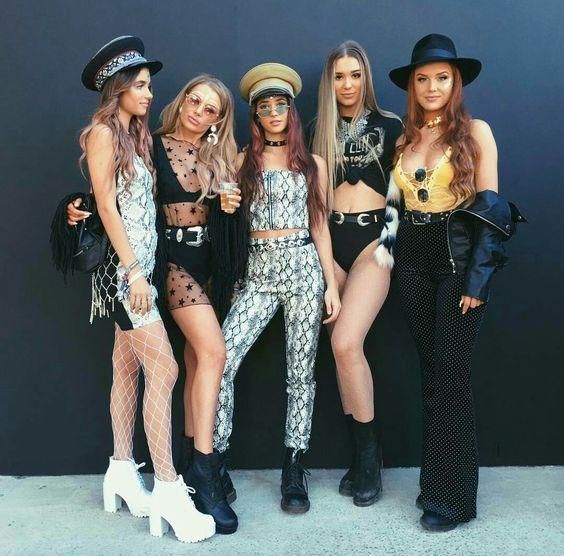 It's Festival fashion season! Animal print and bright neon colors are your best accessory at every event. Be bold with your outfit choices and find unique pieces to accent your overall look!
Because Lollapalooza is four days long, you may be finding it difficult to find enough accent pieces that match your vibe and your style for all four days. But we're here to inspire you and get you thinking about some festival fashion trends of 2019.
Animal prints galore.
If you're a 90s kid, you're ultimately a cheetah girl at heart. Cheetah, Leopard and Snakeskin prints are trending. At Coachella everyone was in cheetah outfits. It's likely 2019's biggest trend thus far.
Neon colors. 
Neon colors go in and out of style each season but this summer they're in. Depending on the location of your next festival, it could bring hot and humid summer days or dry and hot days and cool nights. Get a neon bikini and a cute jacket! Or a neon set. Keep them monochromatic for the best looks.
Monochromatic outfits.
All black. All pink. All purple. All red. No matter what your favorite color is, wear it one day and you'll really shine. Get a set, romper or mismatched outfit as long as its all one color, it's in style. From Kylie Jenner to Miley Cyrus, everyone is wearing monochromatic outfits this summer.
Platform sneakers.
Being a little on the short side at festivals can be really frustrating. It's hard to see the stage and if you get someone y'all in front of you it's likely you won't ever lay eyes on the DJ you came to see. My best suggestion is to try some platform sneakers! They can give you an extra two or three inches and they're super comfortable. It doesn't even feel like you're wearing heels, it feels like you're wearing your favorite pair of gym sneakers.
Dad Sneakers.
We all saw Dad hats coming since we were actually borrowing our dads old warm in hats as kids. That being said, I don't think I ever looked at my dad's shoes and thought "OMG I need those". In 2019, Dad shoes are a look and I purchased all three of these from Amazon Prime. Super comfy and really cute!
Looking for comfy? Try Boho Chic.
Day 3 or 4 of a festival it's likely you'll be looking for the cutest and comfiest outfit possible. The merch is always an option but sometimes it's pricey so my best suggestion is to try something boho. I've been seeing a lot of cute rompers and sets online, check out these three that you can order off Amazon! *with FREE 2-day shipping on Amazon Prime*
Plastic Buckles. 
I'm not sure when this became such a popular style at festivals but whether they're on your bikini tops or high waisted bottoms, plastic buckles are back. I'm not sure this one will last long so if you're going to do it, make sure it's before the trend ends.
Silver and Gold accents. 
Silver and gold never go out of style. From belt buckles to glitter and face gems, match your monochrome outfit with either silver or gold accents. If you're really daring, you'll be able to rock both with the right color scheme.
Loud Prints. 
Some recent prints that have been popular in festival fashion are: Sun and Moon Prints, Angel Prints and Checkers.
Rock n Roll T-shirts w/ Denim Shorts and Black Boots. 
This is a great style to rock at Lollapalooza because it's a multi-genre festival. I'll let the following pictures do the talking.
Belt buckles. 
If you're wearing a black belt with big silver or gold belt buckles, you've got the hang of this! They go with a lot of the previously mentioned fashions and accessories are everything when it comes to festival style.
Belt Bags. 
So remember when fanny packs were in style? Well, they're back in a different fashion. Now we call them belt bags and they're usually leather with cute gold or silver accessories all over. It's easier than carrying a bag because you won't need to carry a thing! I got a cute Micheal Kors belt bag at Marshalls for $19.99 that I will debut in the recap articles!
Scrunchies tie an outfit together.
Calling all 90s babies, the 90s are back in style! If you're having trouble keeping your hair together during the festival season, I get it. When you're dancing, whether it's shuffling, headbanging or jumping into the mosh pit you're into, it's hard to keep you hair looking perfect all day and night long. Add a scrunchie that compliments your outfit and you can put your hair into a ponytail or even space buns and still love your look.
Jerseys. 
If you get the chance to see DJ DIESEL live and you don't wear a Shaq jersey, get outta the mosh pit! I'm just kidding BUT jerseys are in style this summer. Girls have been wearing them as dresses and guys have been wearing baseball style jerseys all summer long. It's cute with dad sneakers and a dad hat, too.
For more on Lollapalooza and other EDM events in Chicago, joint the EDM community on 312area! 
MyArea Network is a participant in the Amazon Services LLC Associates Program, an affiliate advertising program designed to provide a means for sites to earn advertising fees by advertising and linking to Amazon.com. 
---
Women of Edm is in partnership with MyArea Network! Visit our proud partner's 312Area site HERE!
Tags Animal Printfestival fashionFestival Fashion Trends of Summer 2019It's Festival fashion season! Animal print and bright neon colors are your best accessory at every event. Be bold with your outfit choices and find unique pieces to accent your overall look!Lollapalooza
You may also like...