Interview with morgxn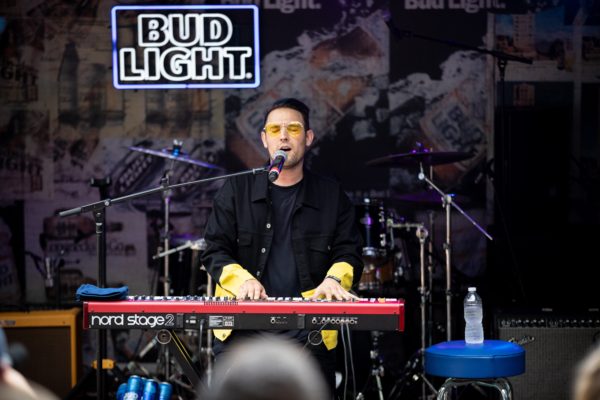 Photo Credit: Draftline, Bud Light Dive Bar Sessions
I played the best show of my life, just now.
---
After two sensational sets at Lollapalooza on Saturday, August 4th, with morgxn, he graciously found time to speak with Women of EDM! The electro indie pop super star had so many insightful things to say, that we wanted to share the in-depth convo with you. His sets were remarkable and his interview was even more captivating.  Check out what he has to say about his newest album, Vital, performing at Lollapalooza, his high and low of the week, his upcoming tour, and his music journey from when he was only writing for himself.
Here is morgxn with A. Re, from Women of EDM
A. Re: What has today been and where are you going next?
morgxn: This is my first Lollapalooza. I made a promise to myself that I would enjoy every minute of it. Part of enjoying every minute of it was not worrying about where I was going next or like what I was doing next, it has been really about enjoying the moment. I played, I think, the best show of my life just now at the BMI Stage and Nick Petricca from Walk the Moon joined me on a song and it was just magical. Absolutely magical.
A. Re: Did you feel in the moment or was it like a thing where you blacked out from adrenalin?
morgxn: I felt it in the moment. I was so emotional. I was raging with all of these feelings and at one point I was like, I can pretend that I am not feeling a billion things but right after I walked on stage and came back here I was by myself, I cried because my body was releasing all of these emotions. Maybe it's not cool to say this is a dream come true, but it's a dream come true.
A. Re: That feeling of accomplishment so gratifying.
morgxn: Yeah, I got to share music that I made before I had an audience. In a way, I was making it for myself but I was also making it knowing that there was people out there, like me, who are searching for a deeper meaning and are searching for love and to be connected by something greater than ourselves. I sang in front of people who knew the words to my songs.
A. Re: That's touching! So you were making music for people who feel music at a deeper level, are there other ways that you think fans connect with you?
morgxn: I think my fans connect through me being myself. Like, feeling empowered to be themselves as well. I'm trying to create a very safe space with my shows. I'm traveling parts of the country that may not be as progressive as I feel in my heart. I want my shows to be a safe space because I think about when I was a kid, it would be music that I would feel most alive and safe. You know what I mean? There's a lot of shit in the world right now. There's a lot of bad. If I can create a safe, fun space to feel and dance and cry and dance and love, than I'm doing a good job.
A. Re: I love that creator mentality. Speaking of touring, you have an upcoming tour with a lot of stops.
morgxn: I do have an upcoming tour. I'm going out with DREAMERS this fall.
A. Re: Yes! So I want to ask you a fun question. You have this big tour planned and you're gonna be traveling a lot … I noticed your fabulous wardrobe, how do you plan what you're gonna wear for something like that? How do you travel with it? How do you pack it? How does it work?
morgxn: I'm a really good packer. I don't need a lot to survive, you know what I mean?
A. Re: Good for you!
morgxn: I don't need a lot of stuff. I think it's now just come down to, I can just pack entire bag of shoes.
A. Re: And you pick things up on the way?
morgxn: Well, no. I basically pick and choose from clothes. I dont need much more. Like, I don't need a lot of things when I'm on the road.
A. Re: Can you tell me about what you're wearing right now? Your accessories and your fabulous nail polish?
morgxn: Wow. Well, I have always dreamed of having yellow nail polish. This felt like the exact moment that I should do it. I always like to lean into a color and right now I'm feeling like yellow is my vibe. But these glasses are red tinted glasses and I found them in a thrift store in Nashville, which is where I'm from. To be honest, the jacket just matched the glasses. So I thought, that's great! These pants are by Trip, and i love them for the BDSM vibe that they have.
A. Re: Okay, and you chose to go with zippers closed, not open?
morgxn: Well I like them to look like a really long boot.
A. Re: It's fashion forward. I like it a lot!
morgxn: Thank you. As a kid who grew up basically as the chubby kid that people made fun of, it's really nice to grow into yourself and be like f*ck it, I look good and I feel good and I want to dress this way.
A. Re: And that comes with age and experience?
morgxn: I Think that comes with deciding that you are worth it.
A. Re: I love that! Thank you for saying that. It actually is going to mean a lot to people, including myself.
morgxn: Thank you.
A. Re: Okay next, I wanted to ask you about highs and lows. Besides for Lollapalooza, what has been your high of the week?
morgxn: My mom came out for this. We're from Nashville. I lost my dad a few years ago, and there's actually this moment in the show, a friend, she was like, "There was this butterfly flying around your head." I felt my dad… I always thought my dad was this butterfly. I didn't notice that, but having my mom here to see that moment, after everything we've been through, that's my life. It's like a high and a low, packed into one moment.
A. Re: Have you had a low this week or this past month?
morgxn: This week? No, but I think the news really brings me down. You know, that we fight before we listen, is really hard. I don't want to ignore the news because you can't ignore what's going on in our country. But it's also why I believe that music can and will bring people together. You know I play music in countries that don't speak English and we have the best time. It can really bridge a gap.
A. Re: It's such a great connection. It's so cool.
morgxn: Yeah. And I think … Honestly, you're catching me at such a high ….
A. Re: Tell me everything!
morgxn: The thing is, in order to know a high, you have to know a low. The journey of making this record and putting out this record and really sharing it with people and seeing people today really singing these words, you know, like, scream them from their soul …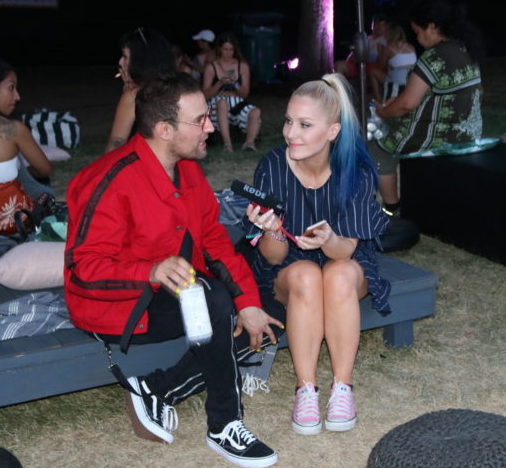 A. Re: Do you ever feel like, vulnerable when you make music about yourself?
morgxn: When I first started it, like writing music, I didn't think that I was going to share it. I had played concerts years ago where I would cover songs and then throw originals in as a way to test things out but not say that they were mine. Then people would go, "What is that song?" I was like, "Whoa, that was actually mine". But honestly, my life's actually got to a point where keeping those songs hidden was like, why was I playing so small? And so I started sharing it. So this record, Vital, I can sense it. I don't know if other people can. Part of the record was made before anyone heard my music and then after, I put out a couple songs and I started going on tour. I also started seeing what it felt like to sing in front of people and to have them sing along. Then I started writing with other people mind. The song, "Carry the Weight," came from me really wanting to lift myself and each other up. I wrote it in pieces, but the bulk of the lyrics happened after the Women's March in New York. I marched in it with my mom. To let them hear, "The break in your voices that you'll never know how much you can take," people were like, screaming. I can't believe that we still have to fight for these rights but we do and we will. People were screaming at the top of their lungs for something that is so vital. I thought, we should never be afraid to share our voice or let ourselves be heard. So I wrote, "Carry the Weight," with both myself and other people in mind.
A. Re: I love that. It's a great story about the Women's March. Lastly, I learned that you play the piano. What can you say to encourage people to teach themselves an instrument?
morgxn: When I was younger I was playing the trombone and my dad actually encouraged me to take piano because he had taken piano. He was like, "You can sing and play piano." So I think whatever instrument you pick up, let it be an extension of you. For me, piano such a part of me. Whatever instrument it is, because I don't play guitar, let it just be an extension of you.
A. Re: Almost like an outlet, right?
morgxn: Yeah. "Carry the Weight," the chords for that song, the melody, that came with me sitting at the piano. That's healing to me. Sometimes words are confusing. Sometimes sitting at the piano is a form of healing in itself.
A. Re: I get it. It's like a text that can be read different ways but music you can just feel.
morgxn: Yeah, absolutely!
---
For morgxn's tour schedule click > HERE <



Tags A. ReBud Light Dive Bar SessionsChicagoInterviewLollapaloozaLollapalooza 2018Lollapalooza 2018 ChicagoMorgxnWomen of EDM
You may also like...