Jonas Blue, Ninja, Loud Luxury, J Balvin and Madeon on Day 3 at Lollapalloza!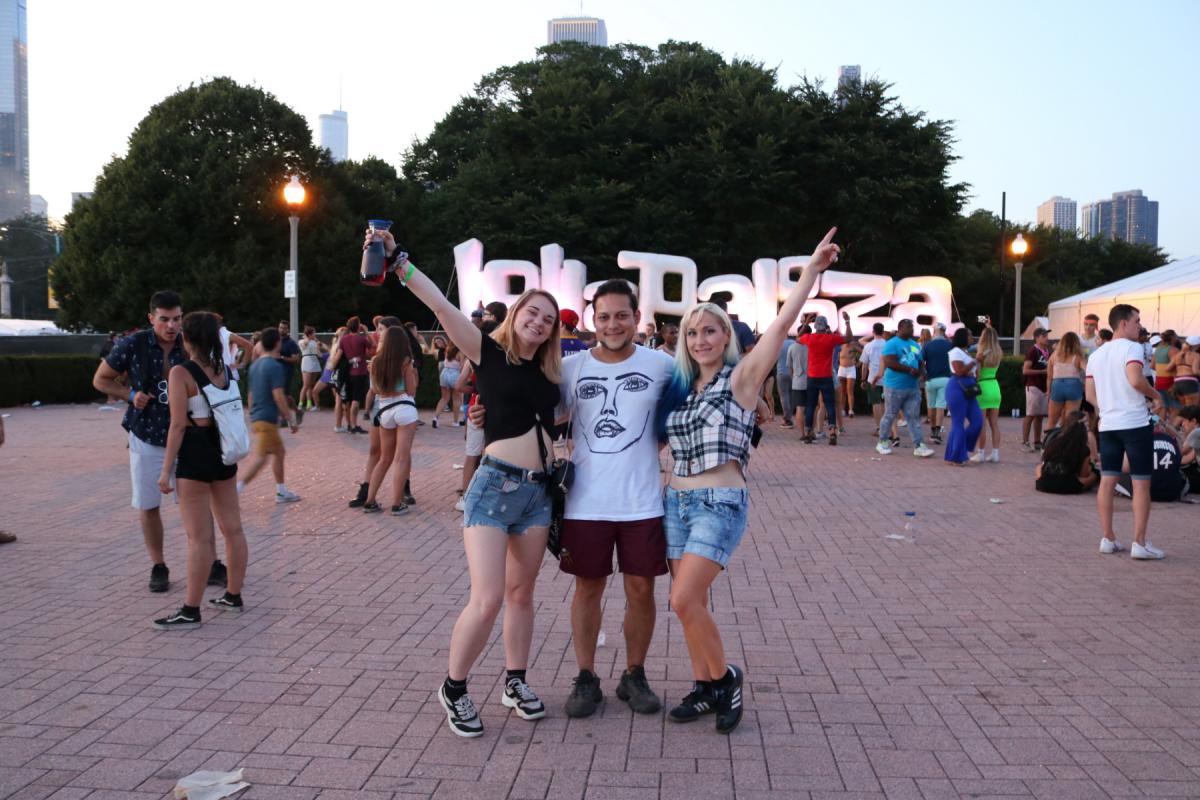 Jonas Blue, Ninja, Loud Luxury, J Balvin and Madeon were just the tip of excitement at Lolla! My Day 3 experience started off with a BANG! And when I say bang … I really mean a spicy fried chicken sandwich with dill pickles and coleslaw on it. Lollapalooza is really well known as a music festival but quite honestly, after trying just one of their vendors and the happy hours in the media area, they deserve to be considered a food and music festival. The proof is in the picture!
Jonas Blue had quite the crowd at his set. I hung in the back with my spicy fried chicken sandwich to enjoy his tropical house music. It was the perfect sound to start off Day 3 of the festival.
As I made my way to the RedBull Tent where the world's most famous video gamer, Ninja, was playing, I was able to catch some of Rich the Kid who was playing a surprise set on Perry's Stage. It was good to see Ninja again and I was really excited when he looked at me and said "Tampa!!" because that means he remembered our interview at MetroCon last year! Rich the Kid had fans singing and moshing along to his high energy jams but I decided to hang in the background so I could be out of the hot summer sun for a moment.
However, as soon as the time came for Loud Luxury at Perry's Stage, I knew I had to be part of the action. They opened their set with "Body", which now has more than 140 million views on YouTube. I was so excited to see the energy they were bringing to Lollapalooza. They even admitted to the crowd that this was a festival they had dreamed of playing for years. They also mixed an Avicii song into their set, which meant the world to me. I couldn't wait to ask them about it later during our interview. Stay tuned for their interview, but enjoy some of their set below!
When Loud Luxury ended, hung out under some trees near the Lakeshore Stage where Lil Skies was playing. Lil Skies had such a hype crowd at his set as he played R&B bangers for his fans to enjoy.
Happy Hour at the Media Tent is where all media festival-goers could enjoy cocktails and delicious bites of food, for free. I was equal parts nervous and excited because in 20 short minutes I was going to sit down with Andrew and Joe from Loud Luxury. I couldn't wait to speak with them after seeing how much energy they brought to the festival. I was so happy to meet them because they made me feel very comfortable. It was like hanging with friends you haven't seen in years. Stay tuned for our video interview, coming soon on 312area!
After the interview, Amanda and I were chilling with our new bestie Matt from Soundazed.com (see us in the feature pic!.) We were lucky because at that moment, Boombox Cartel walked by. Boombox Cartel was so genuine and kind-hearted, we even took a quick selfie video and talked about the last time we met after SMF18 Day 2 was canceled.
Griffyn's set was ending when we arrived back at Perry's Stage for RL Grime. Choosing one set to see to close out Day 3 was difficult because the choices provided were all so fantastic. It was RL Grime on Perry's stage, J Balvin on the Bud Light stage, and Madeon on the American Eagle stage. All of these amazing acts have very different sounds, but all of them are equally awesome. We decided that we had to take a moment at each of the stages to show our support for these intriguing acts.
RL Grime brought pyrotechnics to the next level, with fire shooting out of the stage from every direction. He brought my energy back up to 100% with favorites like "UCLA" and "I Wanna Know".
Next, we walked over to the Bud Light Stage to check out the salsa sounds of J Balvin. We stayed to hear a few of his songs and it was evident that his crowd was ready to party right alongside their favorite artist. We saw salsa moves and swaying hips both on stage and in the crowd.
We closed out Day 3 with Madeon. Throughout the day when I asked other festival-goers who they came to see, many of them replied, "Madeon!" His electropop house music and unique stage presence made me feel like I was a part of his sound. He brought fun colorful lights and a whole lot of energy to the American Eagle stage.
---
For more on Lollapalooza and other EDM events in Chicago, join the EDM community on 312area or Women of EDM .
MyArea Network is a participant in the Amazon Services LLC Associates Program, an affiliate advertising program designed to provide a means for sites to earn advertising fees by advertising and linking to Amazon.com. 
You may also like...