Lollapalooza 2018 Tip Sheet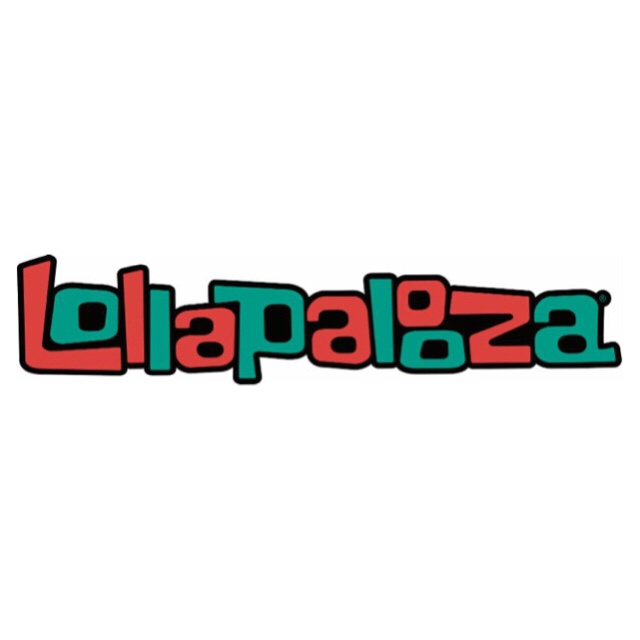 Lollapalooza 2018 Tip Sheet 
~Important Facts & Features of Lollapalooza~ 
Lollapalooza returns to Grant Park August 2-5, 2018 for a four-day extravaganza that will transform the jewel of Chicago into a mecca of music, food, art, and fashion. The festival will feature over 180 bands on eight stages, including The Weeknd, Bruno Mars, Jack White, Arctic Monkeys, Travis Scott, The National, Vampire Weekend, Odesza and many more.
Lollapalooza will host 100,000 fans each day, and with so much activity, we want to provide some highlights:
*SAFETY FIRST: Festival safety and security is our number one priority. Our staff and security team work year-round with the City of Chicago, their Office of Emergency Management and Communications, and other authorities to plan and rehearse security and response plans. Each year, tighter security measures are implemented including a layered security plan that includes elements that are seen and unseen, in addition to an enhanced security and law enforcement presence inside and outside the festival.
In case of emergency, we urge attendees to be alert to safety messaging coming from the following sources:
• Push Notifications through The Official Lollapalooza Mobile App available on Android and iOS
• Video Screens at the Main Entrance, North Entrance, and Info Tower by Buckingham Fountain
• Video Screens at 3 Stages – Grant Park, Bud Light and Lake Shore
• Audio Announcements at All Stages
• Real-time updates on Lollapalooza Twitter, Facebook and Instagram
In the event of a weather evacuation, all attendees should follow the instructions of public safety officials. Festival patrons can exit the park to the lower level of one of the following shelters:
• GRANT PARK NORTH
25 N. Michigan Avenue
Chicago, IL 60602
Underground Parking Garage (between Monroe and Randolph) *Enter via vehicle entrance on Michigan Ave.
• GRANT PARK SOUTH
325 S. Michigan Avenue
Chicago, IL 60604
Underground Parking Garage (between Jackson and Van Buren) *Enter via vehicle entrance on Michigan Ave.
• MILLENIUM LAKESIDE
5 S. Columbus Drive
Chicago, IL 60603
Underground Parking Garage (Columbus between Monroe and Randolph) *Enter via vehicle entrance on Michigan
For a map of shelter locations and additional safety information, visit lolla.com/safety.
NOTE: Shelter locations will be opened by the Festival organizers in coordination with the City only in cases of extreme weather to ensure the safety of event patrons.
*WRISTBAND ACTIVATION: Fans are encouraged to activate their wristbands before heading to Grant Park to ensure a smooth entry.  You can also add an emergency contact to your wristband. To activate, visit lolla.com/wristband.
* LOLLA CASHLESS PRESENTED BY CITI®: Pay for food, drinks and merch with a tap of your wristband! Register your wristband for Cashless at the Wristband Activation Tents, at lolla.com/wristband, or on the Official Mobile App.  Sign up with your Citi® card and enjoy additional access exclusively for Citi® Cardmembers.
*FESTIVAL ENTRANCES: Fans can enter the park at the Main Entrance at Michigan Avenue and Congress Plaza, or at the North Entrance at Columbus and Monroe.
VIP and Platinum Ticketholders have dedicated entrances to the festival. Both VIP and Platinum ticket holders can enter on the north side of the box office near Van Buren and Michigan Ave. There is also a dedicated Platinum entrance at the 11th Street Pedestrian Bridge. Golf cart transportation will meet Platinum guests upon arrival and take them to their destination of choice.
*BAG SEARCH AND NO BAG EXPRESS LANES: The safety and security of our fans is our top priority.  ALL bags will be searched before entry. Bags will be restricted to small purses, totes and drawstring bags only. Bag size may not exceed 14″ x 11″ x 5″ (35cm x 28cm x 12cm), or 30 linear inches (75cm) in total, and must have no more than one singular pocket or opening. Backpacks and bags with multiple pockets are prohibited. Hydration packs are allowed but must be emptied of all liquid and have no more than two pockets in addition to the one holding the water reservoir.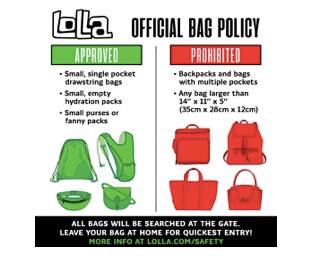 To speed up entry, leave your bags at home, and take advantage of our No Bag Express Lanes.
A full list of prohibited items can be found at lolla.com/information.
*TICKETS: All General Admission 4-Day Tickets and 1-Day Thursday, Friday and Saturday Tickets to Lollapalooza 2018 are sold-out. General Admission 1-Day Sunday, VIP 4-Day & 1-Day Tickets and Platinum 4-Day & 1-Day Tickets are still available at lolla.com/tickets.
Fans who missed out on tickets are not out of luck. Lollapalooza has partnered with Ticketmaster to offer an Official Ticket Exchange, a verified way for fans to purchase sold out tickets or sell theirs, should plans change.  Information is available at lolla.com/tickets.
All wristbands contain RFID technology and will be authenticated upon entering the gates. If your wristband needs to be replaced for some reason, there is a $25 Wristband Replacement Fee.
As an added perk, your Lolla wristband gets you $2 off admission to the Art Institute of Chicago, the second largest art museum in the country. Valid through August 6th, 2018.
*GA +: This year we're introducing GA+, the perfect way to up your Lolla game and get some amazing perks during the festival! Available to existing 4-Day or 1-Day GA Ticket-buyers, upgrade your GA ticket to GA+ to get access to the GA+ Grove, which includes shaded seating, air-conditioned restrooms, discounts on beer, wine and cocktails and more. Get your upgrade at lolla.com/tickets or at the GA + Grove near Buckingham Fountain during the festival.
*FESTIVAL HOURS: Thursday, August 2 to Sunday, August 5 from 11am to 10pm each day.
*BOX OFFICE HOURS: The 2018 Box Office Location will be at Michigan Avenue and Van Buren Street. The Box Office will be open:
•Wednesday, August 1st: 12pm – 7pm
•Thursday, August 2nd – Sunday, August 5th: 10am – 9pm
*GETTING TO LOLLA: Fans are encouraged to use eco-friendly transportation to get to Grant Park, including public transit, walking and bicycles. Lollapalooza offers ample bike parking just south of the main entrance at Congress and Michigan Ave. While you're there, check in with ChainLinks for a custom bike-themed Lollapalooza drawstring bag, while supplies last, and help with minor repairs and supplies you may have forgotten. Remember to roll with your lock to keep your bike secure while you're at the show!
With hundreds of stations around the Chicago area you can easily get to and from the festival on a Divvy bike. Receive your first ride free when you use promo code LOLLA18 in the Divvy app (one free ride per user, redeemable August 2-5, 2018). Divvy will have valets on site all four days of Lollapalooza at Michigan & Jackson from 11am to 11pm to help you get to Lolla even quicker!
For fans using public transit, plan your Lollapalooza trip today using the Regional Transportation Authority (RTA)'s trip planner goroo with real-time travel information. Map out your route on CTA or click here to buy a CTA Visitor Pass.
Traveling from the suburbs? Metra's commuter rail system makes it easy. Metra takes you to and from Lolla via one of five downtown train stations within walking distance of Grant Park. Metra is offering a $15 unlimited ride pass for Thursday and Friday and a $10 unlimited ride Weekend Pass for Saturday and Sunday. Music fans are strongly encouraged to travel after 9:30 a.m., when more capacity is available. Buy passes at train stations or on the Ventra App, available at the App Store or Google Play. Click here for the scoop on riding Metra to and from Lolla and to see Metra maps, schedules and station information.
Need a ride to or from Lollapalooza? Uber is Lollapalooza's official rideshare partner and can get you to & from the Festival safely and reliably. If you're a first-time rider you can use promo code LOLLA18 for your first ride free up to $15.
Convenient and security patrolled, 24-hour parking is available near Grant Park at the four Millennium Garages. For the best rates, reserve your parking in advance here.
*EXITING THE PARK: At the end of the night please exit through the main entrances or at additional exit points located on Balbo and Jackson.
Taking an Uber home? At the end of the night walk west to State street or north to Randolph for pickup. Look for the Uber signs as you exit the park.
*PING PONG: Ready to get competitive in between sets? Join SPiN and fellow Lolla enthusiasts at SPiN OUT – our new ping pong area near the Perry's stage! Play your friends for prizes and witness epic ping pong exhibition matches from our signature pros.
*JANE SEZ: This year Jane Sez will be an interactive experience where you can WIN BIG PRIZES at our video tower, just inside the festival entrance! Look out for clues on our social media about when to head to the tower, and you might win VIP upgrades, official merch, and more.
*BUY 4, SAVE $4: This year we're saving you time at the bar…because we're offering 4 Packs of Bud Light! Save $4 and keep your beers cold in a carrier cooler available at the 4 new Beer Bars plus the Bud Light Dive Bar. Two people must be present to purchase.
*HYDRATION & COOLING: Hydration is paramount to the health and safety of patrons. Lollapalooza is committed to keeping fans hydrated by offering free freshly filtered water at CamelBak Hydration Stations located throughout the festival, which have increased by 20% this year!
Fans are encouraged to bring an empty, refillable bottle to help Lollapalooza minimize its environmental impact. Last year fans poured enough water to fill over 854,700 water bottles, bringing the number to over 3.8 million since 2010. You can also take a break from the sun on our cooling buses by the Medical Tents on Balbo or Jackson, or enjoy the breeze from our cooling stations scattered around the park.
*LOCKERS: Do you want a safe and secure place to store your things and keep your phone charged while you enjoy Lollapalooza? We offer 4-Day, 3-Day, 2-Day and 1-Day rental lockers available near the main entrance, so you can free up your hands and avoid losing any personal items during the show. Click here to reserve your locker in advance and secure the best available pricing.
*INFO/LOST & FOUND: Visit a Guest Services booth for all event related questions while on site. Festival programs, lost and found, and other event services are offered. The main Guest Services booth is located at Columbus and Congress. Two additional tents are located off Columbus, north of Jackson and off Balbo. If you lose something at the festival, you can also visit Lollapalooza's virtual lost and found at www.lolla.com/lostfound. Here you can view found inventory, submit a claim, and be more easily connected with your item(s). If you find something, please turn it into a Guest Services booth.  
*MOBILE APP: The Official Lollapalooza Mobile App powered by Bud Light is the official festival resource complete with interactive map and custom scheduler. Fans can filter Chow Town restaurants by Vegetarian, Vegan, and Gluten Free options right here in the mobile app!It's available now for Android and iPhone users.Fans are encouraged to opt-in to push notifications and enable Bluetooth to receive all the latest updates as well as any emergency messaging direct from festival staff.
*MOBILE ORDERING TO-GO: Skip the line with the ULTIMATE convenience – order your pizza or merch in advance on the Lolla Mobile App and set a pick up time during the festival. Select a slice or whole pizza and grab it in between sets from the Pizza To-Go Tent, or shop merch ahead of time and pick it up from the LollaShop To-Go Tent. Both pick up areas will be conveniently located near Buckingham Fountain.
*VIRTUAL SCHEDULE: This year the Lolla Mobile App will have a Virtual Schedule feature. When you're out and about, you'll simply open the app, point your phone camera at a stage, and you'll see information about who is currently playing, who will be on next and more.
*GET SOCIAL: Follow Lolla on Facebook, Twitter, Instagram and Snapchat to stay up to date on major announcements, and catch a unique look at the fest. Fans who tag the fest in their posts using @lollapalooza and #lolla can join the conversation, and have a chance to see their posts on screens throughout Grant Park.
*OFFICIAL LIVE BROADCAST ON RED BULL TV: Fans worldwide who can't make it to Grant Park will be able to get the Lollapalooza experience streamed live at lolla.com and redbull.tv/lollapalooza with replays happening into the night and all summer long!
And from August 2-5, you'll be able to catch some of today's top music artists from the front row of Lollapalooza as we livestream the festival from Chicago in VR180 on Red Bull Music's YouTube channel.
FIRST-EVER LOLLAPALOOZA GAMING LOUNGE: Tyler "Ninja" Blevins, a Chicago-area native, will be streaming live daily from the first ever Lollapalooza Gaming Lounge as he plays with artists and special guests backstage all weekend long. As the most popular online gamer in the world, Ninja has risen to superstar ranks, with the most followed channel on Twitch and breaking the live concurrent view record for a celebrity game back in March that included Travis Scott. He's earned fans from across the spectrum, and recently won a million-dollar charity tournament playing with Marshmello. His streams from Lolla will be available live at twitch.com/ninja.
* LOLLAPALOOZA AFTERSHOWS: This year Lollapalooza is bringing over 55 Official Aftershows to venues throughout Chicago, keeping fans rocking even after the festival gates have closed. Tickets are still available to select shows. Check out the full schedule and get tickets at www.do312.com/lollaaftershows.
*COCKTAIL LOUNGE NORTH & SOUTH: Enjoy classic and signature drinks featuring Tito's Handmade Vodka, Don Julio Tequila, Hendrick's Gin, and Jack Daniel's. Must be 21+ to enter. Relax in the original North Cocktail Lounge by Buckingham fountain or the brand new South Cocktail Lounge location just off Columbus Drive by the Grant Park stage!
*SHOPPING AT LOLLA: The LollaShop pop-up store is back in action from Tuesday, 7/31 – Monday, 8/6. This year, we are directly across the street from Grant Park at Jackson and Michigan (224 S. Michigan Ave). Get pumped for the fest and stop by early for the freshest Lolla gear.
HOURS OF OPERATION:
• Tuesday, 7/31: Noon – 8pm
•Wednesday, 8/1: 10am – 8pm
•Thursday, 8/2 – Sunday, 8/5: 11am – 10:30pm
•Monday, 8/6: 10am – 5pm
Inside the park, fans can also shop in air-conditioned comfort at our deluxe LollaShop at Buckingham Fountain. This year's shop features our beloved collaborations with Chicago sports teams plus fun brand mash-ups with Camp Collection and American Eagle.
Skip the line and pre-order your merchandise to pick up at your convenience inside Grant Park. Simply visit store.lolla.com or the Lolla Mobile App to shop a selection of items available for pre-order before it all sells out, then pick up at Buckingham Fountain!
*LOLLA CARES: Ever since the first festival in 1991, Lollapalooza has always been a place where music fans can learn more about how to help the world around them. Whether it's becoming more environmentally conscious, registering to vote or saving a life through a bone marrow match, Lolla Cares brings together the best of the world's organizations and puts them in front of 100,000 festival fans to bring awareness to amazing causes. Check out our 2018 Organizations here!
*SUSTAINABILITY: Lollapalooza, a 2017 Illinois Sustainability Award recipient, is committed to sustainable festival practices in the field, behind the scenes and through the preservation of the ever-beautiful Grant Park. This commitment is integrated into every area of the park, from recycling and composting, to eco-friendly service items at Chow Town, and CamelBak Hydration Stations that provide patrons free, filtered water, diverting thousands of plastic bottles from the landfill.
We invite attendees to join our sustainability efforts by participating in the Rock & Recycle Program, where fans are rewarded for filling one bag of recyclables from the festival grounds with a commemorative Lollapalooza Festival t-shirt. Each participant also earns a chance to win a bike from Heritage Bicycles, two 4-Day GA Tickets to Lollapalooza 2019, and more!
* GIVE BACK AND WIN BIG:Stop by the Chicago Parks Foundation booth, located near the festival entrance off Congress, or any Guest Services tent, to purchase a 50/50 Raffle ticket daily through 7pm. Winning ticket will be drawn and posted Sunday night. The winner receives half of the proceeds raised and the other half will benefit the Chicago Parks Foundation!
*KIDZAPALOOZA PRESENTED BY LIFEWAY: Located in its own enclosed area of Grant Park, Kidzapalooza offers parents and kids the opportunity to catch family-friendly music on its own stage while taking part in activities like skateboarding demos, hip hop workshops, a music video tent and much more. See the full list of activities here!With a dedicated Family Services area and the Tag-A-Kid program available to register your child, Kidzapalooza ensures that you and your family have a great time at Lolla. Kids 10 and under get in to Lolla free with a ticketed adult.
*DA BEERS: Lolla's craft beer hangout is serving up a selection of Goose Island beers plus Stella Artois, Virtue Cider Rosé and more. This shady grove is also decked out with cornhole, ping pong, bocce ball and plenty of seating and tables for you to relax and enjoy a cold draft!
*2017 ECONOMIC IMPACT: In 2017, Lollapalooza was responsible for injecting $245million into the local economy. After festival hours, the 100,000 music-lovers each day will fill local bars, restaurants and music venues across the city, where there were over 55 official after-shows and after-parties featuring over 110 artists!
Lollapalooza 2018 is generously sponsored by: Bud Light, Tito's Handmade Vodka, Citi, American Eagle, Toyota, BMI, Cupcake Vineyards and Lifeway Kefir.
You may also like...