Day 2 of Lollapalooza Has Death Cab for a Cutie, Tame Impala and More on the Bud Light Stage!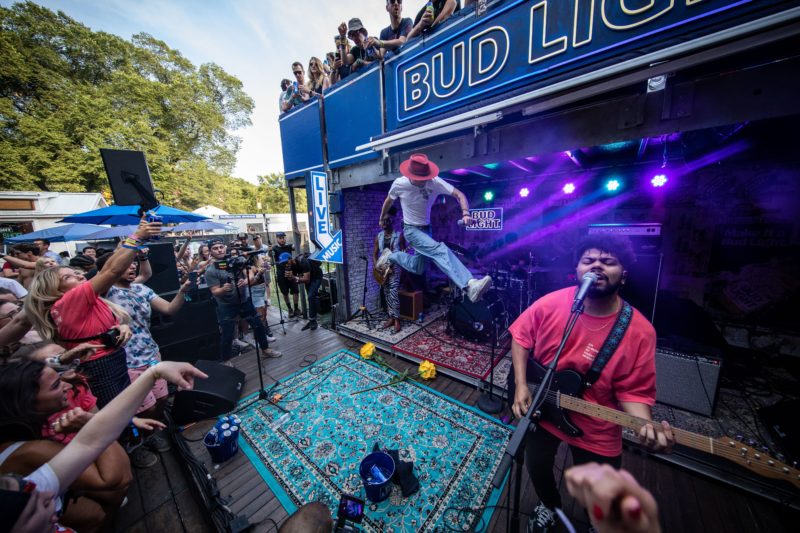 Harry Hudson
When Lollapalooza Day 2 begins, do you already know where you want to be?
If you don't have a plan yet, we're here to help you make one. At music festivals as large as Lollapalooza, it's always hard to decide which sets you want to see when you don't know every artist. But, that's why we're here to help you get to know them! Check out these kick-ass artists at the Bud Light Stage on Day 2!
---
Omar Apollo – 1 p.m. – 1:45 p.m.
Omar Velasco, who is now more well-known as Omar Apollo, was born in Guadalajara, Mexico but decided to flee and move to America with his Dad at age 23 to pursue a career in music and avoid gang violence. After struggling with his family to stay afloat, he is now able to financially support them through his success in the music industry. And that means the absolute world to him. He taught himself to play guitar, sing and produce at a young age and over the past year all of that effort has finally paid off. Since the release of his first EP, Stereo, he has toured all around the country! His EP is a confident, bilingual collection of homemade psych-pop. Check out this rising star as he opens the Bud Light Stage on Day 2.
Conan Grey – 2:45 p.m. – 3:45 p.m.
Though Conan Grey is known as an Internet Personality, he has become a singer and songwriter over the past few years. He even created his own genre called dreamy alternative pop. Conan Grey grew up in Texas and has poured himself and his typical high-school experiences into his music so his fans can relate to everything he talks about. Some of his most popular songs are "Crush Culture" and "Lookalike" so if you've been through teen turbulence, check out his set on day 2.
Maggie Rogers – 4:45 p.m. – 5:45 p.m. 
Margret Debay Rogers, also known by her professional persona, Maggie Rogers, is an American musician, singer and songwriter from Maryland. She is ready to share her unique art and folk-pop with the city of Chicago on day 2 of Lollapalooza. She rose to fame after playing "Alaska" for Pharrell Williams during a masterclass at NYU. Alongside her most popular song, "Alaska", you'll hear others like "Light On" and "Give a Little" during her set. Stop by the Bud Light Stage for good vibes and great music!
Death Cab for a Cutie – 6:45 p.m. – 7:45 p.m. 
Since 1997, this American alternative rock band from Washington State has become a rock sensation with a great reputation for their live sets. The band is composed of Ben Gibbard, Nick Harmer, Dave Depper, Zac Rae, and Jason McGerr but was originally a solo project by Gibbard. Some of their best and most popular songs are "Black Sun", "I Will Follow You Into The Dark" and "Soul Meets Body". Check them out on day 2 of Lollapalooza to understand why they have such a large fan base of rock and roll lovers.
Tame Impala – 8:30pm – 10pm
If you're into the psychedelic aspects of Music Festivals, Tame Impala is a must-see on day 2. Lollapalooza invited this Australian music project led by multi-instrumentalist Kevin Parker, who writes, records, performs, and produces the music because of their trendy and exciting live sets. As a touring act, Parker plays alongside Dominic Simper and some members of Australian psychedelic rock band Pond – Jay Watson, Cam Avery, and Julien Barbagallo. So you can catch all of them playing their most popular songs like "Patience", "Let It Happen" and "The Less I Know The Better" as they close out day 2 of Lollapalooza.
---
Women of Edm is in partnership with MyArea Network! Visit our proud partner's 312Area site HERE! For more on Lollapalooza and other EDM events in Chicago, join the EDM community on 312area! 
Tags Alternative RockArt and Folk PopChicagoConan GreyDeath Cab for a CutieDreamy Alternative PopGrant ParkLollapaloozaMaggie Rogersmusic festivalsOmar ApolloPsychadelic RockTampa Impala
You may also like...