EDM's Biggest Names are Taking Over Perry's Stage on Day 2 of Lollapalooza!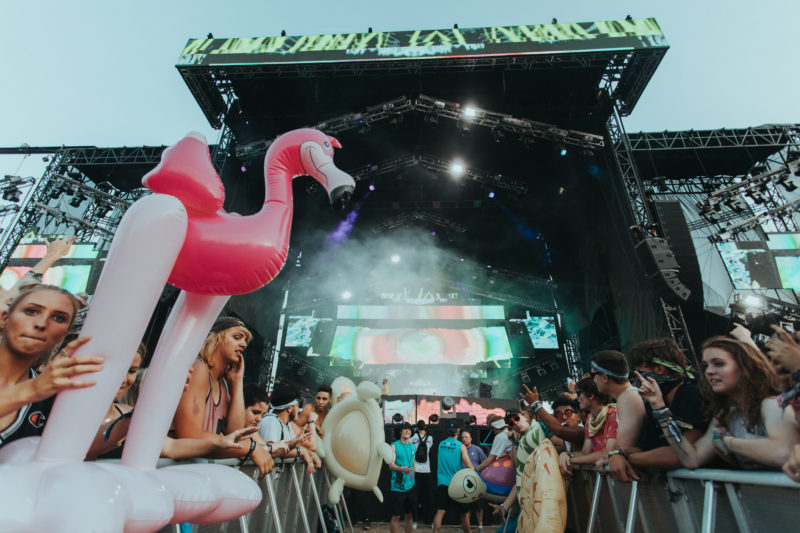 Calling all Headbagners! If you still need more bass after Gud Vibrations vs Slugz Music plays back to back ends you're in luck, Perry's Stage is bringing more bass back for Day 2!
Make sure you pack your most comfortable shoes if you plan on shuffling or dancing under the skyline of Chi-Town all weekend because these 5 must-see artists are bringing the energy for Day 2.
---
Cray – 1:30 p.m. – 2:25 p.m.
A female DJ and bass powerhouse, Cray, is taking the Perry Stage by storm on day 2 of Lollapalooza. She recently took over the Hangout Festival with her upbeat music and crazy fan base. Not only is she a certified bad b*tch but she also has an amazingly trendy style! She is the type of girl that can wear crocs with pants that have one long leg and one short style leg and absolutely work it. You'll be able to hear songs like "Isn't It", "Fractions" and "Love Cemetery" on Day 2 of Lollapalooza. And believe me, this is truly a can't-miss set!
Yultron – 2:30 p.m. – 3:15 p.m.
Yultron is not only a multi-genre EDM artist, but he is also one of the most well-liked men in the industry. Having only produced music for 3 years now, he has gained a lot of support from veteran acts like Flosstradomus and Jack U (Skrillex and Diplo) as they often play his music during their live sets. He enjoys a wide variety of production and it ranges from bass music to electro house. His live sets show his multifaceted talents and through his love of all genres, he has become friends with almost everyone in the industry. In 2018, he closed out EDV Vegas with Kayzo, Dot Com and Ookay as The Binches, the self-proclaimed boy band of EDM. Check out his set at Lollapalooza to enjoy this multi-genre artist!
Party Favor – 4:45 p.m. – 5:45 p.m.
Dylan Ragland, better known by his stage name Party Favor, is an American EDM DJ and producer. He recently came out with a new album called "Layers" and it has been quite the hit in the EDM industry. Some of my favorite songs off the album are "Be Ok" and "Work It Out" featuring GTA. The song "Be Ok" makes me want to scream it from the rooftops when I hear it. Party Favor creates an atmosphere where you just can't help but dance, so check them out on day 2 of Lollapalooza!
Matoma – 6 p.m. – 7 p.m. 
Are you in the mood for some Tropical House? Luckily, if you are, Matoma is here to give you all the tropical house you need and more! Tom Stræte Lagergren, professionally known as Matoma, is a Norwegian DJ and record producer that makes his fans get up and dance, as if they were on a tropical vacation in the islands. Some of my favorite Matoma songs are "Old Thing Back", "All Night" and "I Don't Dance". You can hear them at 6pm on day 2 of Lollapalooza!
Snails – 7:15 p.m. – 8:15 p.m.
Headbang the night away at Snails Dubstep and Bass Music set on Day 2 at Perry's Stage. As a fellow University of Tampa alumni, Snails has taken the dubstep world by storm in the past 4 years. He even created his own genre called "vomitstep" which features  "guttural bass gurgles, crushing 808s and synthesizers oscillated well past the point of absurdity" according to Billboard. Frédérik Durand, or as we call him Snails, is a DJ and music producer from Quebec. So, calling all Canadians to Perry's Stage on Day 2!
---
Women of Edm is in partnership with MyArea Network! Visit our proud partner's 312Area site HERE! For more on Lollapalooza and other EDM events in Chicago, join the EDM community on 312area! 
Photo Credit: Erika Goldring for BMI
Tags bassChicagoCraydiploDot ComdubstepEDM IndustryFlosstradamousGrant ParkGUD VIBRATIONSHeadbangerJack UkayzoMatomaMulti-Genre EDMOokayParty FavorPerry's stageSkrillexSLUGZ MUSICSnailsThe Binchestropical houseVomitstepYultron
You may also like...