My Top 3 Makeup Looks for EDC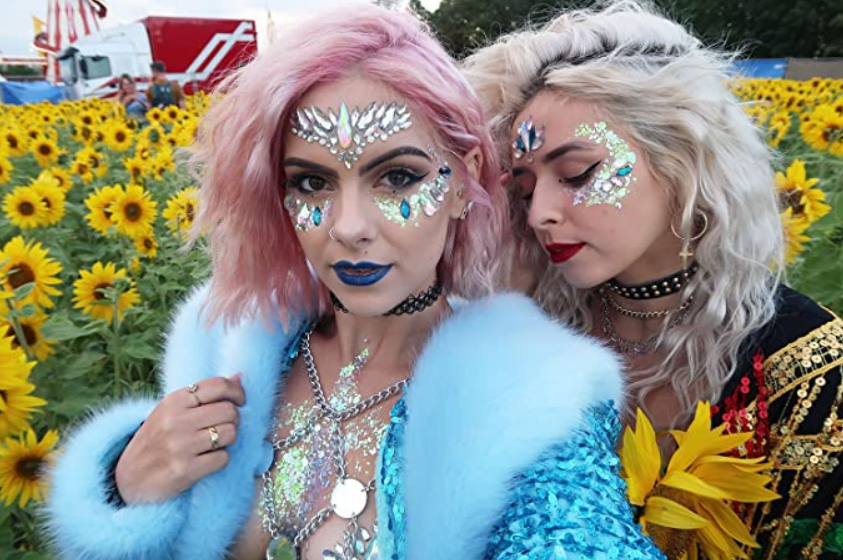 My Top 3 Makeup Looks for EDC
We are officially less than a month out from EDC and you most likely have your trip planned, tickets have been purchased, outfits are ready to go, but have you thought about your makeup at all? I personally have overlooked this piece numerous times, but fun makeup can really take your look to the next level! After all, EDC is the perfect time and place to express yourself.  If you haven't considered what your cosmetic options are, I've put together a list of my top 3 makeup looks for EDC below!
1. Quick and Simple – So you want to be festive, but you're a little more low maintenance when it comes to makeup. For starters, it can get pretty hot at EDC, so I would recommend a primer or setting spray to keep your foundation or powder in place. Once you've put on your face and eye makeup of your choice, I think the easiest way to add glitz is to go with adhesive face gems. These are pretty much foolproof as you literally peel off the backing and press the jewels wherever you so desire! I've worn these to EDC before and they didn't even budge in the 120-degree heat! My personal favorites are from The Gypsy Shrine and Lunautics as they not only have the most unique looking gems, but they are very high quality and can even be re-used! iHeartRaves has a ton of color and design options! Here are some of my favorites: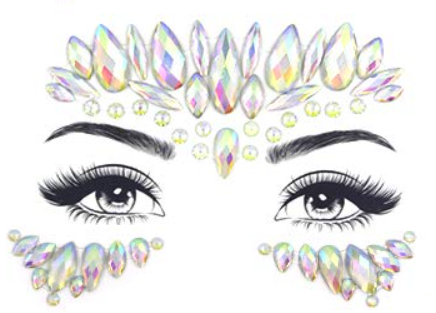 Love these because they strategically hide under eye circles from sleepless EDC nights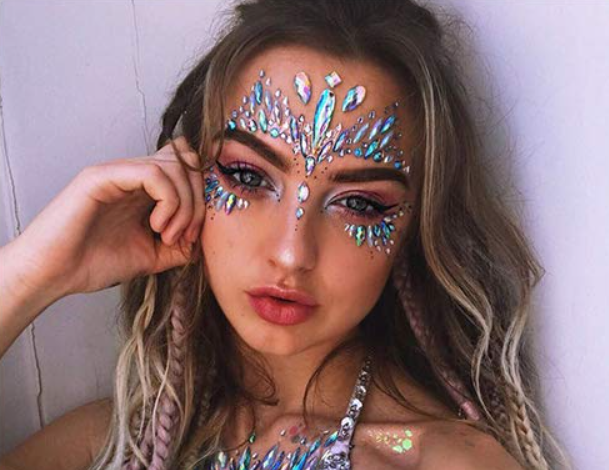 This COKOHAPPY Rhinestone Mermaid Face Jewels Set is perfect for placing on your chest, under your bust line, or even on your forehead! Love that it is all one piece!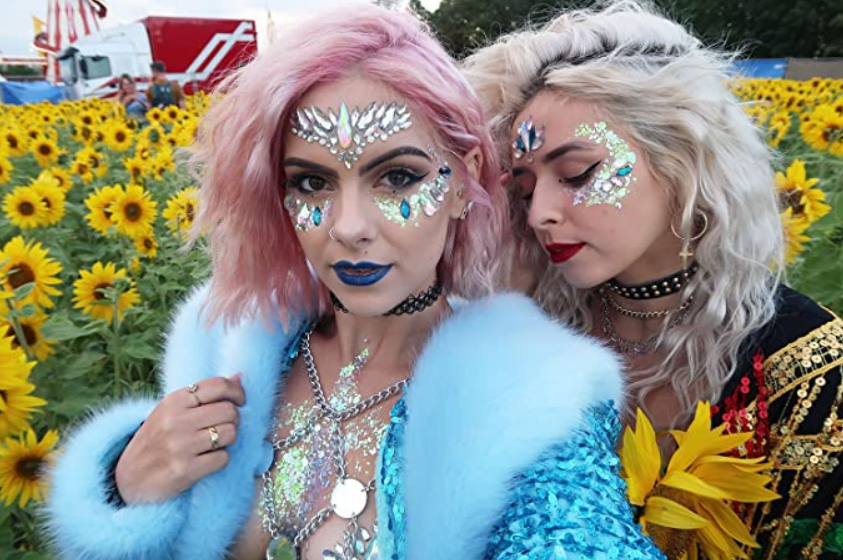 It literally took me 30 seconds to press on these gems and it adds so much!
2. Glitz and Glam-If you're looking for a little more glitz and have a few minutes to spare, adding glitter to your look adds extra sparkle and flare to your face! Be sure that whatever glitter you choose is cosmetic grade glitter. Do not use craft glitter as it has metal traces and can damage your eyes and skin! In addition to the Gypsy Shrine and Lunautics, I love Universal Soul as it's biodegradable and vegan! I recommend applying your makeup as usual and adding glitter next (before your face gems). I personally like to use aloe vera gel as a sticky base for my glitter because it's natural and hydrating! You can use eyelash glue or Too Faced has a glitter glue as well. Here are a few simple steps to follow:
Squirt about 1/4 of a cup size of aloe vera gel in a small bowl
Next take your cosmetic glitter and place in the same bowl
Start mixing the two together
Take a flat fan brush (like this) and dip it into your mixture
Apply anywhere you wish!
3. Extra Extra! For those of you who want to go full out and really make a statement, I think colorful makeup and accessories are the final items you need to complete your look! In addition to face jewels and glitter, I like to use bright eye shadows and textured jewelry for added visual interest!
I have used this palette countless times. It is so affordable and vibrant!
A bold and bright lip goes a long way! I went with the purple theme (used the purple shades in the pallet above) with Silver Holographic Chunky Glitter from KARIZMA Beauty.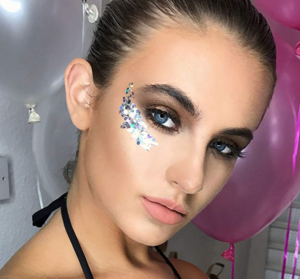 Super extra in this! I went all out and this was the second time I used this amazing body jewel!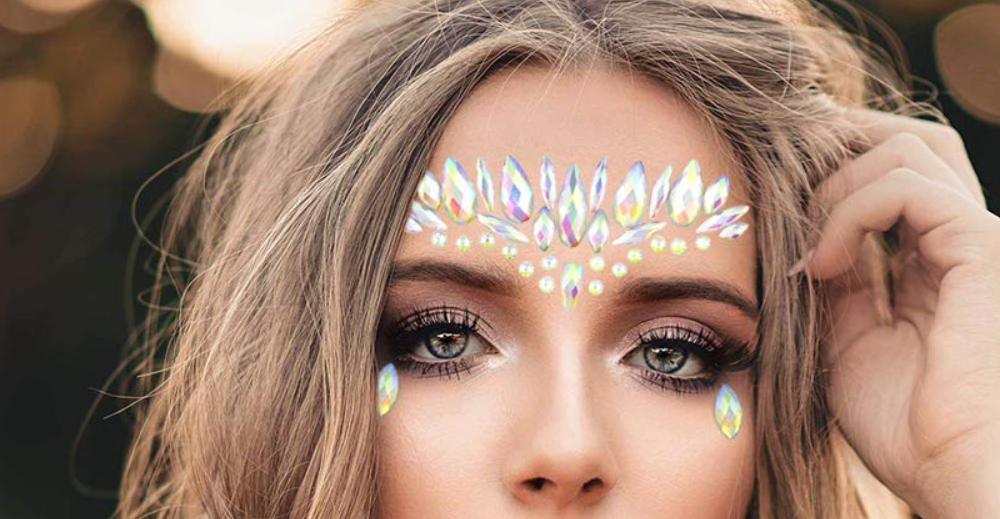 So it's the end of the night and you are dead tired. Removing glitter can be annoying, but after much trial and error, I think I've found the key to success!
Removing the face gems is the easiest part as you simply pull the piece off slowly. Depending on the day, sometimes I will save the gems and put them back on the plastic sheet for another event.
For the glitter, I like to start by rubbing my fingers over the sparkly areas and dusting it off quickly. If you used aloe vera, a lot of this will flake off naturally but you will still have residue. For the remainder, you will want to use an oil-based makeup remover. I am pretty sensitive, so I use this cleansing balm that I am absolutely obsessed with. Some people are fine with baby oil or coconut oil, but I personally break out like crazy!
I like to use a microfiber cloth or my Clarisonic to remove any microscopic traces of glitter and this usually does the trick!
I hope you all enjoyed my top 3 makeup looks for EDC! If you are looking for outfit inspiration, visit my post about what to wear here. I also have tips and tricks on how to prep for this weekend extravaganza here!
---
Electric Daisy Carnival Tickets & Info
Tags body jewelscosmetic glitterEDM Makeup looksface jewelsFestival makeupglitter makeupiHeartRavesMy Top 3 Makeup Looks for EDCrave glitterRave makeupThe Gypsy Shrine
About: Women of EDM Contributor
You may also like...