Perry's Stage Day 3 at Lollapalooza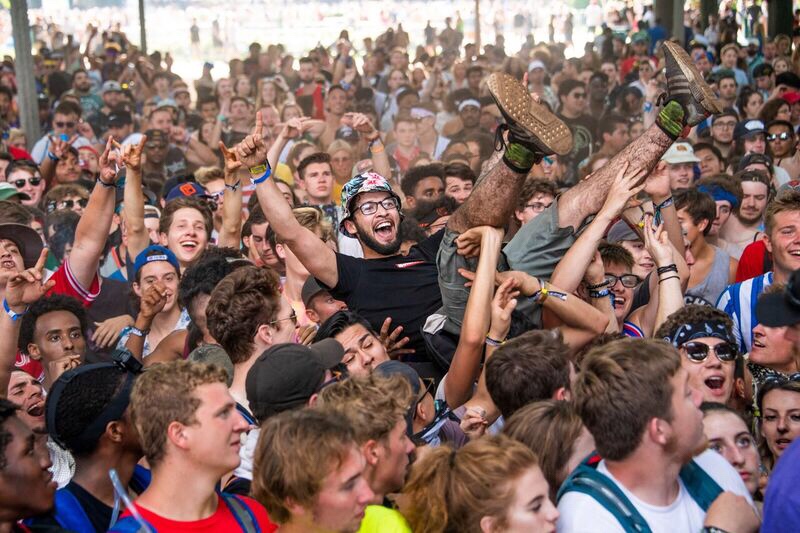 When Day 3 at Perry's State at Lollapalooza comes around, the real ravers will still be going strong shuffling, headbanging and dancing.
However, these five must-see artists performing at Perry's Stage will power up your energy level … even if you go hard Day 1 and 2. Here's our list of Chicago-skyline performers we're most excited to hear drop the beat!
---
Wavedash – 12:40 p.m. – 1:20 p.m.
WAVEDASH is the first artists signed to NGHTMRE and Slander's label, Gud Vibrations. This is a can't-miss set of heavy bass music for all of you headbangers that haven't already broken your necks! The Austin-native members, Gavin Bendt (17), Luke Shippey (18), and Michael Stone (18), are taking the bass music genre by storm this year. The tracks we can't wait to hear them play live are, "The Same", "DeathWish", and "BSTRD". These favs are all off their Opening Ceremony album that came out earlier this year.
Whipped Cream – 2:30 p.m. – 3:15 p.m.
This Canadian DJ has taken the bass music world and turned it upside down. Whipped Cream started off the year playing some really big name festivals, like Buku Music and Arts Festival, EDC Las Vegas and Coachella. The Vancouver native has spent her entire life fully immersed in music. After trying out a few different sounds, this bass goddess stumbled upon hip hop-influenced dark bass music, which is now her own unique sound. Two of her best songs came out earlier this year, "Bad For Me" and "Suffocate", which I look forward to hearing live at Perry's Stage!
Loud Luxury – 4:45 p.m. – 5:45 p.m.
Loud Luxury gives their fans a music experience that they will go home and make all of their friends jealous about! Loud Luxury members, Andrew Fedyk and Joe Depace, gained recognition when they remixed Martin Garrix's "Scared to Be Lonely" in 2017. They quickly rose to fame when they released "Body" just last year. Alongside "Body" and their "Scared to Be Lonely" remix, you'll hear a lot of fun throwbacks mixed into their library of original tracks, like "Love No More" and "Fill Me In". Don't miss this deep and future house duo as they take over Perry's Stage on Day 2!
Boombox Cartel – 6 p.m. – 7 p.m.
If you don't immediately recognize the name Boombox Cartel, you'll immediately recognize his sound. Boombox Cartel is an LA-based producer duo, Americo Garcia and Jorge Medina. The two mix deep step, rap and bass music for an extremely heavy sound. "How to Love" came out in 2016 though it's still a track played in their set that everyone loves! You can expect to hear originals "Moon Love" and "Alamo" mixed into some of the best and biggest rap hits of our generation. I'm telling you, you'll regret it if you miss this set!
RL Grime – 8:30 p.m. – 9:45 p.m.
The 28-year-old trap artist RL Grime is a member of the LA Electronic Music Collective, WeDidIt. I just saw him in March at Buku Music and Arts Festival and I've never seen or heard a crowd participate in an EDM show so intensely! He played "We Will Rock You" by Queen and had the entire crowd singing it back to him. It was one of those magical moments that you feel lucky for being a part of! Some of his recent hits are "Undo", "UCLA" and "I Wanna Know". Don't miss this future bass and trap music guru, as he closes out Day 3 at Perry's Stage!
For more on Lollapalooza and other EDM events in Chicago, joint the EDM community on 312area! 
MyArea Network is a participant in the Amazon Services LLC Associates Program, an affiliate advertising program designed to provide a means for sites to earn advertising fees by advertising and linking to Amazon.com.
Tags Boombox CartelLollapaloozaLoud LuxuryPerry's Stage Day 3 at LollapaloozaPerry's stageRL GrimeWavedashWHIPPED CREAM
You may also like...