Rainbow Festival Fashion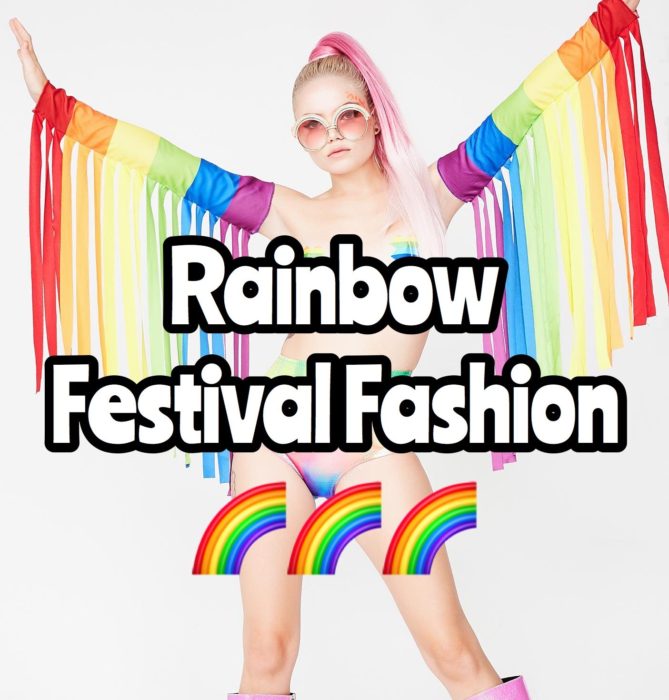 Rainbow Fashion for Festival Season ~
Rainbow glam is so fun and beautiful! This selection embraces every color that's characteristic of a gorgeous glowing rainbow. Our list provides holographic and sequin sparkles, fashionable accessories, costume highlights, vibrant shoes and boots, and beaming LED accents. During the day you'll shine under the sun and at night you'll glisten as the fireworks illuminate the sky. Rainbow festival fashion is suiting for every personality, especially yours! Dive into these colorful products now.  You're only a click away from owning the multicolored magic of rainbow embellished dresses, kimonos, backpacks, shoes, bodysuits, pasties and more!!!
---
---
Rainbow Bikini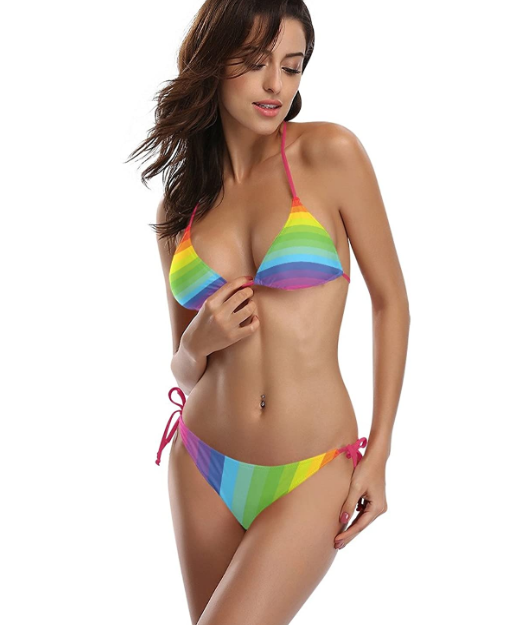 This Rainbow Bikini will have ya feelin' like you tha one! Get lucky in this rainbow bikini tie sides and top. You'll catch everyone's attention with comfortable and gorgeous swim wear experience.
Rainbow Bikini $17.99
---
---
Rainbow Fringe Arm Piece

Rainbow Fringe Arm Bands will have ya lookin' like rainbow royalty! Let 'em tripp out on your dope movez in these bright fringe arm sleeves that are stretchy, comfy, and are striped with the rainbow realness.
---
---
Rainbow Iridescent Freaky Lovesick Trinity Boots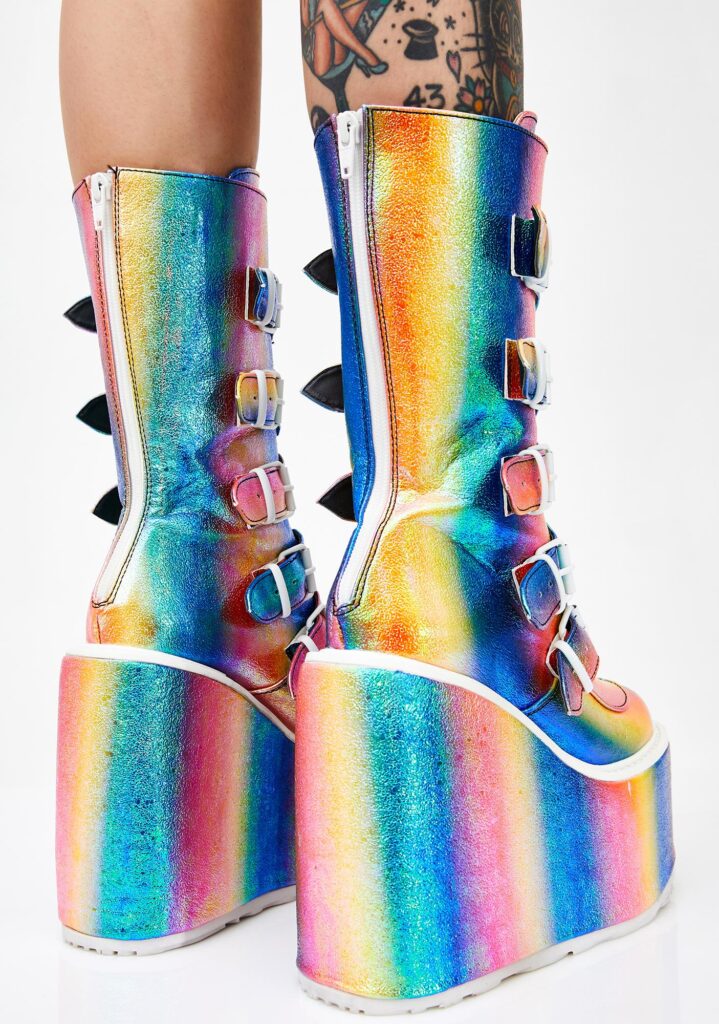 Demonia Rainbow Iridescent Freaky Lovesick Trinity Boots will have ya ready to stomp their heartz out! Love is a battlefield in these dreamy platform boots that have a vegan leather construction, heart-shaped plates on the front, adjustable holographic buckle straps N' back zip closures.
---
---
Rainbow Stripes Pantyhose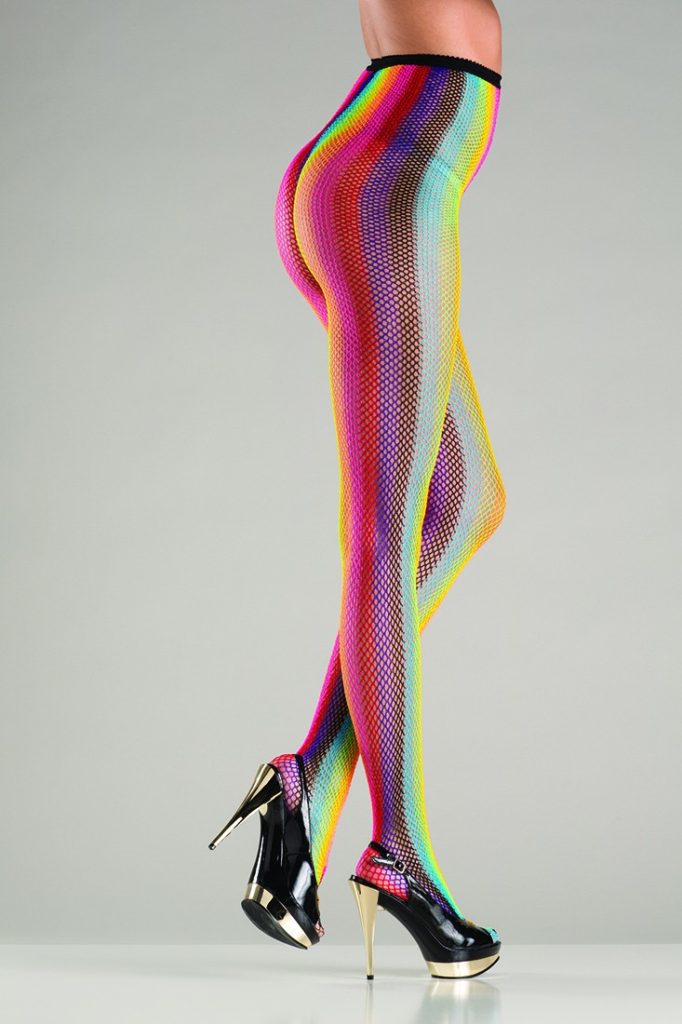 Shimmering rainbow pantyhose will add that special flare to any festival attire, especially with an over sized t-shirt dress!
---
---
Rainbow Hoops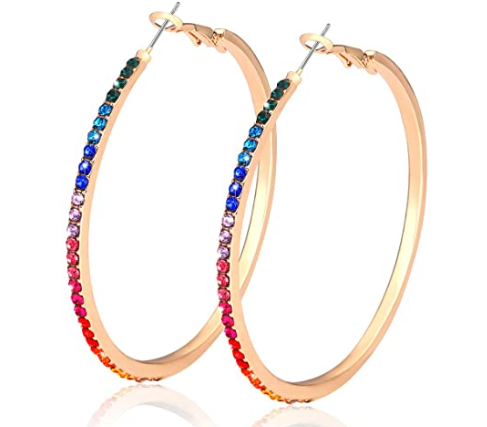 Supreme Queen Rainbow Hoops cuz you are the realness bb. Be a total bling queen in these sikk oversized hoop earrings that have sparkly rainbow jewel deetz.
---
---
Neon Rainbow Light-Up Tutu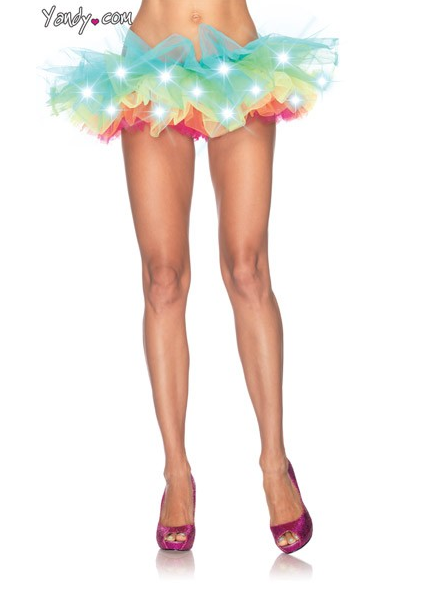 This bright and sassy, light up rainbow tutu features layered rainbow tulle and LED lights to create a unique glowing look. Perfect for that next rave or under any vibrant Halloween costume!
---
---
J Valentine Rainbow Hooded Coat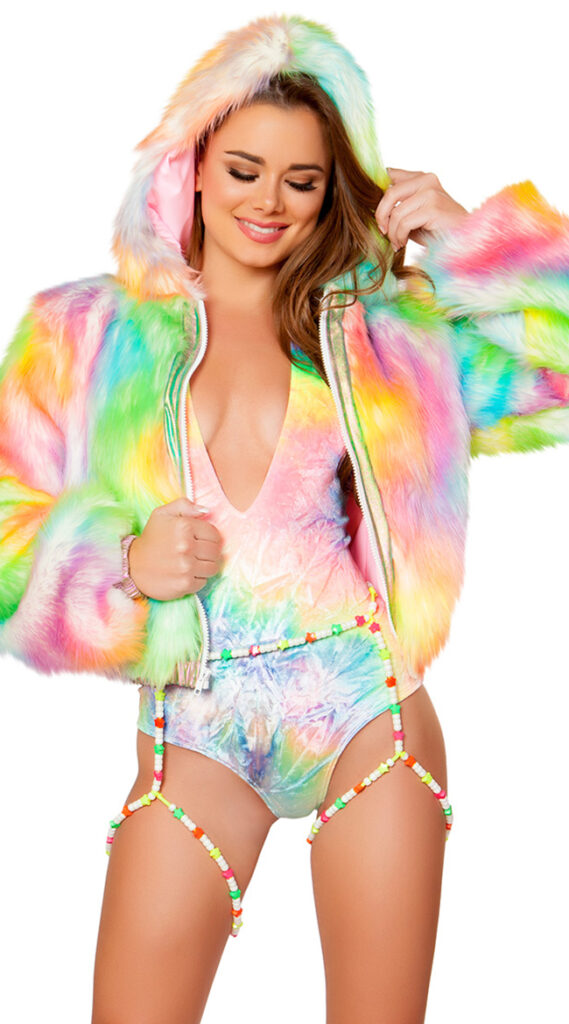 J Valentine Rainbow Hooded Coat cuz ya got that sparkle in ya eye babe! Look like you're in a winter wonderland in this cute AF tie-dye hooded coat that has faux fur trim all ova.
---
---
Rainbow Bob Wig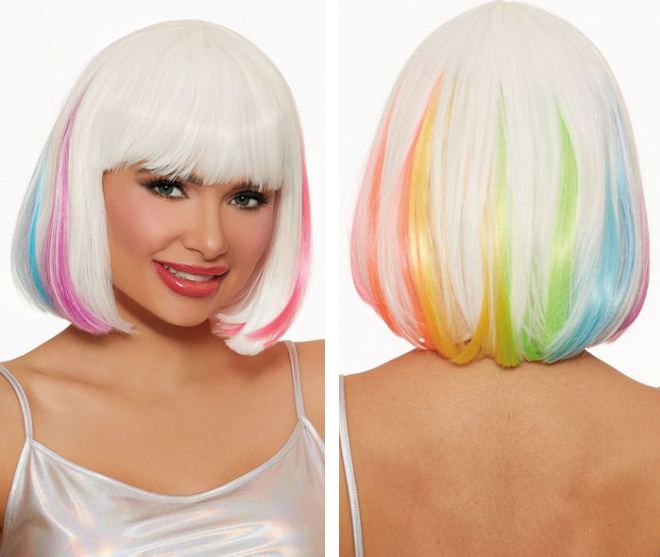 Brighten up your look with this fun white wig featuring fringe bangs, a mid-length, blunt bob style, and rainbow lowlights.
---
---
Rainbow Heart Pasties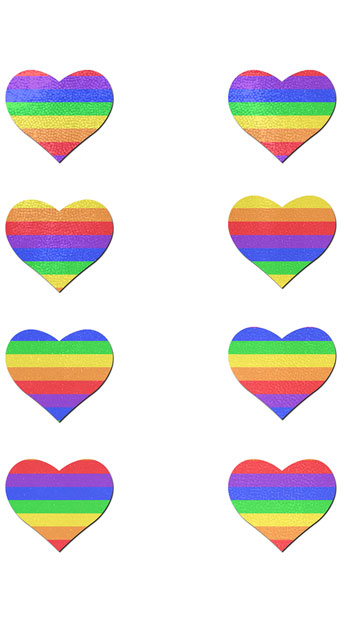 These mini rainbow heart pasties feature a latex-free, medical-grade, waterproof adhesive that will stay securely in place until gently removed.
---
---
Rainbow Sequin High Waisted Shorts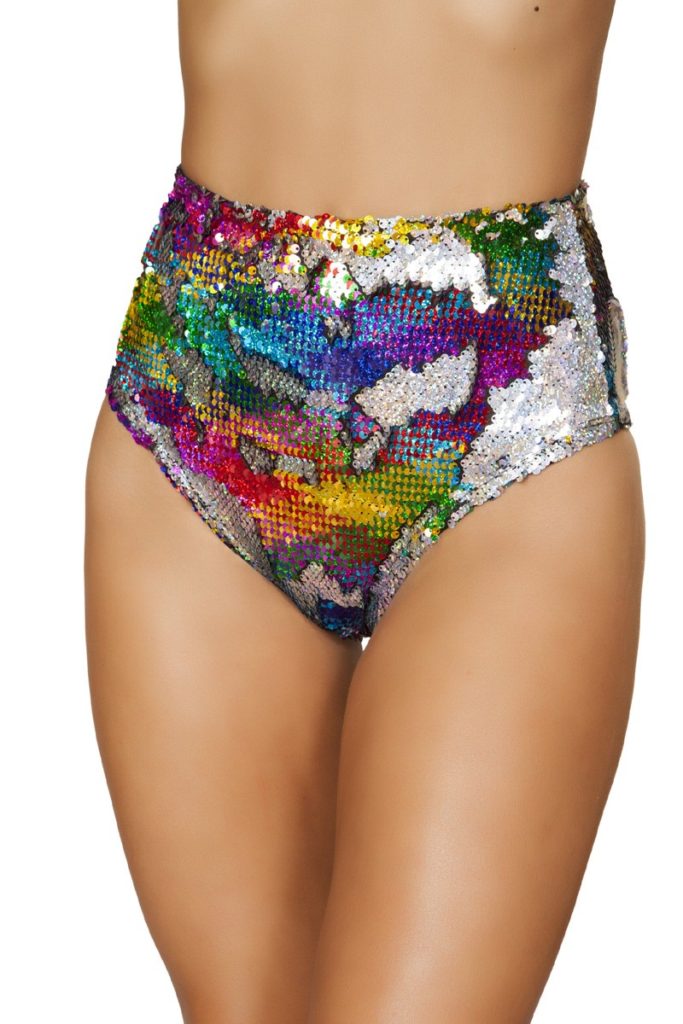 Two-Tone High Waisted Sequin Shorts.
---
---
Diagonal Rainbow Tie Back Face Mask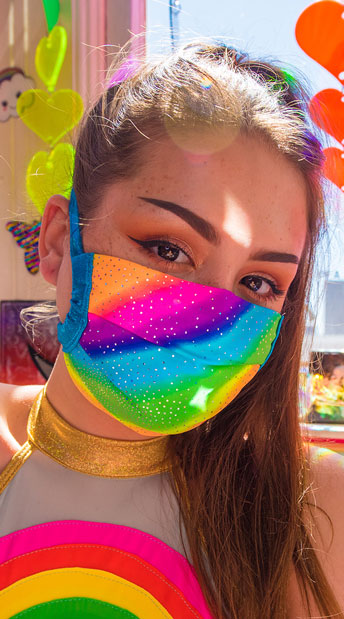 Find yourself somewhere over the rainbow in this stylish yet functional face mask featuring a soothing rainbow print with glitter accents, a comfortable, heavy Brazilian stretch fabric that resembles a swimsuit, a pleated front for easier breathing with a smooth finish, an interior slit pocket with a protective filter (included), and two adjustable tie back closures.
---
---
Rainbow PVC Platform Sneakers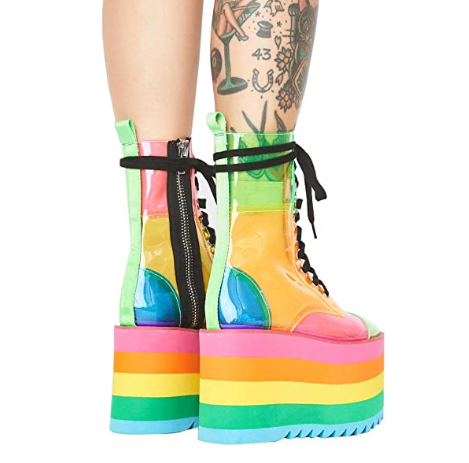 These gorgeous rainbow platform booties create the perfect finish to your fashion style. Featuring a simple upper detailing with ankle enclosure for a custom fit. Lace-up so easy on and off.
---
---
Rainbow Stripe Kimono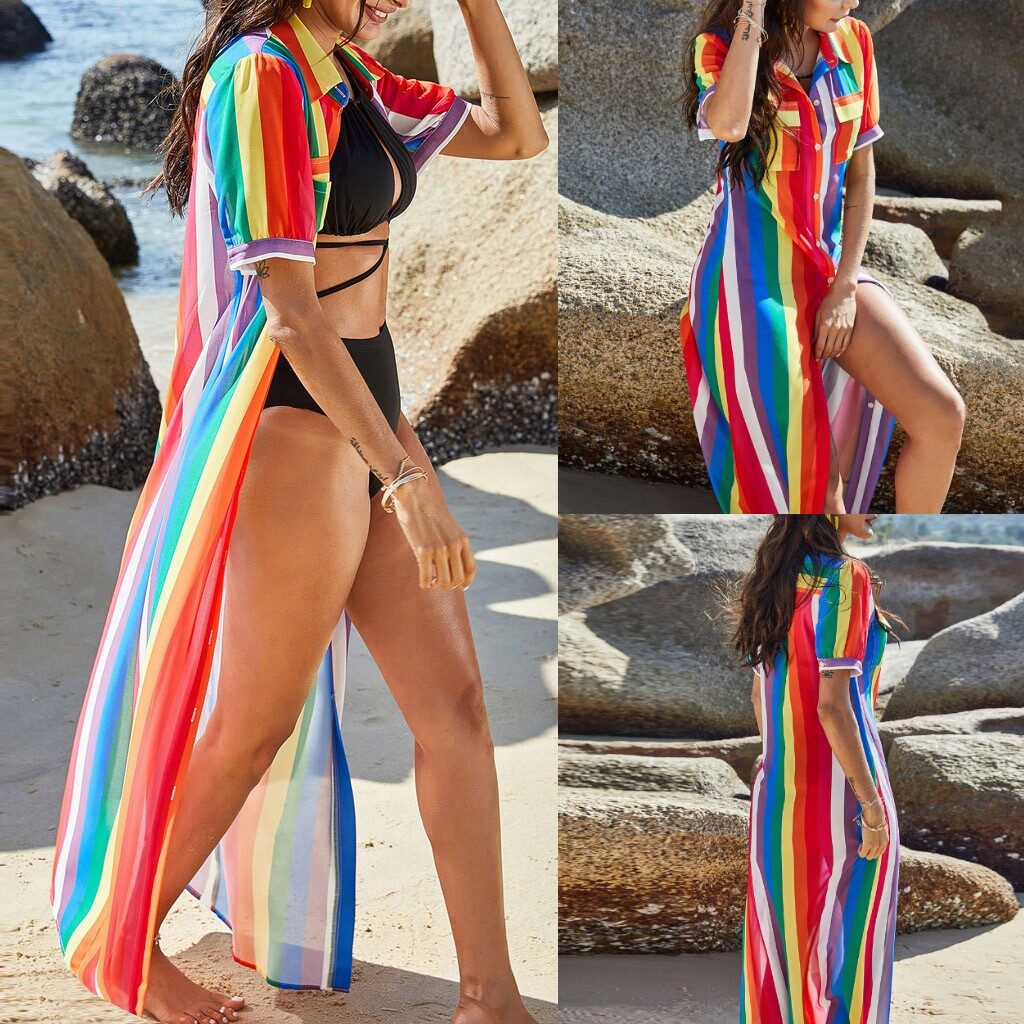 This rainbow swimsuit coverup is just for you because your're a ray of sunshine. V neck, long sleeve, high waisted, side split, chiffon beach dress, charming and attractive.
---
---
Rainbow Printed Face Mask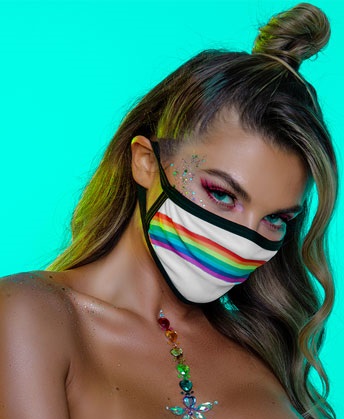 Don't let contamination rain on your parade. Be ahead of the trend in this stunning face mask featuring a rainbow printed front with a solid black trim, and ear loops for sitting comfortable and in place on your face. For festivals and raves, or simply just feeling safe out of your home, this mask is sure to mix up your street wear style.
---
---
Rainbow Faux Fur Leg Warmers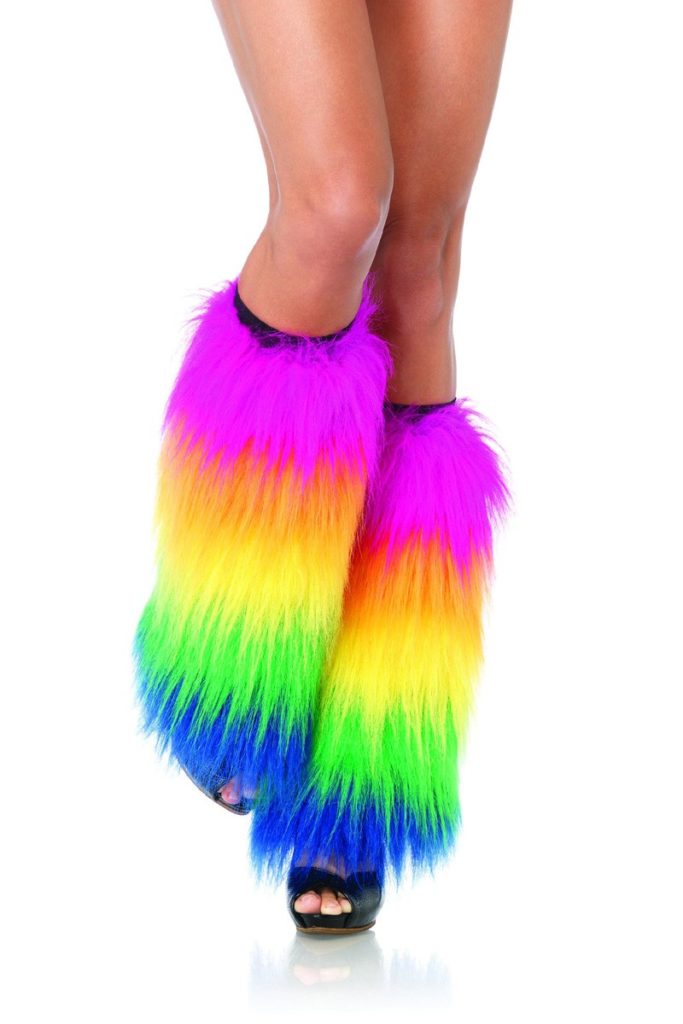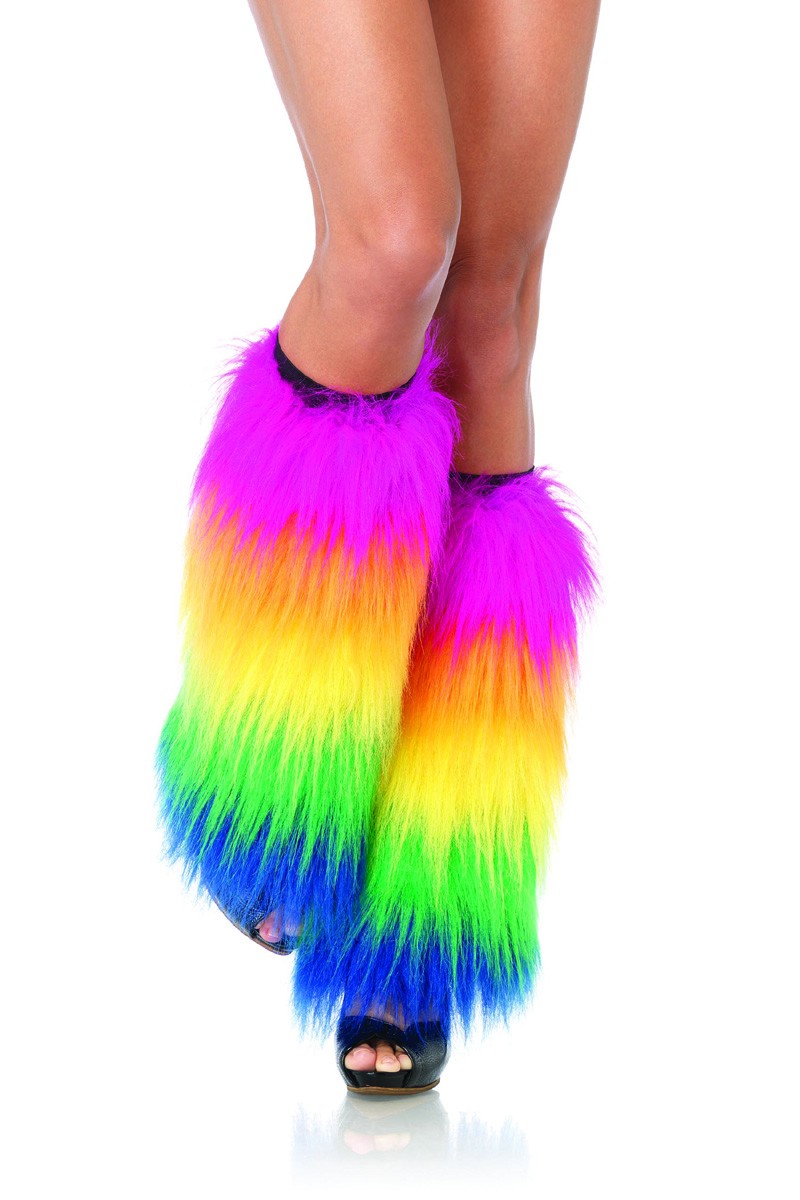 Furry rainbow leg warmers to jazz up your shuffle stuff!
---
---
Rainbow Tulle Ruffled Petticoat Tutu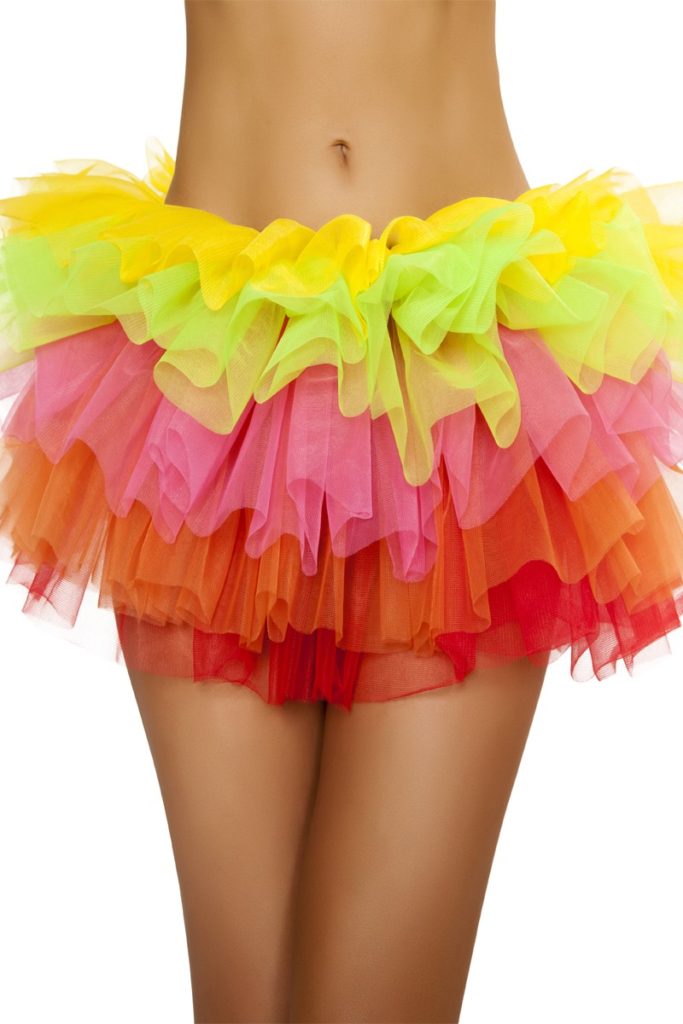 Ruffled petticoat layered with rainbow goodness.
---
---
Rainbow Holographic Fanny Pack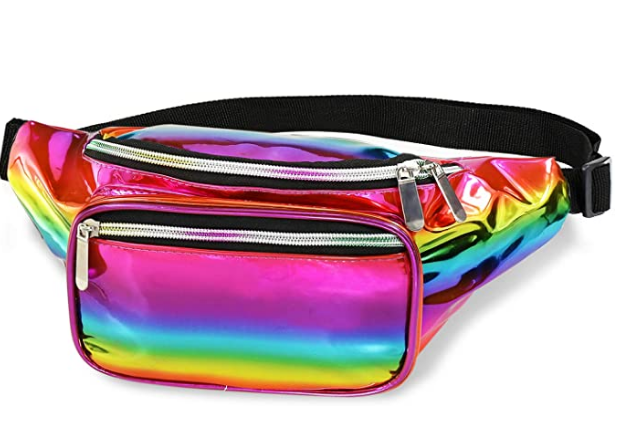 Take this bold fanny pack with you wherever you go for an eye catching look! Featuring; patent, holographic, front pockets, zipper closure, buckle waist closure, adjustable waistband.
---
---
Partly Couldy Rainbow Top and Shorts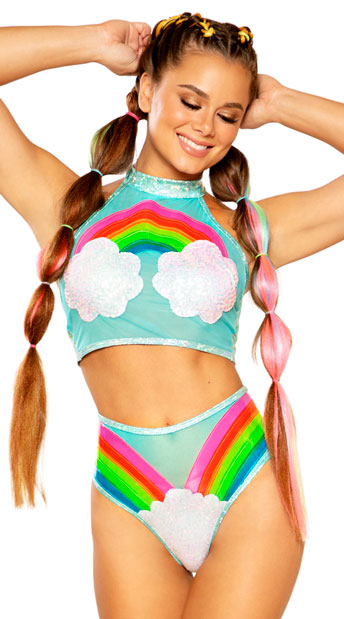 Jaded London Rainbow Sequin Spike Cape cuz you're ready to save the day. Will def' have all eyes on you with this cap that has a sikk rainbow hologram sequin spike detail all ova and an adjustable chain closures.
---
---
Rainbow Feathered Boa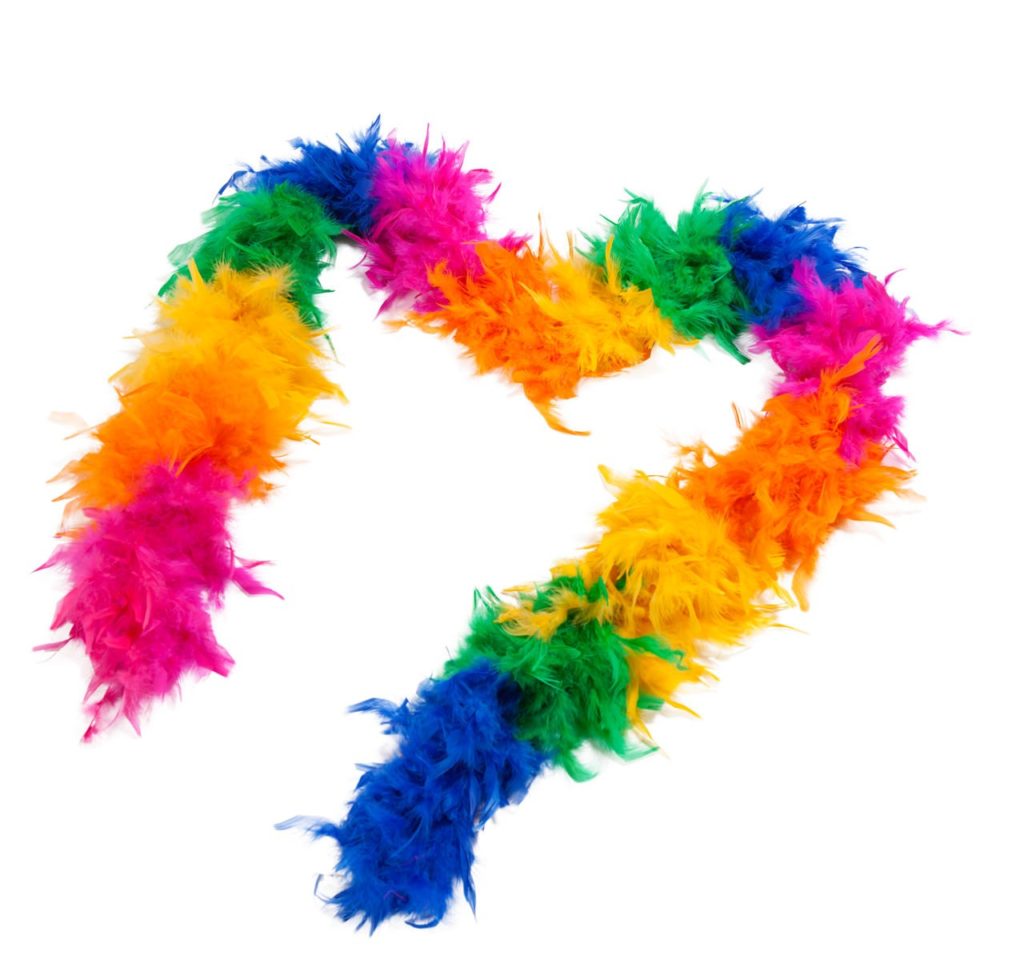 Have feathery fun with this rainbow boa!
---
---
Rainbow Hearts Body Jewels & Glitter Packets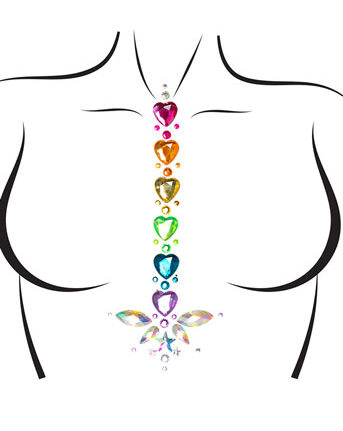 Add some sparkle to any festival look with these stunning body jewels with glitter packets. These multicolor hearts and gems adhere well to all places on the body like the face, chest or hands. They feature skin-friendly material which is safe to be used on both the face and nails. The two glitter packets (shown in image two on her wrist) can be used with hair gel, setting spray or glitter primer to apply onto skin or hair for a one-of-a-kind sexy look.
---
---
Rainbow Knee High Footless Leg Warmers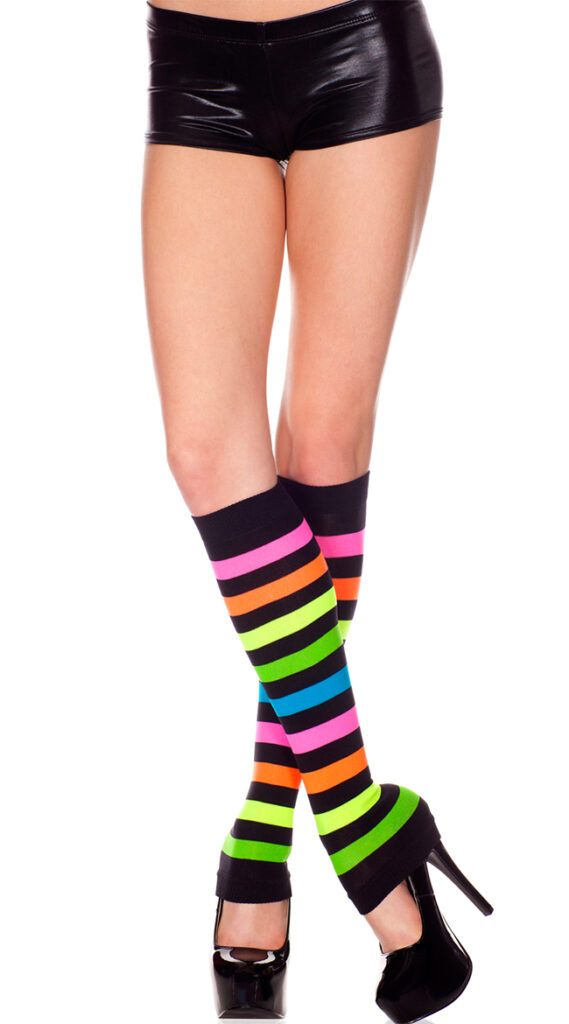 Dance and shuffle the night away in these colorful leg warmers!
---
---
Clear Rainbow Backpack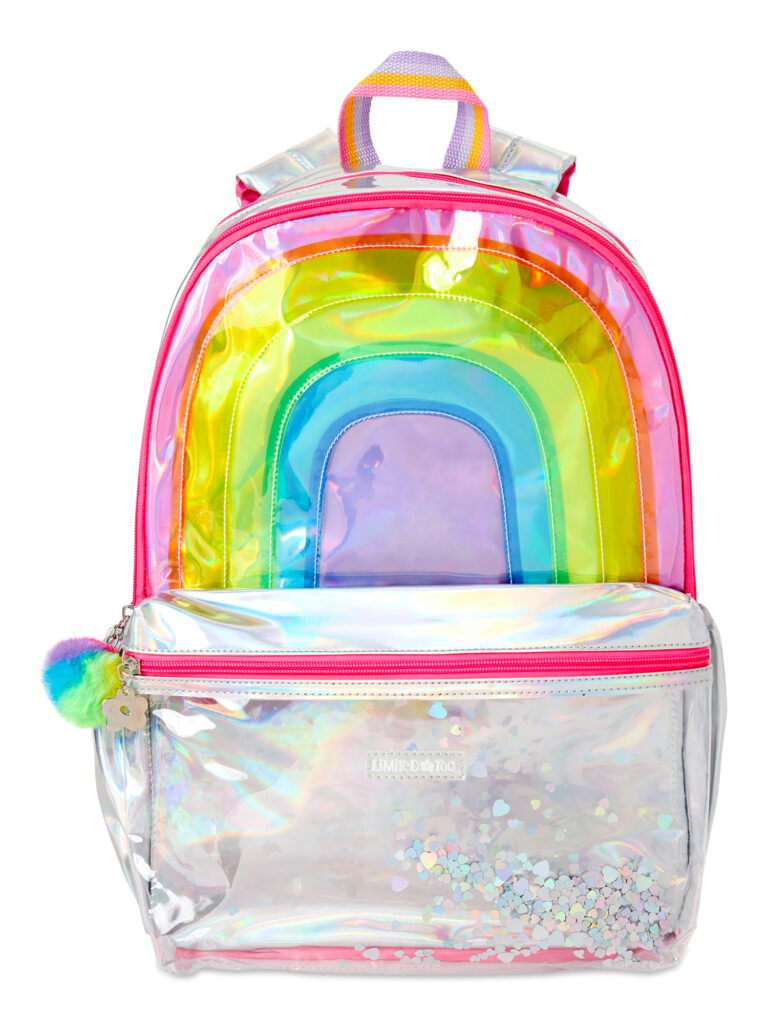 Clear Rainbow Backpack cuz ya seeing clearly now babe! Fashionable and fun, this bag is decorated in a rainbow design that's sure to make a statement wherever she goes!
---
---
Rainbow Bottle Opener Sunglasses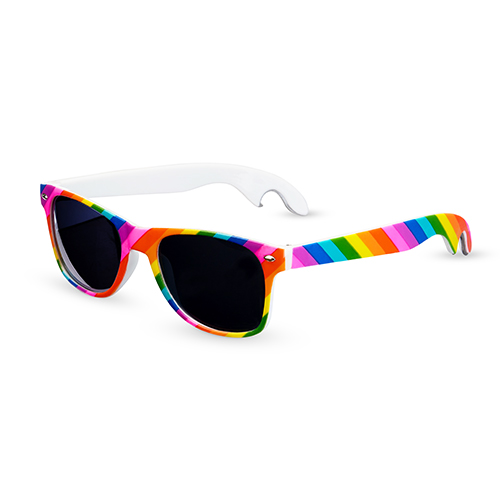 Life is best lived in full color! Pop these rainbow shades on, and pop the top of your favorite beverage. Equipped with two integrated bottle openers, these glasses are multicolored and multipurpose.
---
---
Over The Rainbow Sparkle Bodysuit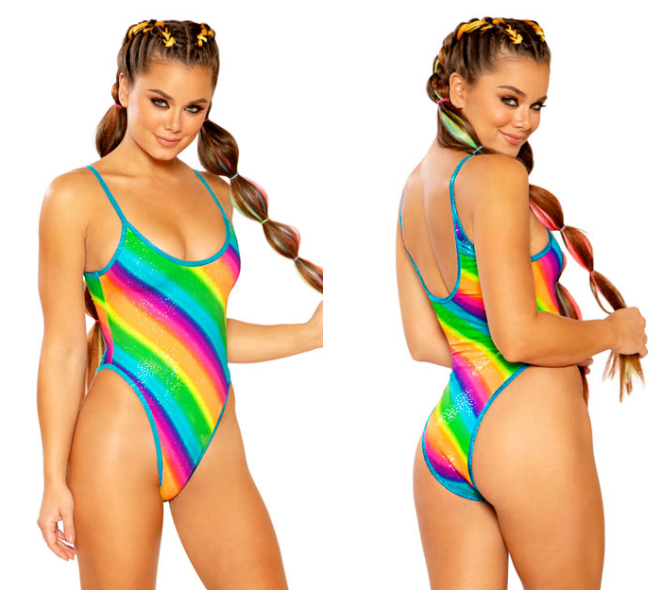 Go crazy for color in this cute rave bodysuit featuring a scoop neckline with a glitter trim, spaghetti straps, a diagonal glitter rainbow print, ultra high cut sides, a deep scoop back, and a cheeky cut bottom.
---
---
Unicorn Glitter Festival Set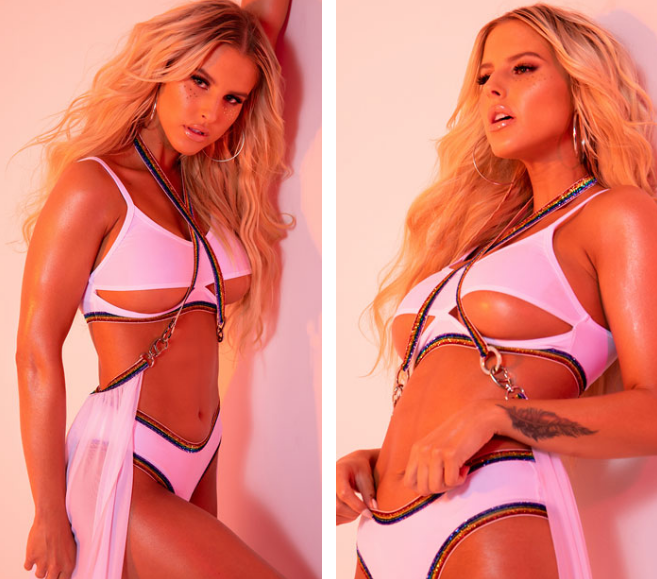 Get ready to rave in this flirty crop top featuring a scoop neckline, spaghetti straps, underbust cut-outs, a glitter hem, a scoop back, and a cropped hem.
---
---
Tags edm fashionedm stylefestival fashionRainbow backpackRainbow BikiniRainbow Bodysuitrainbow bootsRainbow CatsuitRainbow chokerRainbow CoatRainbow DressRainbow Fanny packRainbow Fashion for Festival SeasonRainbow Festival FashionRainbow FringeRainbow glitterRainbow Hoop EaringsRainbow Isis WingsRainbow JoggersRainbow KimonoRainbow LashesRainbow LED fingertip glovesRainbow Leg WarmersRainbow PantyhoseRainbow PastiesRainbow PurseRainbow ShoesRainbow ShortsRainbow StackersRainbow sunglassesRainbow SwimsuitRainbow teeRainbow TightsRainbow tutuRainbow WigRainbow Wingsrave fashion
You may also like...