An Honest Review of CRSSD Festival – Spring 2018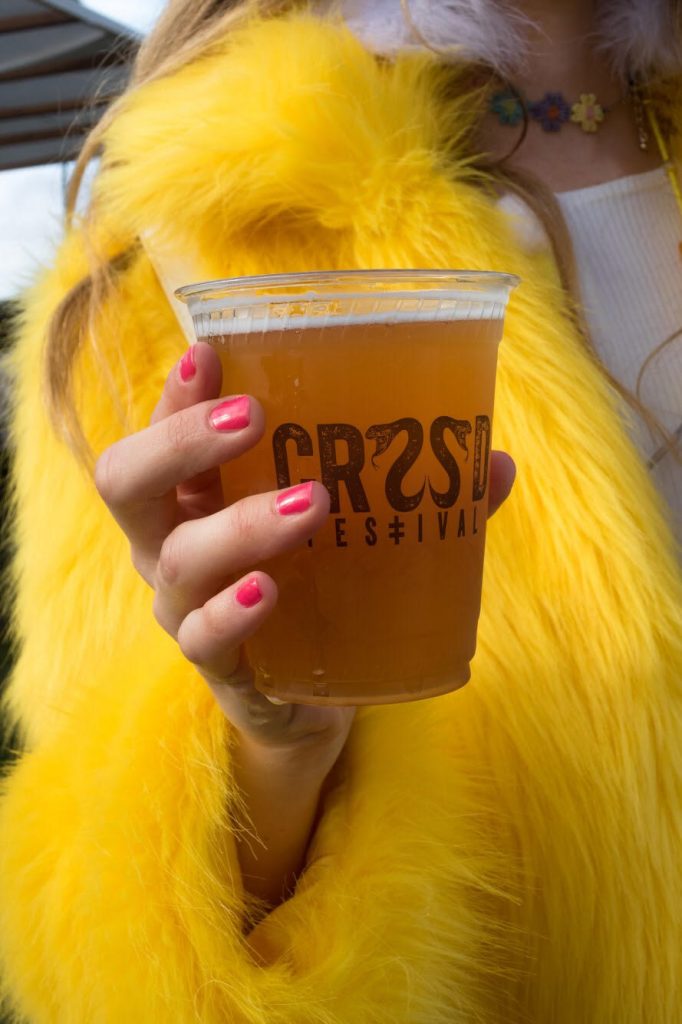 An Honest Review of CRSSD Music Festival
Welcome to my first festival review blog post! Now that I've rested, recharged, and recollected all of my memories from CRSSD, I thought I would do a recap of this festival and share my thoughts on what I liked and didn't like, the artists, the venue, the food, and of course the festival fashion.
For those of you who are not familiar, CRSSD is a relatively new festival located in sunny San Diego, California, and hosted by the creators of Coachella (Goldenvoice). CRSSD first launched in 2015 and holds its events twice a year – once in October and again in March.
This festival has been on my list for a little while, but it always conflicts with Insomniac's Beyond Wonderland (in March) or Escape from Wonderland (around Halloween). My husband and I honestly were not loving Beyond's lineup this year, so we decided to skip it this time and give CRSSD a shot. We ended up going both Saturday and Sunday and thought the tickets were a reasonable price considering the diverse lineup. We also are in our late twenties, so we were loving that the nights ended at around 11:00 PM rather than the usual 2:00 AM. So without further adieu, let's dive into the details!
The venue
CRSSD is held at San Diego's Waterfront Park, and I honestly think this is one of the best things the festival has going for itself. Right at the edge of downtown, this venue is surrounded by beautiful high rises, perfect palm trees, and has a gorgeous view of the ocean and port. I loved that we were able to walk to the venue in about 5 minutes from our hotel.
Upon arrival, there were about 5 different lines for ticket scanning and the wait time on Saturday was roughly 30 minutes. Sunday was definitely quicker, but was also less crowded overall!
Once we made it past the ID check, we were sent to the pat down line, and that was relatively quick. Not an aggressive pat-down, but the bag check was extremely thorough. They only had one person checking two lines, so it could've been more efficient, but it is what it is! Some of you probably noticed on my Instagram account that I was not loving how strict they were about what you could bring in. It's all the typical rules you would think of, but I was shocked to see that camel packs, most backpacks, cigarettes, lighters, and rave fashion were all prohibited!
Finally, we entered the festival, and the bohemian vibes were very prominent. CRSSD banners draped along the sides, vendor booths all had an earthy wood décor look, and fun little signs reading "Wish you were here" in neon lettering scattered across the venue. The layout is very unique because it is quite long but rather narrow.
There were three stages: The Palms, City Steps, and Ocean View. At the end of the weekend, I finally figured out why these stages were named this way…LOL. The Palms is the first stage and one of the prettiest. It has colorful parasols hanging from the ceiling, tall Palm trees everywhere (hence the name), and little water fountains you can dance in on the left side! I didn't spend much time here because we were too busy living at the City Steps stage (that's where most of the techno was), but this was a fun place to hang out at.
City Steps is in the middle and like I mentioned, featured most of the techno and techhouse artists. It was located right in front of a beautiful city building with lots of steps (there's the obvious name again). The stage was rather simple and didn't have any lasers or special effects. One of my only gripes about this venue is that I felt like the stages were a bit small and could've had a little more production to them, but maybe that's the raver in me talking! I'm such a sucker for the lights and lasers! The sound wasn't bad, but it could've been a little louder since it had two stages on both ends.
Ocean View definitely had more of that wow factor and a ton of space too move around in. This is the main stage and primarily live bands and artists played at this spot. There are bathrooms by this area, so that was convenient!
Tie-Dye Pants from J Valentine.
I randomly want to call out that there were plenty of port-o-potties with quick lines and the hand sanitizer dispensers were always full! I know this is strange to mention, but it always disgusts me when there is no soap-it's the little things in life!
The artists
If you like a variety of music and prefer the Coachella type of vibes, then this festival is for you! This year the lineup ranged from the likes of Empire of the Sun, Gorgon City, Bonobo, Gryffin, Tchami, Cirez D, Nicole Moudaber, Charlotte De Witte, and Sasha.
Most sets ran about an hour, but some headliners received two hours of playing time. City steps was lit with techno — Cirez D and Charlotte De Witte were my favorites to watch here! I do wish this stage was a little larger since it was hard to really see the artists, but they were all amazing!
Fortunately, I was able to catch Bonobo do his live set at Ocean View and that was such a beautiful performance. I loved all the visuals on the screens and the vibes of this crowd.
One last thing I want to call out is that CRSSD staggered these artists rather strangely. They didn't always have someone playing at the Ocean View stage which was odd to me since it was the largest. I think they did this so you could hear who was playing at City Steps? I didn't love it because City Steps is one of the smaller stages to begin with, so this always brought an influx of people in and overcrowded the area.
The fashion
We all know this is one of my favorite components of festival life! Like I said earlier, this festival definitely discourages rave attire and that kind of culture, but I still felt those PLUR vibes from some people! I love colorful outfits, so I was decked out in bright furs and vibrant pants all weekend! I sported glitter, face gems, and funky sunglasses for extra flair. Most people wear Coachella/hipster-type clothing (all black, fedoras, that sort of thing).
I noticed a fair amount of attendees in fur to stay warm, and I could totally tell who the ravers and Desert Hearts goers were with their fun fashion, sequin kimonos, and platforms! I was honestly a little nervous about my outfits since the rules seemed strict, but I was let in easily and I actually got a ton of compliments on my get-up! Sometimes I think a lot of people are afraid to go all out, but that's the beauty of expressing yourself at music festivals.
The crowd
This event is 21+ and the crowd mainly consisted of people ages 22-32. As mentioned above, the vibes are definitely more bohemian and Coachella-esque, but I think the crowd was very friendly and down-to-earth. Most people were polite and easy to converse with. Strangers were complimenting one another and I could feel those PLUR vibes from some! Moving in and out wasn't terribly difficult and people were mindful of the space around them.
The weather
San Diego typically has perfect weather, but there was a bit of a cold front for California this past weekend! Some of you will laugh at me because you experience a real Winter, but stay with me on this one. Day one was supposed to receive some rain and cloudy skies, with a high of 58 and low of 40! Fortunately, there was no rain, the sun stayed out most of the time, and the high crept up to around 67. Since the venue is basically on the water, there is a lot of wind and cooler breezes, but dressing in pants and a jacket did the trick to stay cozy.
The food
Something that excites me about festivals is trying new grub. I was excited to see that CRSSD had some local vendors on the list and also craft cocktails!
The food is never expected to be reasonably priced, but most of our meals left me full and satisfied.
The drinks were something else! They had quite an array of alcoholic beverages. Local craft beer, gorgeous cocktails such as Moscow Mules and Margaritas, and we even paid $17 for a cup of Richie Hawtin's party sake! It claims to pair well with electronic music and not make you crash. We are such suckers for good marketing, and I got to say, after I had one cup of his house sake, I was ready to dance for hours at City Steps. Don't know what was in that, but it was tasty and woke me up a bit!
To summarize
CRSSD was definitely a chill festival and I'm looking forward to returning at some point! I'll always be a raver at heart, but this was a nice change of pace and it definitely met my expectations!
Pros
-Beautiful scenery
-Diverse lineup
-Affordable ticket prices
-Local accommodations and quick walk to the venue
-Delicious food and drinks
-Great festival hours
-Plenty of open seating and grass
-Fun crowd
-It's 21+
-Reception and cell service was awesome
-Easy to find people and meet up
Cons
-Not the best stage production
-Staggering of the artists could've been better
-Sound quality needed some improvement
-Strict rules
-Expensive to stay out here
That about covers everything I can think of! Feel free to comment below if you have a question or want to mention something that I may have forgotten! I hope you all enjoyed my honest review of CRSSD Music Festival for Spring 2018. Thanks for reading and I'm looking forward to sharing more festival experiences with you all in the future!
Tags CRSSD Music Festivalfestival fashionMusic ReviewReview of CRSSD Music Festival
About: Women of EDM Contributor
You may also like...