Sexiest Swimsuits for a WTR Pool Party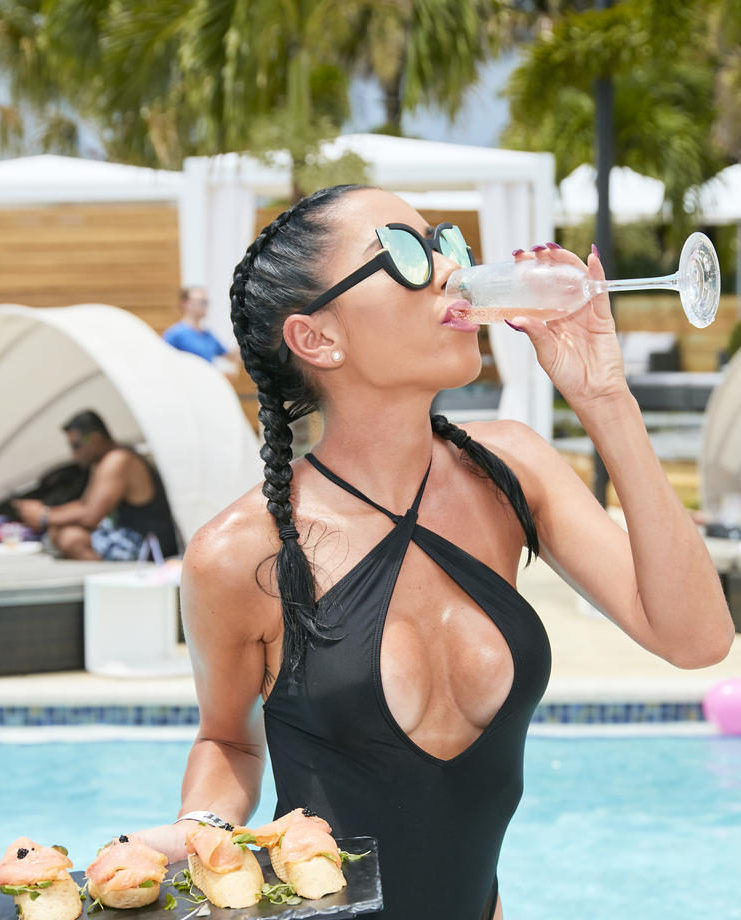 It's still smoking hot here in Tampa, Florida, and if you're going to be outside in this heat, you might as well take advantage of the seriously swank pool, WTR, at The Godfrey Hotel.  While the sand and performance stage might be gone, there is a chill pool in its place wrapped with delicious cabanas where you can receive massages, bottle service, and exclusive beach vibes. One of the best parts about setting out to glisten pool side, is that you don't have to pack much.  Besides for SPF, your only essential is a sexy bikini to soak up the sun. Walk in like you own WTR in these babes and don't forget to tag 813 Area and Women of EDM in all of your photos!
Our Sexiest Swimsuits for a Pool Party at WTR is going to be your ticket to the front of the line and your reservation for the best cabana.  Glitz up these pieces with shoes, accessories, and your dazzling personalities.  Cheers to the glam girls who know how to make a statement! Loud & Proud, Classics, Sequins & Rhinestones, and Trendy Collections below?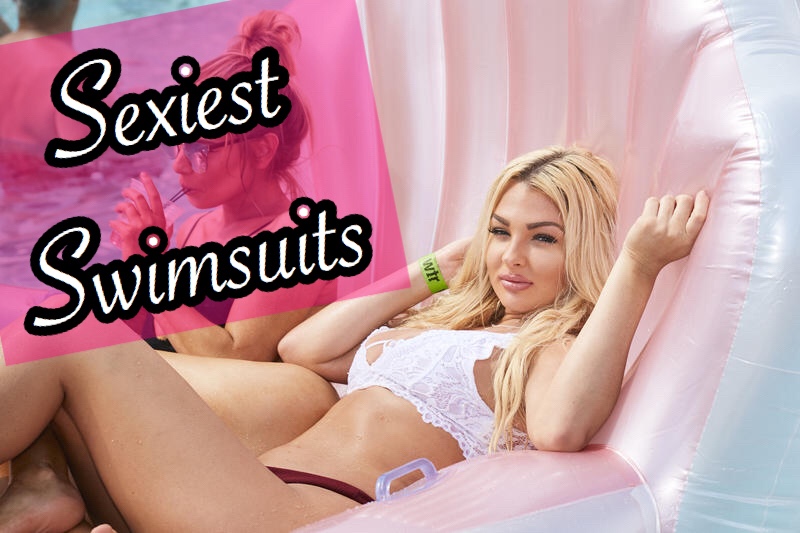 Loud & Proud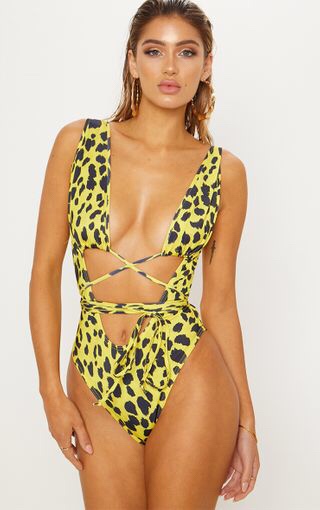 Cheetah Swimsuit, $35.00 – Take your poolside vibes to next level lit with this swimsuit girl. Featuring a yellow cheetah print, cut out design and wrap around detailing in a high rise style. Just add statement accessories and be pool party ready.
---
---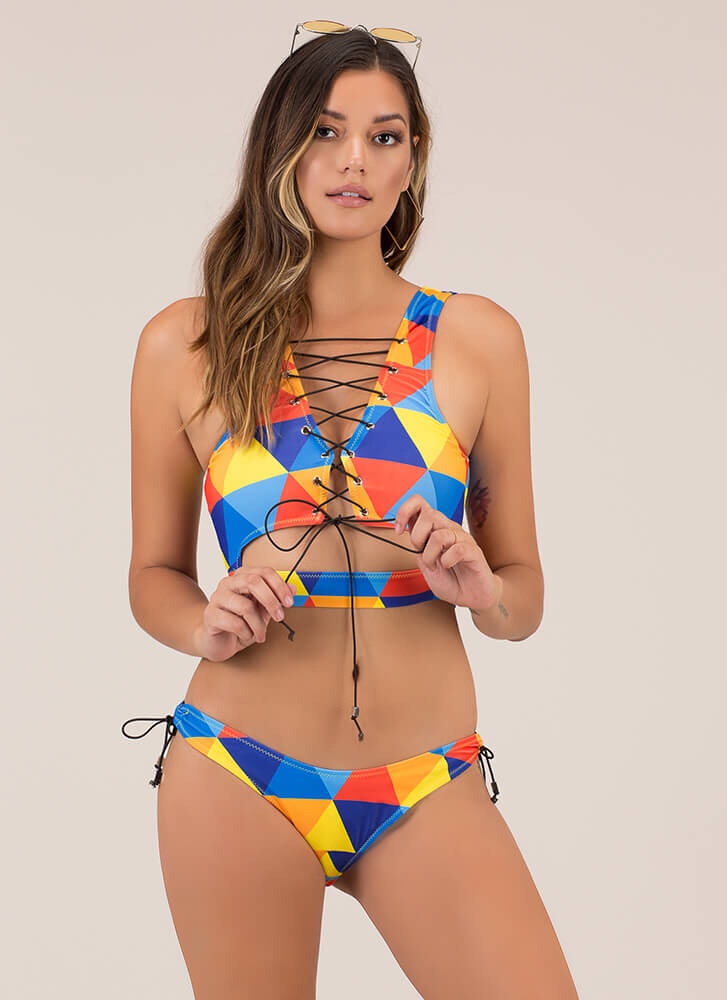 Lace-Up Print Bikini, $39.99 – You and this suit will make beautiful music together. Stretchy, sleeveless, two-piece bathing suit features an allover multi-colored print, low-rise briefs with self-tie sides, and a matching longline bikini top with a cut-out over the stomach, a plunging deep-V neckline, and crisscrossing strings for a lace-up look.
---
---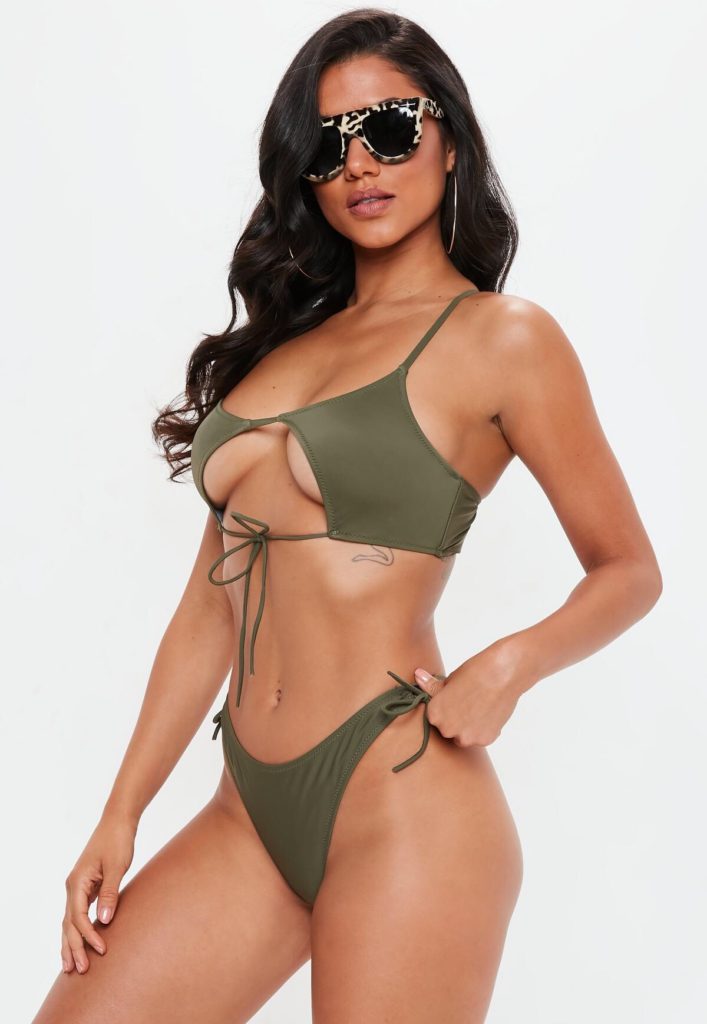 Khaki scoop cut out tie front bikini, Top $18.00, Bottoms $15.00 – A khaki bikini top with an extreme scoop and cut out detail and a cross back with adjustable straps. Bottoms feature a high leg style and side tie detail.
---
---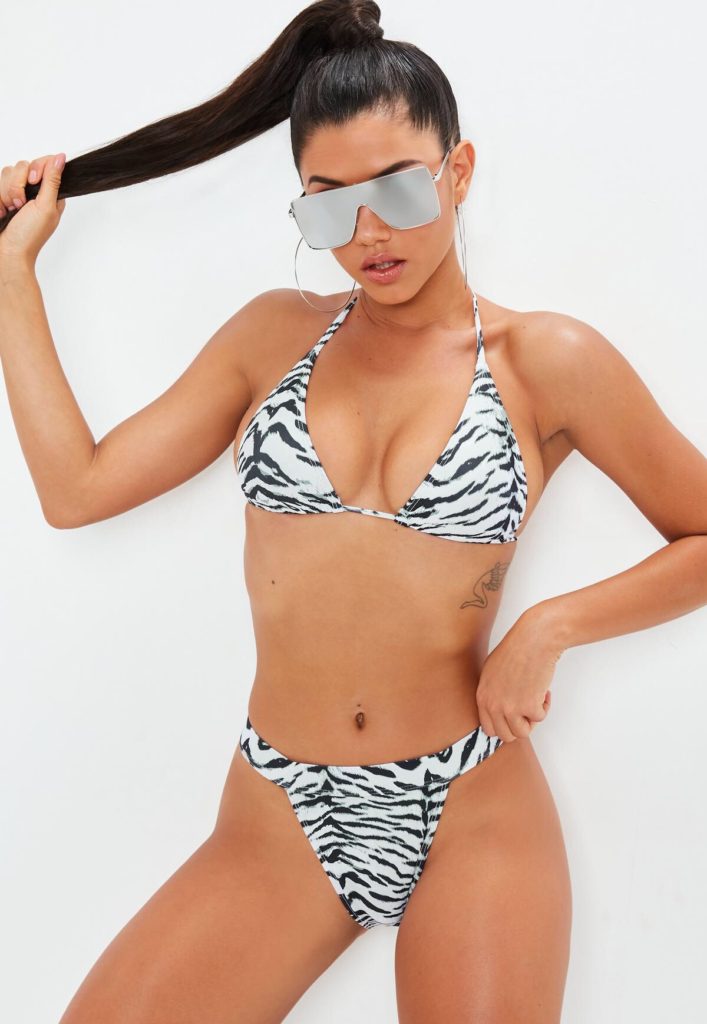 Tiger triangle bikini top, $15.00, Bottoms $15.00 – A white snake print triangle bikini top with adjustable ties. Bottoms feature a white tiger print triangle high leg tanga style bikini brief.
---
---

Classics

Black Contrast Bikini, Top $18.00, Bottom $15.00 – This monochrome bikini top is on our vacay hit list. Team it with the matching bikini bottoms and some cat eye sunnies for the ultimate poolside princess look.
---
---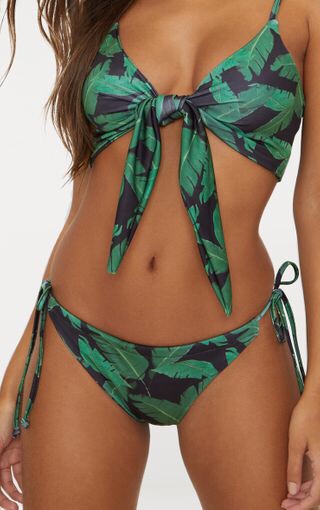 Leaf Bikini, Top $18.00, Bottom $12.00 – Add this bikini top to your summer collection this season girl. Featuring a banana leaf print fabric with a multi tie strap, team it with the matching bikini bottoms and big hoops for a poolside princess look without the fuss.
---
---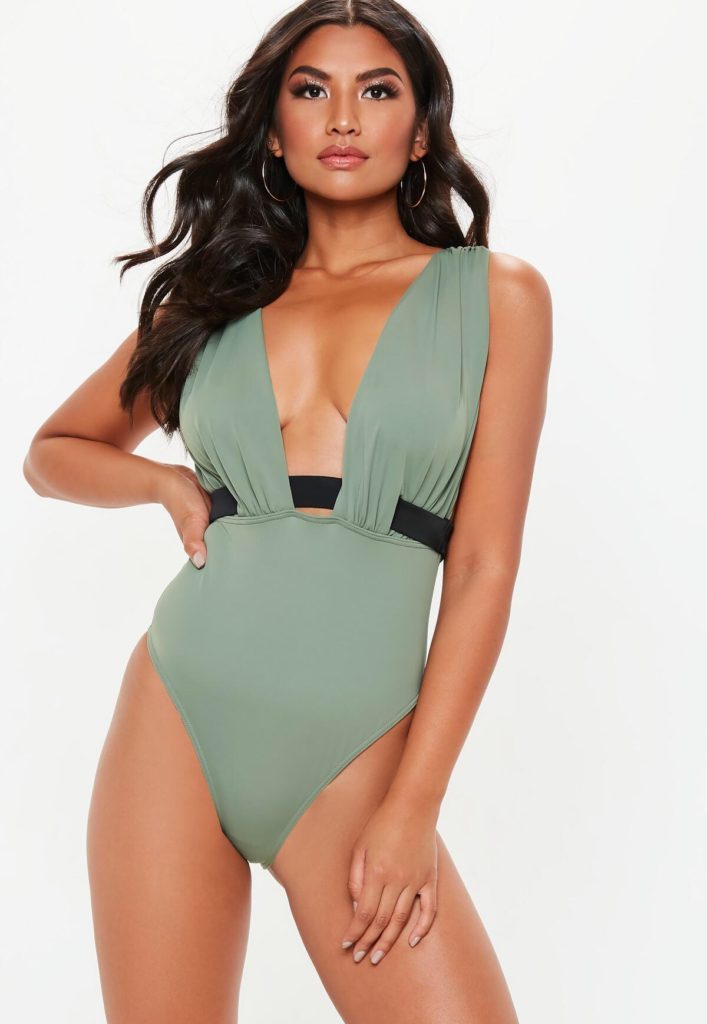 Green Sheen Contrast Belt Plunge Swimsuit, $33.00 – A swimsuit in a green sheen finish with contrasting belt detail and plunge neckline.
---
---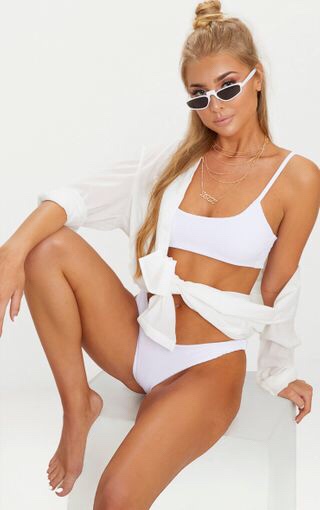 White Crinkle Scoop Neck Bikini, Top $18.00, Bottom $18.00 – Be a poolside babe with this essential bikini top. Featuring a white crinkle fabric with a scoop neck and a flattering cami style, team with the matching bikini bottoms and retro shades for a look we are crushing on.
---
---
Brunch Party at WTR!!!!
Sequins & Rhinestones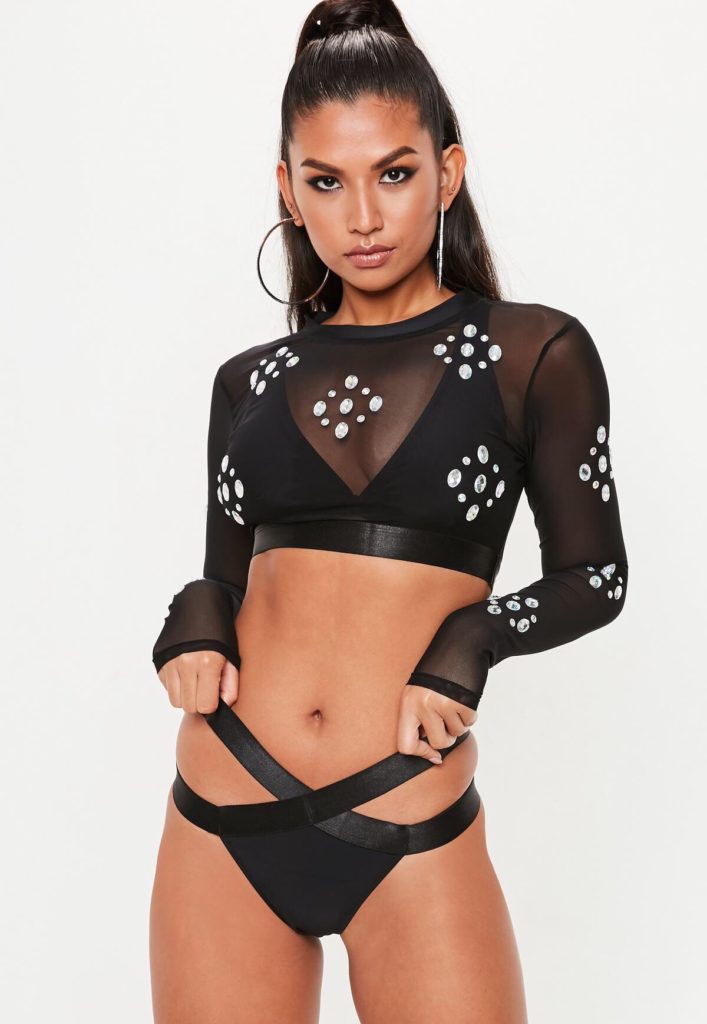 Black diamante 3 piece bikini set, $48.00 – A 3 piece set including a triangle bikini top, strappy high waisted bikini bottoms and a mesh long sleeve crop top with diamante detail.
---
---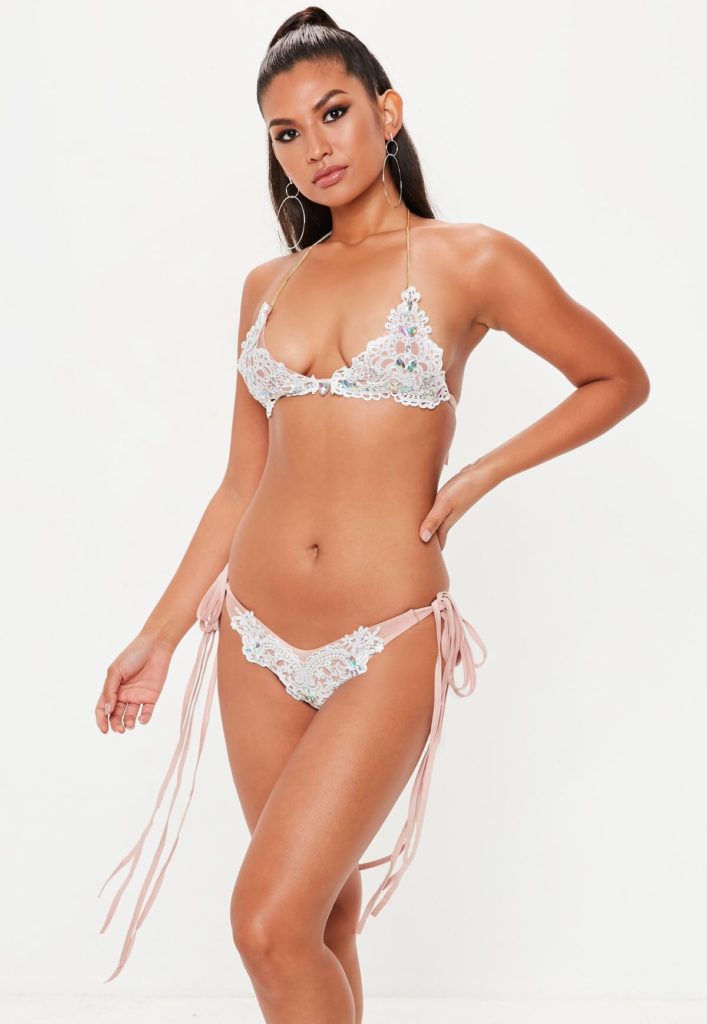 Jeweled bikini set, $45.00 – Pink bikini set with jeweled detail.
---
---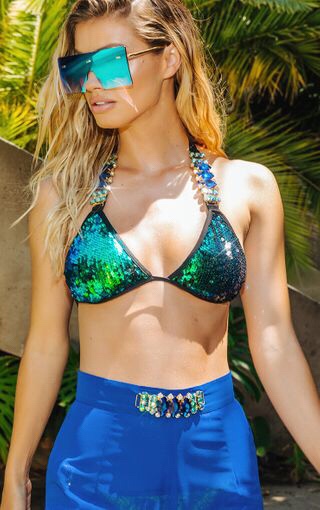 Premium Green Jewel Trim Sequin Pool Party Top, $38.00 – t's time to go all about to become the ultimate poolside queen and there is no better way to do it than with this bikini top. Featuring a green mermaid sequin material with a triangle design, adjustable tie detailing and glam jewel detailing, style this with the matching bikini bottom and complete the look with a touch of glitter, wedges and a kimono.
---
---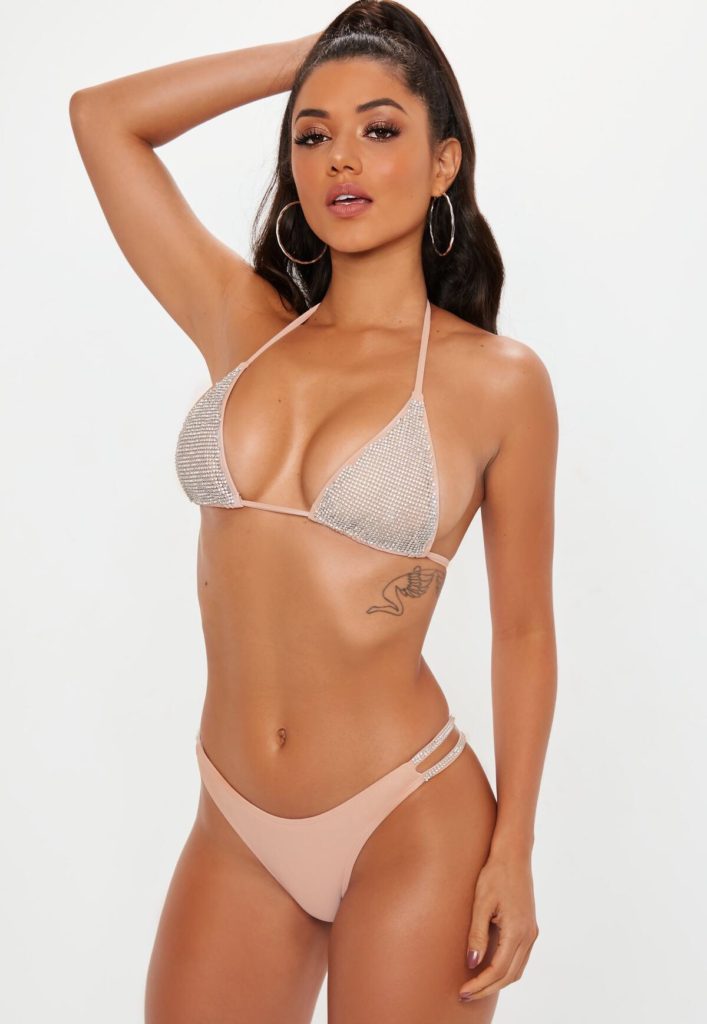 Pink diamante triangle bikini, Top $27.00, Bottom $18.00 – A bikini top in a pink finish with triangle shape and diamante detail. Bikini brief bottoms feature a double strap with diamante detail on the side.
---
---

Trendy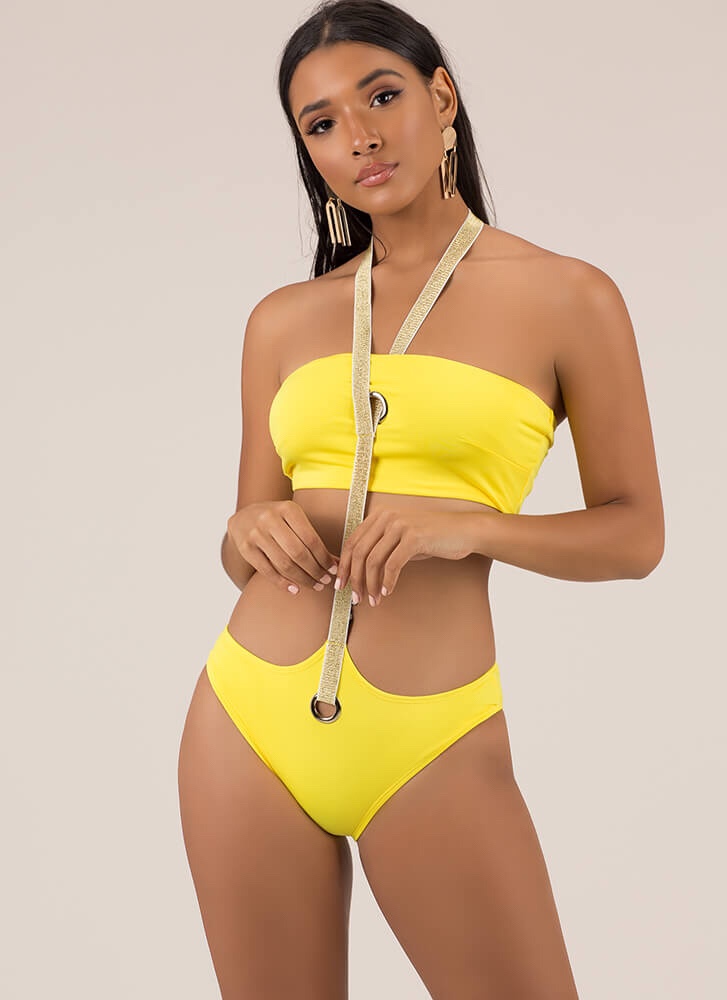 Chic Banded Monokini, $38.00 – Would you consider this a one-piece or a bikini? Either way it's chic AF. Stretchy, one-piece, toga-inspired bathing suit features a bandeau bikini top and briefs that are each punched with an oversized grommet and threaded with a glittery, metallic, Y-shaped elastic band, which wraps around the neck like a halter strap and creates a two-piece monokini look from behind.
---
---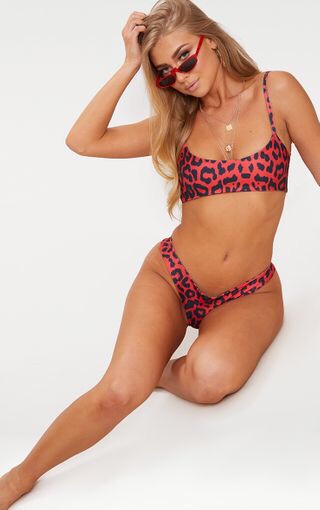 Red Cheetah Print Bikini, Top $18.00, Bottom $18.00 – This bikini top is sure to elevate your beach babe look. Featuring a red cheetah print, a low scoop neckline and a simple strappy design, team it with the matching bottoms for the ultimate look.
---
---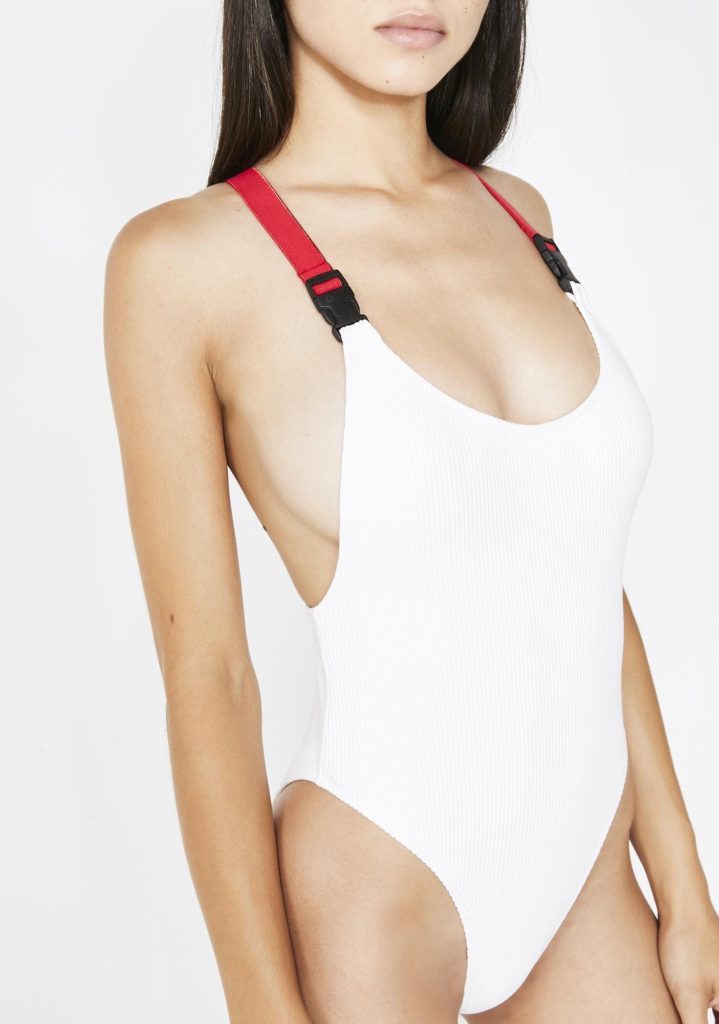 Leo One Piece, $190.00 – Frankies Bikinis Leo One Piece cuz you make it hawt babe! Add fuel to the fire in this sikk one piece that has a scoop neck, cross over straps N' a cheeky fit.
---
---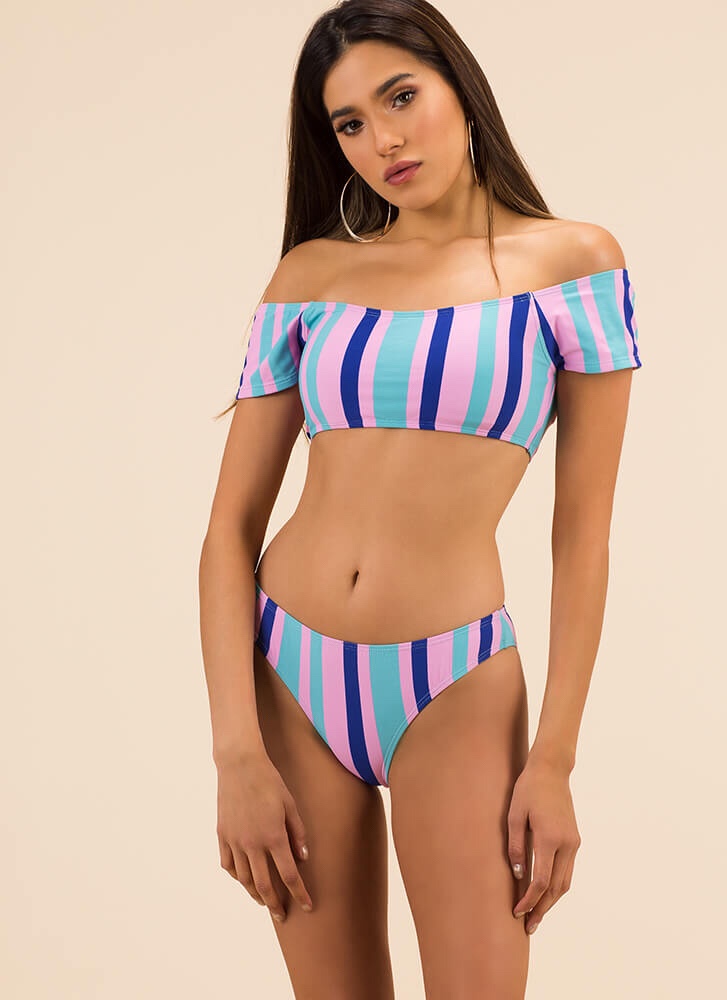 Striped Bikini Set, $64.50 – Ready for some fun in the sun? This bikini sure is! Stretchy two-piece bathing suit features a short-sleeved top with bust padding, mid-rise briefs, and an allover tri-color striped print of vertical lines and panels.
---
---

Cover Ups
---
---
Don't forget that the best suits are complimented with espadrilles, sunglasses, accessories and pool floats!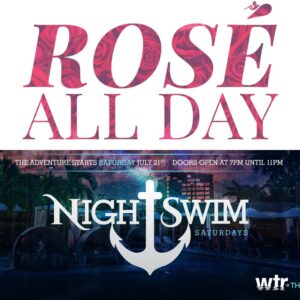 See more swimwear > HERE <
Check out more events at WTR > HERE <
Discover things going on in your area > MyArea Network <
Tags 813 AreaNight swimPool PartySexiest Swimsuits for a WTR Pool Partysexy bikinissexy swimsuittampa pool partyThe Godfrey Tampavip serviceWTR
You may also like...