Soccer Mommy Releases Her Triumphant Sophomore Album, Color Theory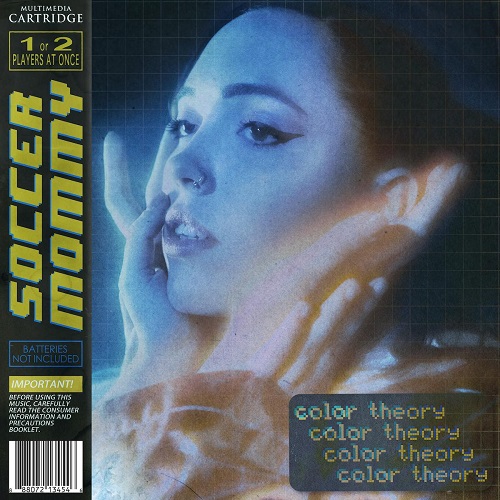 Soccer Mommy releases her triumphant sophomore album, Color Theory, via Loma Vista Recordings.
What followed was mass critical acclaim, performances opening for Bernie Sanders, numerous upcoming headline dates sold-out months in advance, confirmed festival slots at the likes of Glastonbury, and her late-night debut on Jimmy Kimmel Live! The album made it's AAA Top 20 debut after release, was #1 NACC Top 200 for 4-weeks running, and debuted on the following Billboard charts: #1 Top New Artist Albums, #1 Alternative New Artist Albums, #4 Current Alternative Albums, #4 LP Vinyl Albums, #6 Current Rock Albums, #16 Top Current Albums and in the Billboard Top 200. The album is already appearing on mid-year lists, from the likes of Stereogum, Paste, Billboard, and more.
With touring at a halt for the entire music industry, Soccer Mommy has found remarkably inventive ways to stay busy during quarantine. Combining her love of video games and performing, Soccer Mommy held a digital concert on the online gaming platform Club Penguin Rewritten a few weeks ago, with 10,000+ attendees (who all had to make their own penguin avatars to attend). So many fans logged on originally that the game's server *literally* crashed and the event had to be rescheduled. Soccer Mommy has also kicked off the NPR Tiny Desk At Home Series, performed on Pitchfork's IG Live series, and released her very own Zoom backgrounds images. Soccer Mommy then embarked on another tour, of sorts: an 8-bit music video tour, hitting some of the cities she was meant to be currently passing through.
LISTEN/WATCH:
"circle the drain" | "lucy" | "yellow is the color of her eyes" | "bloodstream"
READ MORE ON COLOR THEORY HERE:
The New York Times
Rolling Stone
Billboard
Entertainment Weekly
---
Praise for Soccer Mommy + color theory:
"Let me thank Soccer Mommy for the music" – Bernie Sanders
"Her most fully realized work yet, the next step in her steady journey toward budding indie-rock stardom." – The New York Times
"Sophie Allison is unflinching in her depiction of depressive episodes and paranoia about looming death. She sets them against a deceptively sunny '90s pop template, staring down adolescent trauma with a tone that's both unsentimental and deeply empathetic." – NPR
"Indie rock prodigy Sophie Allison delves into darkness and vulnerability while maintaining the same dreamy, melodic drive that made her 2018 debut, Clean, so memorable." – Rolling Stone
"color theory feels dazzled with the endless creative possibilities of the studio…piercing and unpredictable. In contrast to its bigger and brighter sound, the mood is grimmer, the emotional truths darker." – Pitchfork
"Allison's lilting voice and buoyant melodies give Color Theory an inviting atmosphere…In the multihued music she's come to make as Soccer Mommy, though, Allison has found a way to articulate and expunge emotions that are more complex…" – New York Magazine's The Cut
"Allison's unerring ear for melody makes each track feel like an open door that invites listeners in. The album is so tuneful it ingratiates itself even when the subject matter is traumatic….Allison has an eye for the kinds of details that well up during times of anguish and the musical ear to make them vivid." – The Wall Street Journal
"On Color Theory, Allison…sets herself apart as one of her generation's most interesting and affecting songwriters." – The FADER
"color theory is a lonely and insular album, but it's a testament to the band that the songs are so relistenable in their hands. Allison spins hooks out of her darkest thoughts, and invites you to wallow alongside her, together… These songs seem like a part of that escape, a way to excavate personal demons and provide a way to keep going in spite of it all." – Stereogum (Album of the Week)
"At 22, Allison is sort of like the alt-rock songbook made flesh. You hear shades of the neat, autumnal sadness of early Death Cab for Cutie, the rawness of peak Lou Barlow, and the fearless adventurousness of Blur…the writing is always original, personal, and tuneful. This isn't rock and roll revivalism; it's proof the real thing can never die." – Vulture
"color theory probes even more powerful, painful territory…Allison upped the degree of difficulty for herself by making a kind of synesthesia concept record. color theory might not have as many easy foothold melodies as its predecessor, but it matches and perhaps even surpasses Clean in emotional depth." – Complex's Pigeons & Planes
"her biggest album yet" – Vanity Fair
"Soccer Mommy, even on her happier tracks, has this aesthetic that lends itself well to the sad song list. In this one, she captures the apathy that can come during a time when you're just trying to get through the day." – Esquire
"On Sophie Allison's sophomore album "Color Theory," the singer hits new heights" – NYLON, March It Girl Feature
"…known for spinning complex emotions into digestible lyrics, imbues her forthcoming album …with both distress and joyful sounds that mask contemplative thoughts." – Entertainment Weekly
"Pairing the pure-pop innocence of her vocal delivery with distorted, at times screeching guitars, her new album "Color Theory" finds a writer coming to terms with herself in real-time. Her self-evaluations turned into structured, often jarringly direct choruses that feel as natural as conversation." – Variety
"her most ambitious and immediately lovable album yet, one that captures both misery and the comforts we reach for when it takes hold…Despite the gloom, Color Theory sounds alive as hell, built around Allison's open guitar chords and itinerant vocal melodies, and accented by the subtle flair of the musicians in her band…magnificent Color Theory, one of the best albums of 2020 so far…" – MTV News
"The nostalgia of color theory is not a confection, nor is it full of cheeky throwback references…it is an emotional excavation of a particularly difficult period of Allison's life…" – Vice
"Especially in this current climate of fear and uncertainty, Color Theory's somber and melancholic themes are quite relatable, even comforting and hopeful in some cases." – Forbes
"Color Theory finds her delving even deeper into the possibilities of understated and funereal rhythms and melodies, while exploring more cathartic moments of noise and release in the admixture, always delivering those cutting lyrics with her lovely, plainspoken drawl." – The AV Club
"what Allison forged in the fire of those thoughts is self-possession and self-actualization normally found in someone much older. It shows when she talks about her ideas of authenticity and what she won't compromise to make music." – Refinery29
"Color Theory is an investigation into the self — one that spares no bleak passing thought, painful memory, or personal demon…Color Theory eschews the easy catchiness Soccer Mommy's capable of. Instead, she leans into psychedelic palettes and asymmetric structures, choosing to conceal herself at times behind tense, distorted instrumentation." – PAPER Magazine
"…the album maintains the nostalgic glitter of her earlier work, but it swells with ambition…" – Interview Magazine
"…a highly personal collection, with Allison wrestling with the heartbreaking and difficult themes of aging and eventual mortality." – Consequence of Sound
"With color theory, her songwriting has nestled into its own bed of power pop rock, and her unguarded voice sets her apart as a cut above in confessional indie." – The Face
"a stirring, indie-pop masterpiece… She's on the verge of undeniable stardom, but still wielding the glitchy, emotive nature of her homegrown genre." – Insider
---
Follow Soccer Mommy:
Twitter
Instagram
Facebook
Newsletter
Merch
Tags #1 Alternative New Artist Albums#1 NACC Top 200#1 Top New Artist Albums#16 Top Current Albums#4 Current Alternative Albums#4 LP Vinyl Albums#6 Current Rock AlbumsAAA Top 20Bernie SandersBillboardBillboard Top 200Color TheoryGlastonburyJimmy Kimmel Live!Loma Vista RecordingsNPR Tiny Desk At Home SeriesPastePenguin RewrittenPitchfork's IG LiveSoccer MommyStereogum
You may also like...