Big Name Rappers on T-Mobile Stage During Day 2 ~ Lollapalooza!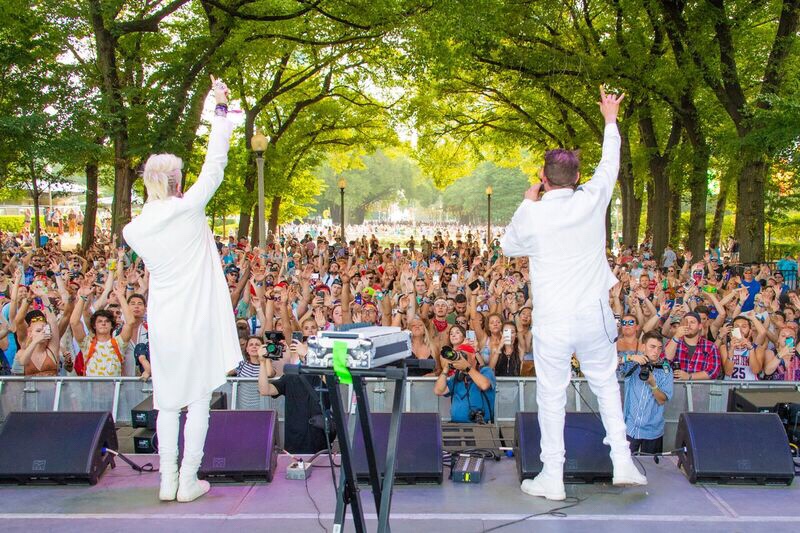 For those of you who attend music festivals for hip/hop and rap music, the T-Mobile Stage has you covered on Day 2 of Lollapalooza.
With some of today's biggest names in Hip/Hop and Rap taking the stage, it's important to know which ones you want to see. We've got them listed here for you with some of their most popular songs that you can memorize before seeing them live! 
---
Picture This – 1:15 p.m. – 2 p.m.
The T-Mobile Stage starts off on Day 2 with an Irish rock band called Picture This. The band is comprised of Ryan Hennessy, Jimmy Rainsford, Owen Cardiff and Cliff Deane and has been since their debut album came out in 2017. Their self-titled album topped the Irish Albums Chart within its first couple of weeks out. Some of the best songs off their album are "Modern Love", "When We Were Young" and "You and I". Head to the T-Mobile Stage at 1:15 p.m. to see them open day 2!
Idles – 3 p.m. – 4 p.m.
Idles, stylized as IDLES, are an English punk rock band that formed in Bristol in 2009. Their debut album, Brutalism, was released in 2017 and critically acclaimed. Their second album, Joy as an Act of Resistance that was released in 2018 also had great success. The band is comprised of Joe Talbot, Lee Kiernan, Adam Devonshire, Jon Beavis, Mark Bowen, Andy S and they consider themselves a punk rock and hardcore punk band. Check out both of their albums below and see them live on day 2 of Lollapalooza.
21 Savage – 5 p.m. – 6 p.m. 
I think we can all say that we were shocked when we found out 21 Savage was from London last year, but the memes haven't stopped him yet! This hugely successful songwriter, rapper and record producer came out with his first smash hit in 2017 called "Bank Account" and since then has produced an array of other hits. Some of them are "A Lot", "Ball w/o You" and "X". Check him out during day 2, and the most pit is bound to go crazy so go wild with the rest of his fans and jump in!
Janelle Monae – 6:45 p.m. – 7:45 p.m.
Janelle Monáe Robinson is an American singer, songwriter, rapper, actress, and producer who is signed to Atlantic Records, as well as her own imprint, the Wondaland Arts Society. Monáe's musical career began in 2003 when she released an unofficial demo album titled The Audition. Some of her most popular songs are "Make Me Feel", "I Like That" and "Pynk" so stop by her set at Lollapalooza to sing along!
Childish Gambino – 8:45 p.m. – 10 p.m.
This is America! And we are lucky to be graced with the presence of a musical genius, Donald Glover, or as his performer alias Childish Gambino. Donald McKinley Glover Jr. is a man of all trades because he is not only an American musician but he is also an actor, comedian, writer, producer, director, and DJ. He performs music under the stage name Childish Gambino and as a DJ under the name mcDJ. Lollapalooza is excited to see what Childish Gambino has in store for us as he closes out day 2 on the T-Mobile stage.
---
Women of Edm is in partnership with MyArea Network! Visit our proud partner's 312Area site HERE! For more on Lollapalooza and other EDM events in Chicago, join the EDM community on 312area! 
Tags 21 SavageChicagoChildish GambinoDonald Gloverhardcore punkhip hopIdlesJanelle MonaeLollapaloozaPicture ThisPunk RockrapRock Band
You may also like...