GODAMN drop their 2-track Post Tenebras
Swiss duo GODAMN drop their 2-track Post Tenebras, House Vol. II EP today, 7/20, on Tchami's CONFESSION. True to its name, the EP showcases a darker side of house music laced with enigmatic grooves and intoxicating basslines.
The heavily talented Swiss duo GODAMN utilizes their production skills and diverse sound for their new EP. The two-track Post Tenebras, House Vol. II EP is out Friday, July 20th on Tchami's CONFESSION.
GODAMN is out to impress on their newest EP, delivering a project chalk full of filthy beats and enigmatic grooves. "They Just" sets the tone on the Post Tenebras, House Vol. II EP, with an intoxicating baseline that powerfully reverberates throughout the track. The variety of percussion present in "They Just" keeps the track funky and moving, and will definitely leave listeners "just talking" about the song. "Different Level" follows in second, and comes equally as stirring as the first track. The chopped up vocals and upbeat style of the song make for a verifiable house banger. GODAMN's Post Tenebras, House Vol. II EP is an outstanding effort from the duo and ready to be played on dance floors everywhere.
"With this new EP, we wanted to create another strong house vibe. We gave 'They Just' and 'Different Level' both a heavy bassline, combined with grooving percussions and catchy vocals. Originality is a main point in our creative process, and that's why you've probably never heard sounds similar to ours. We wanted this EP to really reflect ourselves. That's why the name and the artwork are directly inspired by Geneva's (our hometown, Switzerland) motto and flag. This EP is ready to take over dance floors." – GODAMN
"True to their energetic style, GODAMN delivers a very powerful EP on CONFESSION." – Tchami
Tracklist:
1. They Just
2. Different Level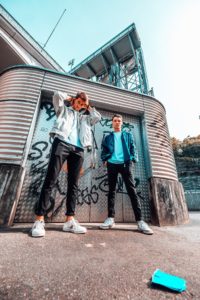 About GODAMN: 
GODAMN is a project launched in March 2017 by two budding Swiss artists, both of which produced and played under another name for several years. Through quality productions, impressive hits, and wild live shows, GODAMN was quickly noticed. Tchami himself showed immediate support on the Mainstage of Ultra Music Festival 2017 by playing their track "Messin." In an exciting turn of events, "Messin" was signed onto Tchami's CONFESSION only a short few months later.
Another CONFESSION mega-head, Malaa, also shows his unwavering support for these two young artists by playing their music in each of his sets, with one of GODAMN's tracks oftentimes being the intro to his show. The support of the greatest is not lacking for GODAMN: Afrojack, Valentino Khan, Don Diablo, Malaa, Jauz, Angelz and others have showed their constant support for the pair. Having years of experience with the crowds, they promise a Bass and G-House show to feast on.
GODAMN has an exciting 2018 ahead with several more releases planned. Make sure to follow the pair closely throughout the rest of this year.
Follow GODAMN:
https://soundcloud.com/godamnmusic
https://www.facebook.com/wearegodamn/
https://twitter.com/GodamnMusic