"Hey Mr. President" #28 On Billboard Dance Club Chart
John Palumbo Teams Up With Yoko Ono, "Hey Mr. President" #28 On Billboard Dance Club Chart, Releases Video + Club Mixes.
CLICK HERE TO LISTEN TO THE REMIXES 
 CLICK HERE TO VIEW TONY MORAN CLUB MIX VIDEO DIRECTED BY DANNY MORRIS  
Singer/songwriter/remixer John Palumbo (of American progressive rock band Crack The Sky) teams up with pop culture icon Yoko Ono on his new single "Hey, Mr. President".  The commercial release date, on Brother Brother Records, is TBA
Taken from his hard-hitting, socially conscious 2017 Citizen X-The EP (Lifesong Records), the poetic politically charged opus is a sobering commentary about ego-driven world leaders whose insatiable thirst for power, fame and absolute authority bring them at odds with the very people they was elected to represent.
It grapples with a culture war in which nationalism, racism, sexism, and shameless privilege threaten to re-assume the throne that was their's just a few decades ago.
Looking to engage and inspire as wide an audience as possible, Palumbo wanted to revisit the song, and ONO, who he's collaborated with many times in the past (see below), seemed the ideal artist to approach, and she gracefully and enthusiastically accepted his request
Given her deep history as a fearless social activist who often led the charge against injustice, inequality and repression, combined with her success in the dance world (13 Billboard #1's since 2003), John felt it was only fitting to have her collaborate on his "Hey, Mr. President" reboot.
Her unique vocal improvisations are spot on and unmistakable.
THE JOHN PALUMBO/ONO CONNECTION
John has contributed a remix to each of ONO's rock remix anthologies – the title track from 2007's Yes, I'm A Witch (as The Brother Brothers), and "I Have a Woman Inside My Soul" from 2016's Yes, I'm A Witch, Too (under his own name). He also did several dance mixes (under the name Double B) that were part of ONO's successful series of #1 Billboard Hot Dance Play chart-topping remix packages throughout the 2000's.
On the searing "Hey, Mr. President" remixes, John wanted to hear ONO's voice used as an instrument akin to the way Ornette Coleman or John Coltrane might have played sax riffs around the lyrics of the song.  Each remixer took that directive and combined it with their own styles and sensibilities.
YOKO ONO AND THE DANCE WORLD
During the past 16 years, Yoko Ono has  remained a formidable presence in the dance world and on the club charts as her alter-ego, ONO.
With thirteen #1 BILLBOARD HOT DANCE CLUB PLAY CHART-TOPPERS under her belt (including "HELL IN PARADISE 2016", "ANGEL", "WALKING ON THIN ICE 2013", "HOLD ME", "GIVE ME SOMETHING", "EVERYMAN/EVERYWOMAN…" and "TALKING TO THE UNIVERSE"), Yoko has become one of dance music's reigning matriarchs.
Her acclaimed collaborations with cutting-edge dance/electronica innovators (PET SHOP BOYS, DANNY TENAGLIA, MOBY, BASEMENT JAXX, DAVE AUDÈ,  RALPHI ROSARIO, R3HAB, CAMELPHAT,   ERIC KUPPER, and the late FRANKIE KNUCKLES, among others) have been well-documented.
She remains an enduring, shape-shifting visionary whose boundless provocative works continue to intrigue, influence and inspire countless generations.
Rob Stevens has been and continues to be the Executive Producer, along with ONO, of her dance and alternative rock material, and has also produced albums by John's band Crack the Sky as well as much of Palumbo's recent solo work,  Rob is available to speak about the project in depth and detail.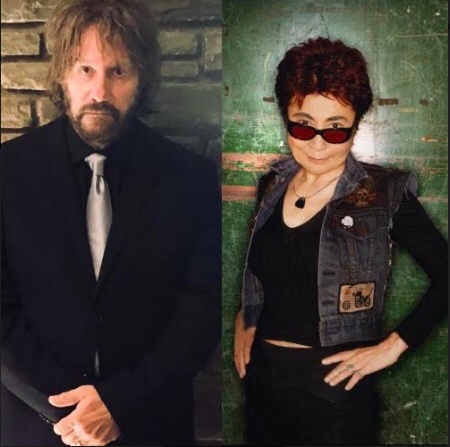 Tags "Hey Mr. President" #28 On Billboard Dance Club ChartYoko Ono