San Holo 'album 1' | 30+ Tour Dates
Dutch Guitarist, DJ and Producer, SanHolo, dropped his long awaited debut album, album1. In less than 24 hours of its release, album1 has topped the iTunes Electronic Chart.  San will also embark on a 30+ date tour across North America, which kicks off on October 31st.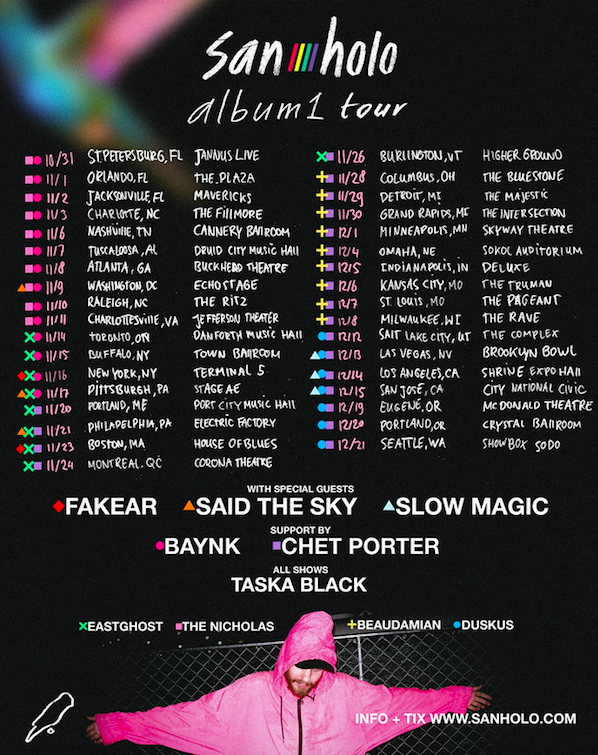 STREAM & PURCHASE album1 HERE
FULL TRACKLIST FEATURING:
Bipolar Sunshine, James Vincent McMorrow, Caspian and more below
San spoke exclusively to Billboard about each track on album1, stating; "I wanted this album to introduce people to a new kind of sound. A warmer, organic, and less polished version of EDM." San continues, ""show me" is a good example that represents this new sound. I recorded a lot of guitars on cassette tape, to give it that warm, warbly, lofi sound. You can clearly hear this in the guitar intro of the song. The beauty of recording actual instruments on tape is the fact that you can never record the same thing twice."
Two of the tracks off album1, that dropped ahead of the album release, have seen immense success already. 'lift me from the ground' accumulated over 3 million streams on Spotify alone, charting on Billboard Hot Dance/Electronic and reaching #1 on the iTunes electronic chart since its release. San performed'brighter days' with Bipolar Sunshine at the acclaimed Dutch 3FM awards; and it has surpassed 2M combined streams across DSPs and SoundCloud/YouTube in under a week.
"It's electronic music, but with this new album I'm working on I'm putting a lot of organic, real sounds in there to build a bridge between the EDM world and the more indie world until it becomes one," San tells Forbes.
album1 sees San stepping outside of his typical perimeters, further challenging himself by innovating his sound and most importantly, exploring his ability to stretch the boundaries of the EDM/future bass genres of music. Sonically, the album showcases a more mature San Holo, who has taken all his experience within the electronic music scene and now transformed it into a refreshingly new direction to further the EDM and future bass genres. "This album is not gonna be a collection of tracks with a singular sound that you've already heard from me before. There's gonna be familiar sounds, things you recognize from my past work, but for the most part it's gonna be something new. I want this album to be a new kind of story, from start to finish. I wanna feel that excitement of doing something new again, like I did when I started out with the San Holo sound 5 years ago," says San proudly.
---
album1 Tracklist:
1. everything matters (when it comes to you)
2. lift me from the ground (feat. Sofie Winterson)
3. show me
4. brighter days (feat. Bipolar Sunshine)
5. always on my mind (feat. James Vincent McMorrow & Yvette Young)
6. go back in time
7. love (wip) feat. Cassini
8. voices in my head (feat. The Nicholas)
9. worthy
10. forever free (feat. Duskus)
11. surface (feat. Caspian)
12. vespal avenue
---
San was completely hands on during the creation process of album1; from producing, mixing/mastering the album himself, to writing/writing all the lyrics on the album with the artists in the room. There's not a single song on this album where the creation process took place over email. Instead, San spent a couple months holed up in an Airbnb in Echo Park, with close friends and feature artists coming in and out during that time.
Sans upward trajectory has continued to capture the attention of notable outlets, with Earmilk stating "San Holo's vocals is a sonic match for conveying these feelings and weaving such a breathtaking story of worthiness vs. validation." Ones To Watch added "From a bedroom producer to an international touring DJ, San Holo has remained consistent in his inventiveness and willingness to explore the boundaries of electronic music. Whether his music makes you dance, cry or just sends you into a state of bliss, it always ignites a certain fire from within that touches you to your core."Billboard included San in their "10 Best Sets at Electric Zoo 2018" with a raving review; "At a festival where all the performers were either standing behind DJ equipment or standing on top of it, seeing one of them jump out in front to play guitar and sing was a refreshing sight."
---
FORE MORE INFORMATION ON SAN HOLO: