Sunset Music Festival Day 2 Review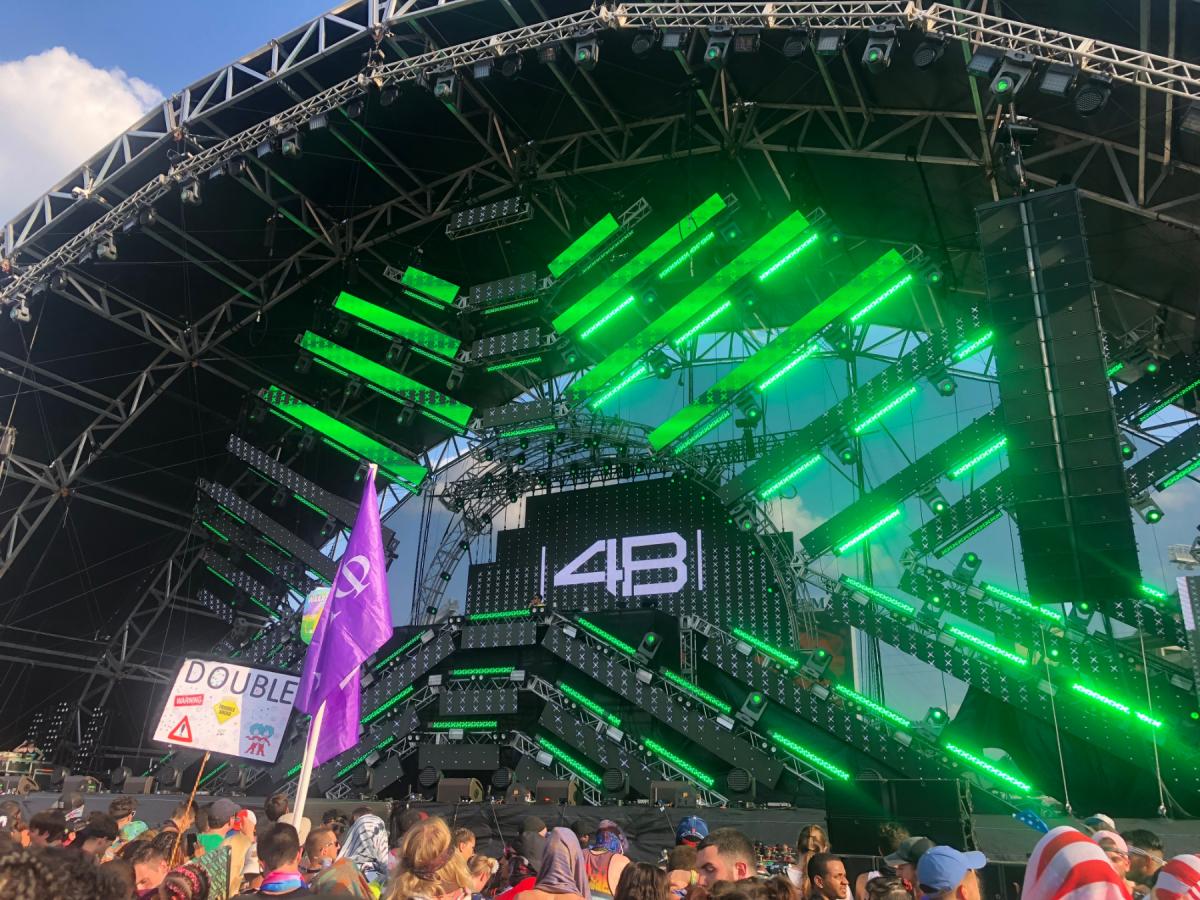 Sunset Music Festival's second day had a lineup I was really eager to see. When I first arrived around 5 p.m., I headed straight to Bonnie n Clyde on the main stage. I was absolutely blown away by how much their set had improved since I saw them last. They brought high energy to the stage for their entire hour long set. It was astonishing to hear Bonnie sing live because she is so talented, she hit this one high note during her set that just blew me away. There's something about Bonnie X Clyde that is so relatable, maybe it's that they're best friends and you can see how much fun they're having while they play. I mean, all EDM fans have thought about becoming a DJ and who better to do that with than your best friend?
After Bonnie n Clyde, 4B came out and threw down for the people looking to get the party started! He brought high energy, lots of bass and fun fast beats so his fans could dance their hearts out. I loved that he always has a lot of energy and you can tell how much fun he's having while you watch him play.
After watching his set for 30 minutes, my friends and I headed over to Peekaboo for some heavy bass and lots of wubs. When we got to his set, we were really excited. The last time I saw Peekaboo was at Buku in New Orleans and his set was one of my favorites of the weekend. He once again, played a set to remember!
Ganja White Night played next at the Sunset Stage and they were a whole new vibe. They brought cosmic intros, otherworldly sounds, a characterful trippiness and sense of fun and adventure to SMF. As I watched Ganja White Night, I checked out the VIP section and saw Bonnie n Clyde hanging out in front of the rail that separated the GA and VIP sections. I had to at least say hello! So I walked up, waited my turn and was able to tell them how much their dedication to last years SMF meant to me. Last year, when day 2 of SMF day 2 was cancelled, Bonnie N Clyde had four different shows that they put on that day. They started at a pre-party at a local hotel, went to Whiskey North, Shephard's and even played a house party in a local St. Pete neighborhood. I had to tell them how much their dedication to their Tampa fans meant to me. As expected, they were so thankful and appreciative of our support. I am now forever part of the rose gang.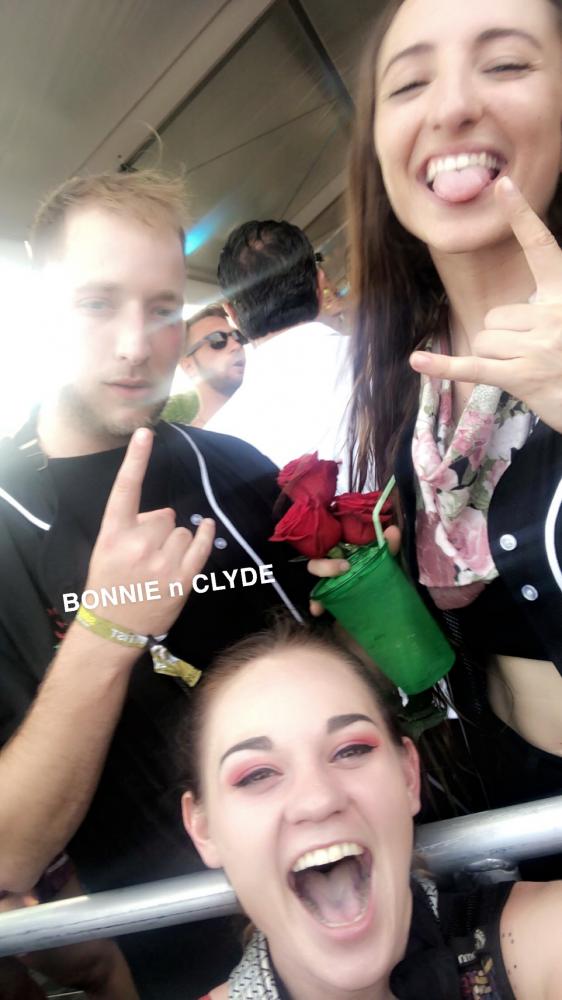 Kaskade was the next all-star DJ to take the mainstage for the sunset set. When it comes to fun sets that make you just want to party, Kaskade knows what he's doing. He had pyrotechnics and colorful visuals that aligned perfectly with the beautiful Tampa sunset. He played hits like Turn It Down, Fun and I Remember. Here's some cool video from the VIP section during his set.
I headed for 12th Planet at the Eclipse Stage, sponsored by Deadbeats, in the middle of Kaskade's set to catch some last minute wubs before Alison Wonderland and Dog Blood. 12th Planet was many of my friend's favorite set of the weekend. One of my friends said she vibed more to his set more than any other set of the weekend. I only watched it for a few minutes before heading over to Alison Wonderland's set because she is my queen and if there was one artist I wanted to meet this weekend, it was her.
After arriving backstage for Alison's set, I quickly noticed that her security was a lot more strict than I had hoped. When she arrived on stage, I missed the chance to say hi and good luck because she was covered by at least five security guards. All of a sudden I felt my chances of meeting her slim down to almost none. When her set began, I got a closer than a front row seat. I was able to stand right in front of the rails to watch my queen put on a show.
Her set was filled with heavy bass, bops from Ariana Grande and Dua Lipa and lots of her own hits. I was elated that I was able to watch her set from front and center stage. I was lucky that I was friendly with the security guard earlier in the evening because I was the last person he allowed to move closer to the center of the stage to see her. I think he could see how happy I was to be there and appreciated that I was just there to enjoy my favorite artist. Her set, visuals and voice blew me away.
Luckily, after her set, when she was walking down the stairs and off stage, surrounded by the same five security guards, I used my louder-than-average voice to grab her attention. I was almost in tears when she looked at me and reached out for a hug. All I was able to get out was, "You're amazing, I love you and you are my everything"! She hugged me, kissed me on the cheek and thanked me for my support before the security guards ushered her to her trailer once again. Check out the video here!
To my delight, a girl that I met backstage actually was able to take this photo of me and Alison as she embraced me. Though I am basically crying (tears of joy of course) I will treasure this photo forever.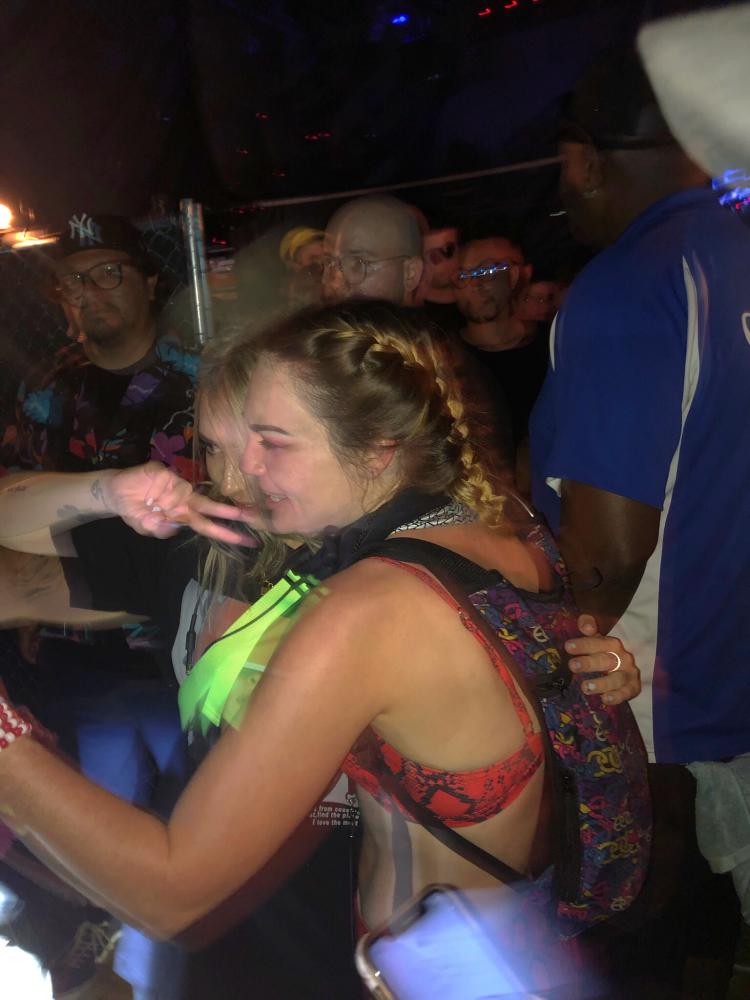 After "briefly" fangirling for Alison, I quickly wanted to head back to my friends so I could show them my video and picture with the queen herself. However, Amanda wanted to try and speak with Skrillex and Boys Noize before they took the stage for the final set of SMF. Thankfully, I stuck around for that chance as well.
All of a sudden, a crowd of security guards were walking right towards me and out of the corner of my eye, I spotted Skrillex in the middle of them. I simply decided to go for it and I reached out for a hug and goodluck. To my utter amazement, Skrillex hugged me back. Once again, a nearby fan happened to grab a video of it.
At this point, I could barely breathe. I had just met my queen, Alison Wonderland and a god-like figure of EDM, Skrillex in a matter of minutes. I couldn't wipe the smile off my face as I relived both moments in my head again and again for the rest of the evening.
I saw Dog Blood at Buku and absolutely loved their set. They created a whole new genre of music which combines the high energy and quick beats of house with the most gnarly bass you've ever heard in your life.
They had strobes flashing their entire set, so honestly it wore me out! I hate to say it, because I never want festivals to end, but I was ready for a good night of sleep after day 2 of SMF.
Although, I did find the energy to hit up the Brownies & Lemonade after party at The Ritz in Ybor. Alison Wonderland played the best set I had seen her play yet. She even played unreleased music that we hadn't heard yet. I was excited because I threw her one of my Kandii bracelets and she picked it up, put it on and winked at me!
After the party, she uploaded a story to her Instagram actually wearing my kandii and it was the perfect end to a fabulous weekend.
Thank you to all who organized SMF including Disco Donnie and Sunset Events. It was a weekend for the books.
For more EDM news in Tampa check out our EDM Community on 813area. Afterall, we are your free and local guide to everything Tampa has to offer!
Tags Bonnie x ClydeKaskadeSkrillexSMFSunset Music FestivalTampa EDM
You may also like...