T-Mobile Stage Lineup for Lollapalooza Chicago ~ Day 1!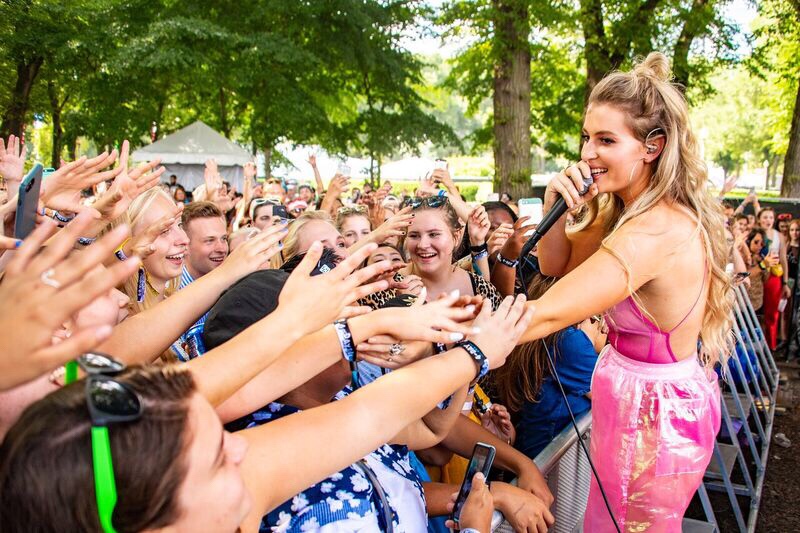 Lollapalooza has another main stage that will host some truly epic performances during the 4-day Grant Park festival. The T-Mobile Stage is due to host some of the biggest names to see Lollapalooza in the festival's history and it all begins on day 1.
---
Max Frost – 1:15 p.m. – 2 p.m.
For a chill start to day 1, head to the T-Mobile Stage to check out Max Frost, a singer, songwriter, producer, and multi-instrumentalist from Austin, Texas, who is signed to Atlantic Records. After rising to fame in 2015, he has released two EP's and a debut album called "Gold Rush". Some of his most popular songs are "Eleven Days", "Money Problems" and "Good Morning" so check them out at Lollapalooza Day 1!
Ghostemane – 3 p.m. – 4 p.m.
If you're looking for some rap metal, hardcore punk or noise music, Ghostemane is the right artist to check out at Lollapalooza. Eric Whitey, AKA Ghostmane, is an American rapper and singer that always brings high energy to his live sets. Growing up in Florida, he originally played in local hardcore punk and doom metal bands but gained popularity when he went out on his own. Songs to hear at his set during day 1 are some of his best; "Mercury", "Nahil", "FLESH".
H.E.R. –  4:45 p.m. – 5:45 p.m.
Gabi Wilson, better known professionally as H.E.R., is an American singer and songwriter. Before being known as H.E.R., Wilson rose to fame by participating in Radio Disney's Next Big Thing in 2009. But since rising to fame as H.E.R she has come out with some of our generation's most memorable hits. Some of those you will hear at Lolla are "Focus", "Could've Been" featuring Bryson Tiller and "Hard Place".
Hozier – 6:45 p.m. – 7:45 p.m.
Andrew John Hozier-Byrne, known professionally as Hozier, will take you to church during day 1 of Lollapalooza. He is an Irish musician, singer, and songwriter from County Wicklow. He had his international breakthrough after releasing his debut single "Take Me to Church", which had been certified multi-platinum in several countries, including the US, the UK, and Canada. Other songs you can look forward to hearing at "Dinner and Diatribes" and "Almost Clapping Breakdown".
The Strokes – 8:45 p.m. – 10 p.m.
Calling all rockers to the T-Mobile Stage!! The Strokes are bringing indie, garage and classic rock to the stage for one hell of a performance at Lollapalooza. Since the band formed in 1998, they have remained a fan favorite during their live shows! The band is composed of singer Julian Casablancas, lead guitarist Nick Valensi, rhythm guitarist Albert Hammond Jr., bassist Nikolai Fraiture, and drummer Fabrizio Moretti. Since they came from New York City, you know they had to earn their place in the rock industry and they quickly did that. With songs like "Last Night", "You Only Live Once", "Reptilia" and many more, this is a can't miss set!
---
Women of Edm is in partnership with MyArea Network! Visit our proud partner's 312Area site HERE! For more on Lollapalooza and other EDM events in Chicago, join the EDM community on 312area! 
Photo Credit: Erika Goldring for BMI
Tags ChicagoGarage and Classic RockGhostemaneGrant ParkH.E.R.hardcore punkHozierIndieLollapaloozaMax FrostmetalrapThe Strokes
You may also like...