Tito's Handmade Vodka Stage Lineup for Lollapalooza 2019!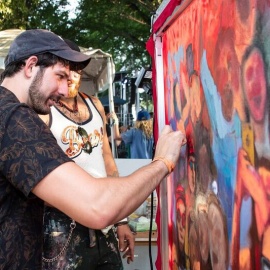 Tito's Handmade Vodka Stage is one of the more intimate stages at Lollapalooza. The artists set to perform on this stage will range in genre, so the lineups will attract a different variety of crowd and experience!
Check out our list of the artists to look forward to as they are due to take center stage at Lollapalooza this year.
Emily King – Day 1 – 1:45 p.m. – 2:45 p.m. 
Emily King's career began in 2004 and when she released her debut album called 'East Side Story" in 2007 it really started to take off. That December, King was listed as a Grammy nominee for Best Contemporary R&B album. She will be performing songs like "Distance", "Can't Hold Me" and "Remind Me" and this American singer and songwriter blows your mind with her powerful voice and endless talent.
Chevelle – Day 2 – 5:45 p.m. – 6:45 p.m.  
The boys are returning back home! This group of Illinois natives is returning home for quite the set at Lollapalooza. However, Chevelle is a band that was originally composed of brothers: Pete Loeffler, Sam Loeffler and Joe Loeffler. When Joe left in 2005, he was replaced by his brother-in-law, Dean Bernardini, who plays the bass. Support these homegrown Chi-town boys as they give you all they've got on Day 2!
AJR – Day 3 – 6 p.m. – 7 p.m. 
This American pop band is composed of three multi-instrument brothers who write, produce and mix their own songs in the living room of their Chelsea apartment. They consider themselves a DIY pop group and have shot to fame over the past five years. Some of the songs you can look forward to singing alongside the band are  "I'm Ready", "Weak", and "Burn the House Down". Memorize the words here so you can sing along on Day 3 of Lollapalooza!  
CRIZZLY – Day 3 – 8 p.m. – 8:45 p.m. 
Crizzly is a DJ and producer that is based out of Austin, Texas. Christopher Lee Marshall has been perfecting his unique sound since 2010. His sound combines dubstep, crunk, hyphy, drumstep, and trap, among other genres. He began DJing in 2010 and dropped "Bangin'" in 2018 which really shot him into the limelight. Other songs you will hear from him on Day 3 of Lollapalooza are "Like Dat" and "Drop Dat Ass" featuring Crichy Crich.
Rosalia – Day 4 – 6:45 p.m. – 7:45 p.m. 
Since the age of 10, Rosalia has dedicated her entire life to her music. She is a Spanish singer and songwriter that is known for her modern interpretations of flamenco music! She crossed the language barrier after receiving praise from her collaborations with J Balvin, Pharell Williams and James Blake. She will be playing songs like "Con Altura", "Malamente" and "Aute Cuture" on Day 4 of Lollapalooza from 6:45 p.m. to 7:45 p.m.  
ilo, ilo – Day 4 – 8 p.m. – 8:45 p.m. 
I just recently heard of ilo, ilo when they sent a photographer that I follow on Instagram on a scavenger hunt through the streets of LA. He ended up at a release party for their new music and from what I heard, I believe they are a group to watch. Some of the songs you can learn beforehand are "transparent", "u don't" and "come thru" which all come from their debut album, "wish i said this to u sooner".
---
Women of Edm is in partnership with MyArea Network! Visit our proud partner's 312Area site HERE! For more on Lollapalooza and other EDM events in Chicago, join the EDM community on 312area! 
Photo Credit: Erika Goldring for BMI
Tags 312Area312Area.comAJRChevelleChicagoCrizzlycrunkdrumstepdubstepEmily Kingflamenco musicGrant Parkhyphyilo iloLollapaloozamyarea networkpop bandRosaliaTito's Handmade Vodka Stagetrap
You may also like...