Up and Coming Artists on The Lakeshore Stage at Lollapalooza 2019!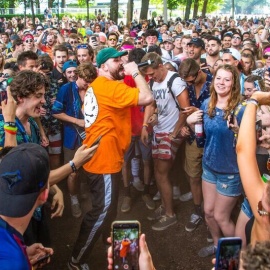 Lollapalooza brings some really unique sounds to The Lakeshore Stage during the 4-day festival this year. It has often been an event that up & coming artists attend to broaden their fan base.
So, it should come as no surprise that the Lakeshore Stage is bringing many new artists to the festival this year. Here's our list of the artists you should check out on the Lakeshore Stage during Lollapalooza 2019.
---
Normani – Day 1 – 4 p.m. – 4:45 p.m.
Remember all the drama that happened in 2018 when Fifth Harmony announced it's indefinite hiatus? Well, Normani decided to use that energy and turn it into a successful solo career. Normani is an American singer and dancer that is excited to perform at Lollapalooza this year. In 2017 she was a finalist in season 24 of dancing with the stars and I'm not saying it had anything to do with her song "Dancing with a Stranger". But, her song is a hit and you will hear her perform live if you're lucky enough to have tickets to this 4-day event in Grant Park.
Rich the Kid – Day 2 – 6 p.m. – 6:45 p.m. 
Rich the Kid is a rapper and songwriter who is currently signed to Insterscope Records! He is due to take the Lakeshore Stage by storm on Day 2 of Lollapalooza and will likely be performing his album World Is Yours that was released in March of 2018. He is most well-known for his song "Plug Walk", which took over radio stations everywhere when it was first released. Other popular songs you might hear during his set are "New Freezer" and "TAlk tO Me".
NF – Day 2 – 7:45 p.m. – 8:45 p.m. 
NF it's a relatively new artist with a completely new sound. Nathan John Feuerstein is a rapper, singer and songwriter who released his first EP in 2014 with Capital CMG. It was both self titled NF and recognized as a breakthrough release by Billboard. Some song you can look forward to hearing during his set on Day 2 are "Paralyzed", "The Search" and "Let You Down". Check out his set for a dark and energetic vibe at Lollapalooza.
Lil Skies – Day 3 – 5:45 p.m. – 6:45 p.m.
Kimetrius Foose, known professionally as Lil Skies, is an American rapper, singer and songwriter from Pennsylvania who is currently signed to All We Got Entertainment through Atlantic Records. He has recently released two albums one titled Life of a Dark Rose and the other titled Shelby. His top three highest charting tracks on the Billboard Hot 100 are "I", "Nowadays", and "Red Roses". Check out his unique sound and style on day 3 of Lollapalooza.
Judah & the Lion – Day 3 – 7:45 p.m. – 8: 45 p.m. 
Judah & the Lion is an alternative band from Nashville, Tennessee, that started when three friends started making music together in 2011. The band is made up of Judah Akers, Brian Macdonald, and Nate Zuercher. Their latest album, that they released earlier this year is titles Pep Talks. Some of their most well known hits are from their debut album Sweet Tennessee. "Take It All Back" and "Suit and Jacket" are both from Sweet Tennessee and "Why Did You Run?" is from Pep Talks.
Joji – Day 4 – 3:30 p.m. – 4:30 p.m. 
You might know him as Filthy Frank or Pink Guy, but have you heard Joni's music? Well, it's all about the vibes when you're listening to Joji and he is bringing all the vibes out at Lollapalooza. He is a Japanese singer, songwriter, rapper, record producer, and former Internet personality and comedian. Some of the songs you can look forward to hearing are "I don't want to waste my time", "SLOW DANCING IN THE DARK" and "Thom". If you don't know a lot about him check out this episode of Hit Ones with Sean Evans where he gets destroyed by a plate of wings!
Slash Featuring Myles Kennedy and The Conspirators – Day 4 – 7:30 p.m. – 8:30 p.m. 
If you are one of those people that wishes they went to Woodstock, this is the can't-miss performance of the weekend. Slash, the guitarist from Guns and Roses, has teamed up with Myles Kennedy and The Conspirators to give you one hell of a show. Their biggest hit "Driving Rain" came out in 2012 when they began making music together. In 2018 their most recent album Apocalyptic Love came out with some really classic hits "Anastasia" , "Standing in the Sun" and "Halo" that you can look forward to hearing at Lollapalooza.
---
Women of Edm is in partnership with MyArea Network! Visit our proud partner's 312Area site HERE! For more on Lollapalooza and other EDM events in Chicago, join the EDM community on 312area! 
Photo Credit: Erika Goldring for BMI
Tags 4-day festivalFifth HarmonyFilthy FrankGrant ParkJOjiJudah & The LionLakeshore StageLil SkiesLollapaloozaMyles KennedyNFNormaniPink GuyPlug WalkRich The KidSlashThe Conspirators
You may also like...