Winter Music Conference Industry Secrets: Day 1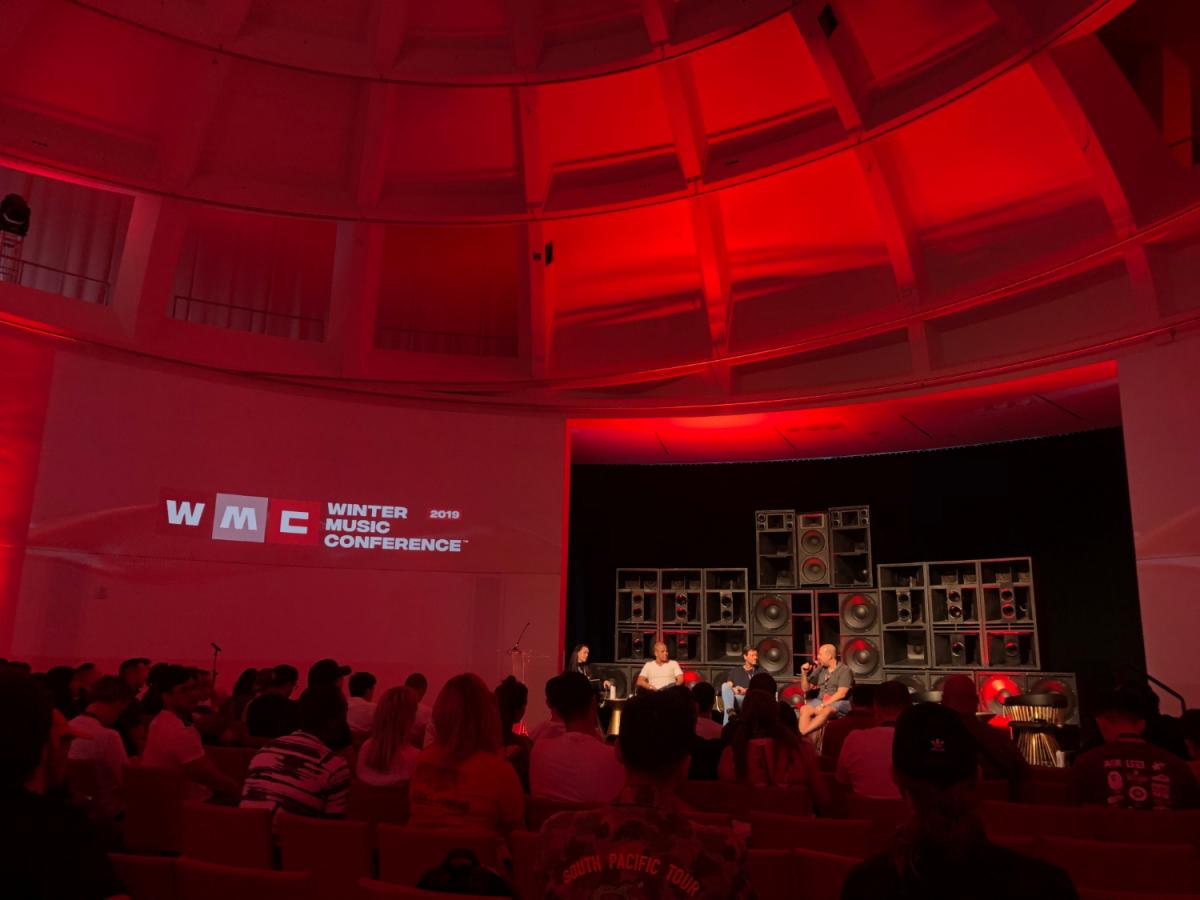 Do you want to learn the secrets inside the EDM industry? Here are all facts I learned from the Winter Music Conference: Day 1.
Arriving to the conference, naturally, I was nervous. But when I called the executive director, David Ireland, he was as kind as can be and made my nerves disappear as quick as a flash.
He was so welcoming and humble, for the guy in charge of it all during Winter Music Conference. He instructed me to get a wristband from Lauren Braid, the Panel and Program Director so I could enter the conference without problems for the next three days. I happened to bump into Lauren on my way back inside the building and she was equally as courteous to me, allowing me to enter the conference without question.
If you've ever been to a rave or EDM show, their cordial and friendly attitude is a considerable reflection of the rave community. So, I had a feeling this would be a great day!
Because the drive from Tampa took longer than expected, I arrived at 3 p.m. to the Faena Forum in Mid-Beach to see the panel called: Can't Stop, Won't Stop: The Originators Still Originating.
I was excited to see Erick Morillo, the American-Colombian DJ, Maykel Piron, one of the three founders of Armada Music and Pete Kalamountsos, the Festival Organizer for Moonrise, Preakness Infield Festival and more in 2019, on the panel. They spoke to us about mistakes they had made when they first started out in the EDM Industry, how they relax during their off time (when they have a thousand work worries traveling through their minds) and how to stay relevant in a world where technologies and ideas change at the drop of a hat.
3 Key Mistakes
1. Trying too hard to live up to the lifestyle and becoming addicted to drugs.
2. Staying in a job where they were not happy too long.
3. Not taking moments to sit back and enjoy the view.
Though all were good points, the last point touched a nerve. I had always thought that people in the EDM industry were doing it so that they could always live in the moment. But I suppose work is work, even if you're doing something you love. It's easy to get caught up in the madness of always trying to be better and more successful, but there is nothing as gratifying as just enjoying life and each moment as it comes.
When they were asked what they do in their off time they all responded similarly: working out, meditating, vacationing, boating, eating and even chilling and Netflix!
I loved that in their off time they want to be out of the spotlight and act like normal, humble human beings. It said to me that this industry still hasn't lost its roots in being a place where people from all walks of life come together to enjoy something they all find appealing: music.
Because these are some of the originators of the industry, they were asked how they have stayed relevant over their lengthy careers. To my surprise and delight, they spoke mainly about sharing new music and listening to the young generation instead of disregarding people with less clout and experience. I found this so incredibly refreshing! Way to go, Originators!
At 4 p.m., another panel began called From Virgin Records to Virgin Voyages: Why The Industry's Best are Going Out To Sea. On this panel, they spoke about Virgin Voyages new cruise line that is in the midst of creating the worlds most desirable travel experience. They want each person who gets on-board to return home relaxed and rejuvenated.
The panelists were: Christopher Stubbs, the Senior Director of Sailing Experience, Hallie Pinkham, Manager of Music and Michelangelo L'Acqua, the Sonic Identity Specialist of WhiteLabel. They spoke about a new policy that they have: a ban on all single-use plastics (can we get an amen?!). However, their main point was that they wanted to create an experience filled with choices so that every sailor leaves their trip wanting to come back and take another route on their journey across oceans.
RELATED CONTENT: Hot Concerts Coming to Miami in 2019
Music is the Soundtrack to Trends
Something absolutely brilliant that L'acqua said was that "Music is the soundtrack to trends". They're trying to set a trend of voyages that emphasize your sonic identity. Meaning that when you wake up in the morning you know what you want your soundtrack to sound like. It's knowing your brand and having your brand know itself.
The Virgin Voyages group announced that DJ MK and Electric Duo are set for residencies in 2020. Their goals for more residencies is to have both veterans and first-timers playing at their newly announced Beach Club that they've built in the Bahamas. The Beach Club will have calm vibes in the morning, a world-class DJ during the day and a bonfire each night to ensure that vacationers are relaxed and rejuvenated after their travels.
The last panel of day 1 was called Destroying the White Noise: Creating Tracks that Get Noticed with Max Weinberg. Max Weinberg works at Geffen Records and has worked with all-star DJs like DJ Snake, Lil Jon, Yungblud and the late-legend Avicii. After watching the Netflix Documentary called Avicii: True Stories I was fascinated by almost everything the superhead of Geffen's Marketing Department had to share with the crowd.
5 Main Points if You're a New Artist
1. Focus on their originals.
2. Make a song that's already big, BIGGER.
3. Try different versions and genres of the same song. For example create a trap, house, reggae, etc. version of each song you share with a producer.
4. Only 50% is the music, the rest is your brand.
5. Video content is king.
Video Content is King
I really attached to the idea that video content is key because I believe that in today's world where most millennials spend half of their day scrolling through social media, we stop scrolling to do one thing (and one thing only): watch a video that peaks our interest.
As I stood watching Max answer questions, a question popped into my head that I just had to ask: How do you find the perfect balance between making viral, click-bait type of videos and demonstrating your brand to the world?
RELATED CONTENT: Festivals Coming to Miami in 2019
Content Should Be On Brand and Authentic
When I posed the question, Max had the perfect answer: Your content should always be on brand and authentic to you as an artist. Making a viral video that is on brand is the secret ingredient to success. If you can do both, that is the key to finding success when you first begin your career.
At the end of his discussion, I walked up, explained who I was and swapped cards with him. I am excited to learn more about his experiences with artists, like Avicii, in the industry and will definitely be reaching out soon so I can find out more about his life as a marketing genius.
One thing that this conference has taught me (already) is that the people we look up to are exactly that: people. They were once in our shoes and are eager to help people with genuine curiosity. I love that mentality. Why not help someone with similar goals become successful by sharing your story?
Tags Industry SecretsMiami Music Weekwinter music conference
You may also like...